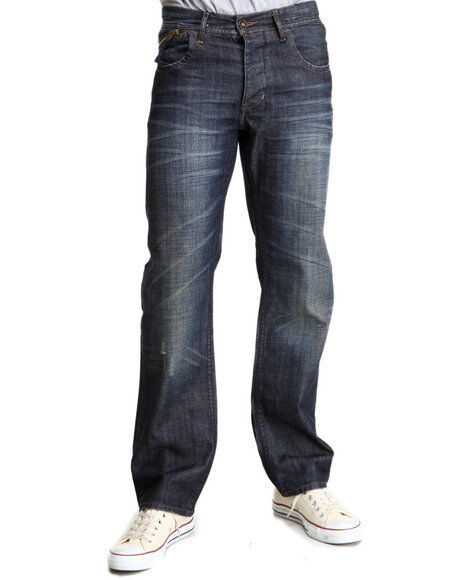 Of the many items in one's wardrobe, there is one pair that stays with man for a long time and for many reasons, one of which might be the fact that they are designer jeans. They can be worn in most of his waking hours, indoors and outdoors, as he does his house related activities, his work, and his social or casual activities. Some men even use designer jeans with a coat and tie for semi-formal gatherings as what some show business people do.
Men choose designer jeans because they enjoy the versatility and style of designer jeans because they tend to fit better and they are more hard-wearing than their less costly counterparts. Men's designer jeans typically embody great quality and meticulous detail. For instance, details are carefully made especially for their specific purposes and for durability, making them best for men who do not usually find the right fit because of their height. Finding a pair of designer jeans for men is an intelligent and involved process.
How to Spot the Best Pair of Men's Designer Jeans
Comfort is one of the most important considerations one has to make when buying jeans because even if the pair is of great quality and beauty, it is obvious if the man is not comfortable in them. It is therefore important to bear in mind the purposes such jeans will serve. First, think of what the jeans are intended for and where one is going to be when he is using them. One surely does not want to have discomfort later on, just because he bought the jeans in haste.
In addition, it is wise to choose a style that is most versatile, a pair that can be paired with all types of shoes and shirts. Moreover, the cost of the clothing must be equivalent to its quality such as in terms of durability and fashionability.
Choose Jeans that Defy Fads
Of the many changes in life, fashion is one that is constantly changing. Because designer jeans are expected to be durable and will stay for a long time, it would then be good to choose a style that will be "in" through the years. The following types are considered timeless: original blue jeans, slightly faded blue jeans, and dark denim.
The original blue jeans are one of the most versatile pieces of clothing that one can have because he can wear it day in, day out, and they never run out of style. On the other hand, the slightly faded blue jean is more casual but can also be worn with trendy sports coat and shirt that boost one's image. Furthermore, the dark denim particularly straight-legged styles are ideal for the office when paired with a white oxford and navy blazer or for weekend street-ready look when paired with a leather jacket. It is wise to remember that the more colourful jeans and elaborately styled ones do easily go out of fashion, which will put one's money to waste.
Opt for the Classic Style
So much has been done to innovate, create, and modernize the men's designer jeans that if one is to consider the names they may become overwhelmed. It is therefore important to bear in mind the style that a person intends to buy before he goes out hunting for his most versatile outfit.
The style that stands the test of time and fads are the straight leg or boot cut. These fit well with classic washes and are therefore the most versatile. These are the so-called classic look and they never get out of style compared to those with tapered leg openings or those with wide bell-bottomed designs.
Select Jeans that Fit Perfectly
There are great looking jeans of great brand names that may turn out to be not perfect for an individual. In buying jeans, one has to see to it that they fit his body type or else he will end up regretting he ever bought them. One must consider a pair of designer jeans that fits one's legs, crotch, and waist perfectly and one that is not too tight. One of the best ways to make sure if they fit well is to see if they look good from behind. The rule is: never make a decision until one is fully satisfied with what he sees. Sometimes, it is be wise to bring a trusted friend to comment honestly on how a piece looks on a person because as it is often said: if in doubt, don't.
Another consideration is to bear in mind that jeans have the tendency to shrink. Buying longer jeans than needed is best so that after the first washing, the denim still fits to the man's form. If the denim shrinks beyond repair they can be cut to be capris or shorts.
Be Sure the Denim Is Genuine
A decision must be made beforehand whether the designer jeans to buy is regular-, corduroy-, carrot-, straight-, slim-, or skinny-cut. Most importantly, one has to make sure that the pair is genuine. Many imitations are available on the market so be sure the correct cut of denim is purchased.
Moreover, a buyer should consider trying the denim on first. One has to see if he can comfortably fit into them by walking around and by sitting in the store for a while. By giving the jeans a test run the buyer can determine if he is comfortable, if the fit is correct, and if the price is right.
Checking the pocket space as well as their effect on one's skin and where the seams rest is also an important test of comfort. In addition, the male buyer should test how they work with his favourite belt. Next, trying the denim on with shoes enables the buyer to determine if the pant length is too long or too short. It is also important to note that the back cuff must be aligned with the top portion of the sole.
Pre-Shrunk Denim
It is of prime importance that the pair of jeans one is buying is pre-shrunk so that he will have the right length. Further shrinking would then be minimal; thus, after knowing that it is pre-shrunk, one can also choose slightly longer jeans so that he will have the right length as well as the right size after washing.
How to Care for Designer Jeans
The moment one has finally picked his best jeans, he must be careful to wash them first before making any alteration in them such as to shorten the length. This will be an assurance that any possible shrinkage has been dealt with. Also, it is wise to cut off a smaller portion than the actual length that one has to remove. For example, it is advised to remove only two-thirds of an inch if one desires to cut off an inch in order to keep the length should there be any further shrinking.
Wash Them Inside Out
Designer jeans must be washed separately from other clothes when washing it for the first time to avoid tinting the other items as they will have the tendency to fade. Also, to maintain colour and overall look, one has to wash them inside out in order to maintain the quality of the garment.
Don't Spin Dry Jeans
Caring for jeans also comes in not putting so much pressure on them that develops a crumpled texture. The dryer diminishes the durability of the denim by subjecting them to high heat and agitation. In addition, when hanging the jeans, one has to lay them on a towel or use clothespins so that no part is folded or creased.
How to Find Designer Jeans on eBay
Designer jeans are available online and from high street cycle shops, and even supermarkets. eBay has an extensive selection of designer jeans, including components and accessories. Begin your search for designer jeans on the eBay homepage. In the search bar input the terms of your search. Whether it's Armani jeans or Levi's denim, there are dozens of options available. From there you can filter through the results according to brand name, colour, price, and even the geography of the seller.
Seller Feedback
If you see a ribbon next to the posting from a seller, be sure to remember he only has this ribbon because of continued excellence in sales. He, or she, has successfully been able to impress previous buyers with quality, service, or a combination of the two.
Conclusion
It is amazing how men's designer jeans can give so much comfort while at the same time make you enjoy class and style. Perhaps the most difficult part in getting the best jeans is not the price but in finding the right fit and the comfort in wearing it. Before buying, one is surely bombarded with a wide array of options that it is no wonder that men do not want to part ways with their old pair of jeans despite years of wear and tear because there just seems to be nothing in the market that gives comfort and ease as the old pair of designer jeans does.
Since it often takes so much time and effort to find the perfect jeans, one has to set a time for it and to be extra patient to follow the above tips. In the end, one will realize that the time and energy spent in looking for the right pair as well as the cost that comes along with it is well worth it.