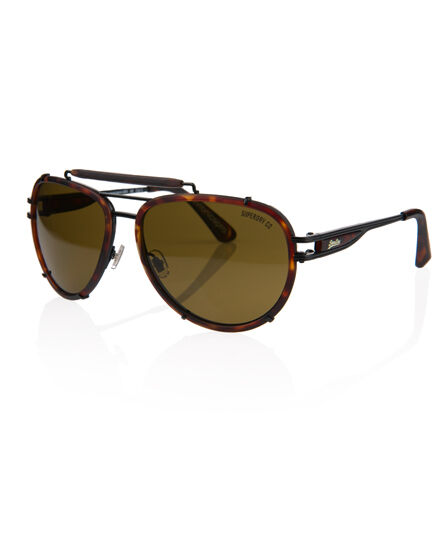 Whether lounging on the coast in Torquay, cycling in the Lake District, or lunching in the West End, there is a great pair of designer sunglasses to suit the occasion. Many men enjoy being able to easily transition from recreation and physical activity to relaxation, and designer sunglasses are one accoutrement that help them do so. Some sunglasses are better suited for sports, while others are designed for relaxing in style. Still others manage to successfully bridge the gap. No matter what a pair of designer sunglasses are worn for, they should enhance a man's vision, protect his eyes, and make him look good all at the same time.
This guide highlights the functionality and fashion features available in men's designer sunglasses, explaining how lens technologies, protective treatments, and colour variations help men see better and preserve their eyesight. It also points out the different looks that sunglasses frames provide and gives advice on how to fit a frame on a face. eBay is a very good source for buying many different types of sunglasses, and this guide will help men select a pair of designer sunglasses that enhance their vision and their appearance.
Functionality of Men's Designer Sunglasses
Although men's designer sunglasses are supposed to look stylish, they should also provide a certain degree of functionality. A quality pair of sunglasses will employ technology to help men see better, protect their eyes from harmful UV rays, and use a lens colour that provides better contrast under certain light conditions. This section details three different features of functionality: lens technology, protection, and lens colour.
Lens Technology
The technology of men's designer sunglasses is based on the lenses. They play the biggest role in terms of the quality of the sunglasses, and they are the first feature that men will want to pay attention to when buying a pair of designer sunglasses. This section details the different technologies available for men's designer sunglasses on eBay.
Polarised
Polarised lenses are divided into two halves, and they feature a polarised film in between the halves. This film filters light that reflects off of surfaces, known as glare, allowing the wearer to see the object beneath the glare more clearly. Polarised sunglasses are popular for use around bodies of water since sunlight reflecting off of water can produce a strong, ubiquitous glare that lowers visibility in the general area.
Mirrored
Mirrored sunglasses have a coating on the outside of the lenses that makes them look like mirrors. The coating prevents more light from passing through the lenses in addition to the amount of light the lenses themselves already block. Mirrored lenses are useful under conditions of very bright light, such as on sunny days on snow-covered mountains, because they ease the intensity of the light reaching the eyes while maintaining definition of the objects within view.
Anti-Reflective
Sunglasses with an anti-reflective coating on the lenses eliminate reflections on the lenses, which allow more light to pass through. This results in greater contrast and clarity of images seen through the sunglasses. Prescription eyeglasses lenses have anti-reflective coatings as well.
Gradient
Gradient lenses are more shaded at the top and less so towards the bottom. This blocks light from higher angles but allows more from lower angles to pass through. The main appeal of sunglasses with gradient lenses is that they can be worn indoors because the wearer can still see the objects in the room clearly. Once he steps outdoors, gradient lenses protect his eyes from sunlight.
UV Protection
Designer sunglasses should not only look good and help men see better, but a quality pair should also provide medical benefits to the eyes. Ultraviolet (UV) radiation from the sun can damage the eye's cornea and lens and cause cataracts to form on the eyes. Designer sunglasses protect the eyes from damage by blocking UV rays. The sun emits UVA, UVB, and UVC light rays, and the air blocks the shortest rays, UVC. Designer sunglasses are capable of blocking medium-wave UVB rays and long-wave UVA rays though the amount of UVA rays that sunglasses block does vary. Many offer 100 per cent protection for both.
Lens Colour
The lens colour is an important feature because it filters light passing through the lens in a certain way. Different colours provide different levels of contrast and definition in various lighting situations. A bright, sunny day produces a great deal of red light, while cloudy days have more blue light. This section explains how different lens colours filter light under these conditions.
Brown/Grey
Brown, and grey are neutral colours. They do not necessarily change how the eye perceives the light that passes through them; rather, they reduce brightness and glare to allow the eye to see more comfortably and clearly on bright days.
Yellow/Gold/Amber
Yellow, gold, and amber lenses are ideal for low-light conditions. They do not protect the eyes from bright light, but they filter flat, blue light to provide greater contrast on cloudy days. These lens colours are ideal for snow sports in cloudy conditions.
Red
Red lenses are also ideal for low-light days. Rather than protect the eyes from bright light, they make the scenery appear brighter than it is. They also provide excellent contrast by filtering blue light, which makes them a great choice for cloudy days as well.
The Look
The lens is primarily responsible for giving a pair of sunglasses most of its functionality. The lens can also influence the look of a pair of designer sunglasses, but the frame largely determines the look. This section describes the different frame styles, colours, and materials, and also provides advice on how to fit a frame to a face.
Frame Style
The table below describes the different available frame styles for men's designer sunglasses. Each frame style is distinct, unique, and lends itself to a particular look.
| Style | Description |
| --- | --- |
| | Originally worn by American fighter pilots. Features large lenses that fall away from the bridge of the nose and thin frames, usually made from metal. |
| | No rims around the lenses, which instead hang from the frames. The lenses can be various shapes. Lightweight and often used for sports. |
| | A retro look featuring larger frames and rims. Mid-sized lenses that tend to be a bit flatter so that upper, outer points of the rims are off of the face. |
| | Rims have a rectangular shape that makes the sunglass versatile for sports use or stylish wear. Frames can be thin or thick, metal or plastic. |
| | Rims are round and tend to be smaller. Lenses also tend to be flatter. A classic look that never seems to go out of style. |
| | Tend to have a rectangular shape that offers a great deal of coverage. Rims may or may not go all the way around the lenses. |
| | Similar to rectangular lenses but not as long. May be employed as sports sunglasses or style sunglasses but rarely both in one frame. |
| | Mainly active wear sunglasses. The lower part of the rims follows the cheekbones as they slope up towards the upper parts of the ears. |
| | Worn primarily as style sunglasses. They recall a variety of frame styles from the past with modern twists on timeless looks. |
The frame style can determine functionality to a certain degree. The wraparound, for example, is ideal for active wear because its shape helps the sunglasses better hold on the face.
Frame Colour
Whereas the frame style may lend itself to sport, style, or both, the colour of the frame is a matter of personal preference. Some people may like the classic look of brown frames, the sleekness of black frames, or the stylish look of tortoise frames. Others may have a favourite colour, such as red, that helps the sunglasses stand out.
Frame Material
Men's designer sunglasses frames are generally made from metal or plastic, or a combination of the two. Metal frames tend to be thinner, helping to accent the shape of the sunglasses. They may not be appropriate for active wear though since they do tend to move around on the face a bit when the wearer is in motion. Plastic frames tend to be thicker and highlight the colour of the frame better. They can be used as both sport and style sunglasses.
Fitting Sunglasses to a Face
Men's faces have widely varying features, so one of the great challenges of buying a pair of designer sunglasses is fitting them to look good on a particular face. The table below matches face shapes with frame features to provide the best look.
| Face Shape | Frame Features |
| --- | --- |
| Square | Sunglasses with sharp angles help accentuate a square jaw and the rugged look that it lends to a man. |
| Triangle | Round sunglasses are a good choice for a face shape that is wider at the top and narrows slightly downwards. |
| Oblong | Round or rectangular frames help provide width to an oblong face. Oversized frames work particularly well. |
| Round | Rectangular or square frames help balance a round face, providing a harmonious contrast that makes the face seem less round and the sunglasses less rectangular. |
| Oval | This face shape works well with just about any frame style though oval frames may be unsuitable. |
The information above should serve as a general guide. The best way for a man to figure out how a pair of sunglasses looks is to try them on and see if it looks good with his face shape.
How to Buy Men's Designer Sunglasses on eBay
eBay is a good source for men's designer sunglasses because there is a large selection of different styles available there, and it is easy to search the site to find the designer sunglasses you are looking for. To begin your search, visit the eBay homepage and enter the term "men's designer sunglasses" into the search bar. This will bring up a listing of all of the men's designer sunglasses for sale on eBay. It will be extensive, but you can narrow your search by filtering for different technology features, such as polarised lenses, mirrored lenses, or lenses with UV coating, and different looks, such as aviator frames, brown-coloured frames, or frames made from metal or plastic.
Alternatively, you can add descriptive words to your search term to get a more refined listing of designer sunglasses. For example, if you are looking for brown aviators, you can enter the term "men's designer sunglasses brown aviator". The results should only include the sunglasses that you want, making it easier to browse the listings. By using search terms, you should be able to find the designer sunglasses on eBay that suit you best.
Conclusion
Designer sunglasses are much more than an accessory that helps men look stylish though that is an important aspect. Designer sunglasses should have lenses that help men see better while providing protection for their eyes. It is therefore important for men to pay attention to a pair of sunglasses' lens technology and colour. For instance, polarised lenses help men see through bright glare, and certain lens colours add definition depending on the light conditions. Furthermore, the sunglasses should block harmful UV rays. Under conditions of bright light, these features help men perform better in activities and enjoy themselves more.
Whereas lens features enhance men's vision, it is the style of sunglasses that largely determine how good men look in them. There are a range of styles and colours, and not all of them look good on every face. This guide has provided advice on how to match sunglass frames to faces. eBay is a good place to buy many different types of designer sunglasses, and with the information in this guide, men should be able to find the perfect designer sunglasses that help them see and look better.