Buying a separate suit jacket is a great way for men to build flexibility into their wardrobes, since they can dress the jacket up or down with other clothing and accessories. A good men's jacket flatters the man who wears it and hits the level of formality he is shooting for, so choosing carefully is important.
Getting the Size Right
The better a jacket fits, the better it looks. Because men come in different shapes as well as sizes, getting properly fitted for a jacket means the chest size, sleeve length, torso length, and shoulder width all have to be right. The chance of finding a perfect fit is so small that a man should include the cost of tailoring into the price of the jacket.
Choosing a Colour

For most formal settings, a suit jacket should be dark in colour, but not black. Black jackets look too severe on tall men and it tends to make short men look shorter. Plus, in some circumstances, the symbolism of black would simply be inappropriate. The jacket's colour must look good on the man himself, and must also match the other clothing the man might wear with the jacket. Dark blue is the most versatile colour and the best choice for a man who only owns one suit jacket. Brown is the least versatile of the dark shades.
Choosing a Pattern
Solid colour works fine for a suit jacket and is a good fallback option, but vertical stripes or another subtle pattern work well also. Horizontal stripes flatter nobody. There are several different stripe types, from thin and subtle to contrasting and obvious. Other patterns include subtle arrangements of tiny dots and complex weaves of slightly differently coloured threads. The choice of pattern is entirely a matter of personal taste, though bold patterns, such as checks, are too informal for suits.
Choosing a Fabric
High-end suit jackets are usually wool, linen, or silk. Wool jackets are probably the best all-around choice, since it looks good and is easy to care for, although it can be uncomfortably warm. Linen is a great choice for hot weather, but it does wrinkle easily. Silk is good-looking and comfortable, but quite expensive. More affordable materials include cotton, which is cool and easy to care for, and various synthetic options.
Choosing a Style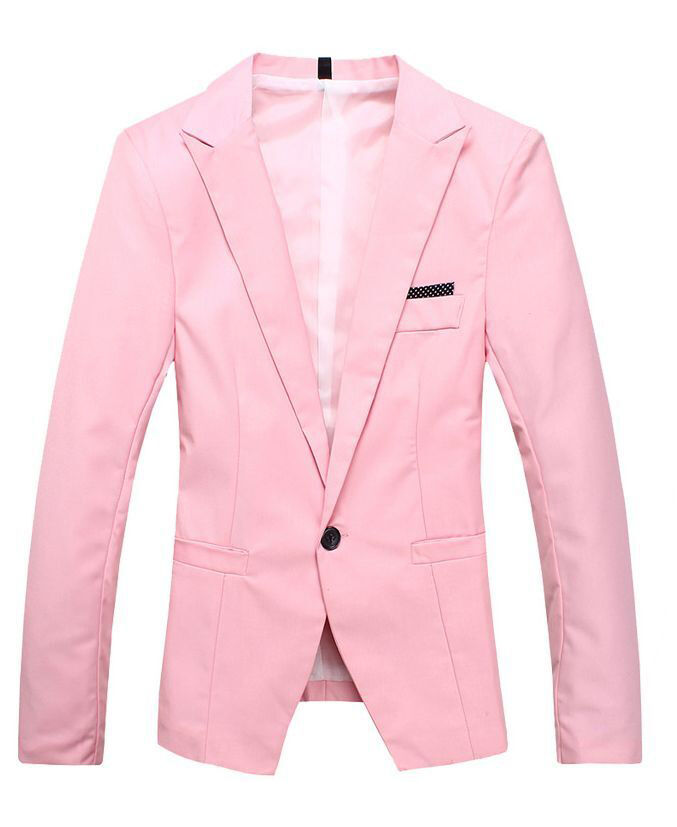 Jackets can be single-breasted or double-breasted and with a variable number of buttons. In addition, there are differences in the shave of the collar and lapels and in how tightly the jacket fits. Choosing which to buy partly comes down to current fashion, but also a jacket should flatter a man's body type. Single-breasted jackets flatter just about everybody, while double-breasted jackets often overwhelm the short but look very good on the tall. A formal jacket should have two or three buttons, with three buttons being better for taller men.