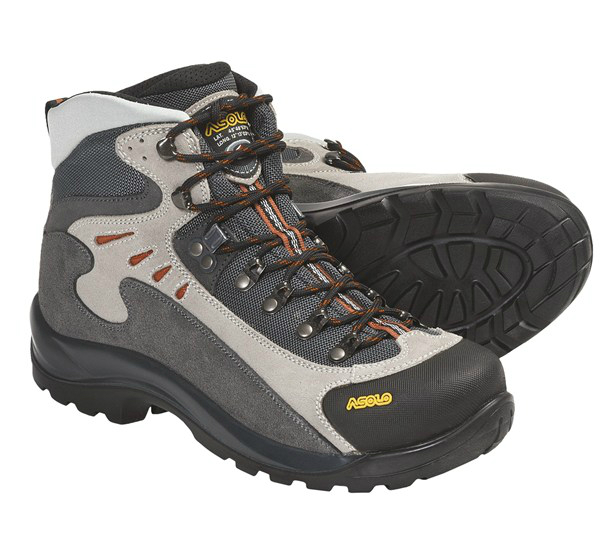 Hiking boots provide protection for various outdoor activities, whether they are as easy as walking on flat terrain or hiking up a steep slope. Hiking boots are built to protect the feet on a trail, especially where pebbles, stones, twigs, and leaves can wound feet and cause blisters. Hiking boots can also be a challenge to buy because they need to fit perfectly and have to be of the right size in order to suit a wide variety of purposes. They also need to last a long time, and should fit well over feet whether they are used in snow, on ice, in a well-worn path, or even a paved incline.
Hiking boots are made of different materials, can be of different weights, and will be designed for different terrains. To buy hiking boots, especially online, one must take consideration of all these different factors. This buying guide showcases the various guidelines on choosing hiking boots, and can be useful to a buyer looking online for hiking boots.
What are the Different Kinds of Shoes for Hiking?
There are many different kinds of hiking shoes for men, and therefore many ways of classifying them. Sometimes, hiking boots can be confused with these other shoe types.
Light Hiking Shoes
Light hiking shoes are usually cut low, and are built for day hikes. Some travelers use light hiking shoes to walk long distances on established, well paved roads; or short hikes on well established terrain. Light hiking shoes, as the name implies, are easy to pack and are lightweight. The midsoles, which support the feet, are flexible, providing little support for rougher terrain.
Hikers will opt for light hiking shoes when they carry less weight on their backs, since the feet will need less support then. Moreover, because they are cut so low, such boots will not provide protection against pebbles or stones, and them ankles will not be protected from sprains or twists.
Hiking Boots
Men's hiking boots are of a higher cut, and are useful for day hikes or weekend trips. Unlike hiking shoes, hiking boots will have a flexible midsole, and will need to be broken in. They are relatively soft, compared with the sturdier backpacking boots. However, hiking boots can keep feet stable, and will work for walking on inclined slopes.
Backpacking Boots
Backpacking boots are also considered hiking boots, but this time, they need a longer time to be broken in. These sturdy boots have strong, inflexible midsoles, which provide greater support for the feet both on and off the trail. They also provide support for carrying heavier weights, which some hikers do when they need to camp for several days.
Mountaineering Boots
Mountaineering boots are the toughest and most durable of all hiking boots. They provide feet with the greatest support, and they have the stiffest midsoles, which can help keep feet supported even with loads on a hiker's back. Mountaineering boots also offer the greatest traction, which can be useful for hiking on rough, inclined terrain.
What are the Different Factors that Go into Buying Hiking Boots?
While colour and styles will be important in determining which hiking boots should be purchased, these factors are not as important as the make and protection offered by a boot. When a boot is covered with mud and scratched by pebbles, colour will not matter so much as the material that comprises the boot. These factors can help guide the purchase of men's hiking boots.
Boot Cut
The cut of a boot depends on how low it is in relation to the ankles. Low cut boots are ideal for light travel, and will provide no support for an ankle. Low cut boots are cooler on the feet and are therefore ideal for short hikes. On the other hand, a mid-cut boot wraps around the ankles, and will therefore provide more protection for a longer hike. High cut boots will therefore offer the most protection and support for the ankle, and will keep the foot from being injured by scattering pebbles or branches.
Boot Materials
The ideal hiking boot should be made of breathable fabric that is waterproof, and that will protect the feet from pebbles, dust, and branches. Full grain leather is strong and durable, but it is not breathable. Split grain leather, on the other hand, is a less expensive alternative that is more breathable, but not waterproof.
Waterproof fabrics might keep the feet dry, but they are not breathable and will often make feet feel hot, which can be inconvenient for summer hikes. It might appear that a leather boot is ideal, but it can also take a while for leather boots to be broken in. Mixed-fabric boots will take less time to be broken into, but the fabric might not provide the same protection that pure leather gives.
Boot Size
Boots should fit snugly, but not too tightly. They should also fit a foot well in terms of the foot length, width, and the foot volume. This snug fit should keep a foot safe from injury.
The following table provides a comparison of men's shoe sizes across various international systems.
Men's Shoe Size Comparisons Across International Systems
It is important, especially when shopping online to know the appropriate shoe size. This chart below will help to provide a better generalised idea of the various shoe sizes out there for men.
| Europe | Japan | US and Canada | UK and Australia |
| --- | --- | --- | --- |
| 35 | 21.5 | 3.5 | 3 |
| 35.5 | 22 | 4 | 3.5 |
| 36 | 22.5 | 4.5 | 4 |
| 37 | 23 | 5 | 4.5 |
| 37.5 | 23.5 | 5.5 | 5 |
| 38 | 24 | 6 | 5.5 |
| 38.5 | 24.5 | 6.5 | 6 |
| 39 | 25 | 7 | 6.5 |
| 40 | 25.5 | 7.5 | 7 |
| 41 | 26 | 8 | 7.5 |
| 42 | 26.5 | 8.5 | 8 |
| 43 | 27.5 | 9 | 8.5 |
| 44 | 28.5 | 10.5 | 10 |
| 45 | 29.5 | 11.5 | 11 |
| 46.5 | 30.5 | 12.5 | 12 |
| 48.5 | 31.5 | 14 | 13.5 |
While it is useful to know the shoe size, the size of a foot with socks and/or insoles should also be considered before making any purchase. A boot also need to be walked and tested on an inclined area, since a boot must fit snugly without hurting the toes when the hiker is walking uphill; and the boot must not cut into the toes when the hiker is walking downhill.
Boot Fit
A boot must fit a foot snugly but not tightly. A boot is of the proper size if the hiker can slip his index finger inside the boot, at the back of the ankle, with the boot fully unlaced and the foot placed as far forward as possible. This allowance is required for downhill walking, when the foot can slide forward into the boot.
The boots should also be easy to walk around with. The boot should not crease across the toes when the hiker is walking, and the top of the boot should not push against the toes. The heels should also not slide outward and/or upward while a hiker is walking. Finally, the boots should be comfortable to walk with both uphill and downhill, without the toes feeling pinched.
Boot Use
Different terrains will require different boots. For long hikes with unpaved roads, inclines, and rough terrains, heavier boots with more traction are required. For shorter hikes with paved roads, lighter boots with more flexible insoles might be necessary.
Heavier loads on a hiker's back will also need more support, and therefore heavier boots; while lighter loads will not require such sturdy boots.
Boot Weight
Light boots can still offer good support for the feet, provided that they are made of quality materials. Nevertheless, light boots still offer less support, and should be used only on well-defined roads and gentle slopes. They will need less time to break in, and are more flexible.
On the other hand, midweight boots are better for less defined trails and some steeper inclines. They will need some time to be broken in, but they can provide support for the feet and can cushion the soles better. Midweight boots are useful for all sorts of terrain and a wide variety of activities.
Heavyweight boots are most useful for steep inclines and off-trail hikes. They can support the feet and provide traction, protect the foot against water, and will be durable. However, they also need a long time to break in, and can be very heavy.
How to Buy Hiking Boots on eBay?
Buyers first need to consider all of the above factors as they start shopping for hiking boots on eBay. First, they will need to go to the main eBay site, where they can then utilise the search function. It is possible to do this by typing in the phrase "mens leather hiking boots" into the search window and hit the return key. The search can then be narrowed down by specifying the size of the hiking boot that is needed.
As a buyer the search results can then be narrowed down even further according to eBay's classifications. As an example there are options of whether brand new or used hiking boots are needed. Pricing can also be narrowed down according to the different price categories.
When shopping on eBay it's important to take into consideration the seller that is selling the hiking boots. Sellers receive feedback on their previous searches, this is one beneficial way to make sure the seller is verified and has a good track record with selling on eBay.
Conclusion
Hiking boots can protect the feet from stray pebbles, debris, branches, and other elements that might lead to injury. Hiking boots can be made from a wide variety of materials, and they can be of different sizes and weights. Each size and weight is designed to meet a specific need, and different types of terrain and activities dictate which hiking boot should be purchased.
The eBay marketplace can provide many different choices for men's hiking boots, and it can therefore be a good place to search for them to save money and time. The right pair of hiking boots should be comfortable and durable. It should provide ample protection for the feet, and it should be suitable for the terrain on which it is used. This guide can help by providing tips on how a buyer can easily find the perfect pair of hiking boots to suit their everyday needs.