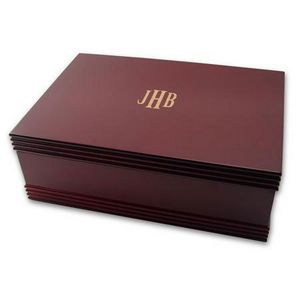 Skilled craftsmen from all over the world have designed and produced jewellery boxes for centuries. Some of the earliest boxes were created to be worth as much as the gems and jewellery they stored. Mass production during the Industrial Revolution expanded the base of consumers who were able to afford jewellery boxes. Around this time, manufacturers began to understand that jewellery boxes represented something more than a visually appealing place to organise jewellery. They began constructing durable boxes that included locking mechanisms to prevent theft. It was not until the 1990s that manufacturers produced gender neutral jewellery boxes that appealed to men.
Men can find jewellery boxes at jewellery shops and places that sell watches. They can also go online and search for jewellery boxes at the leading auction website, eBay. Shopping online means having a good idea of which features men want included in a jewellery box. Before any man starts the jewellery box shopping process, he should first understand the benefits of owning such boxes, know the types of jewellery boxes, know the features most common in jewellery boxes, and the factors to consider before reaching a purchasing decision.
Why Buy a Men's Jewellery Box?
Buying a jewellery box is rarely a high priority for most men. In fact, many men do not even consider buying a jewellery box. Instead, they either store their jewellery in the top dresser drawer or worse, scatter their finest jewellery pieces over a desktop. There are three primary reasons why men should consider buying jewellery boxes, with the first two reasons being more important.
Organisation
Jewellery boxes provide men with an excellent tool to separate their watches, rings, bracelets, cufflinks, and even earrings. Most jewellery boxes are constructed with multiple boxes of varied sizes that allow men to mix and match storage space depending on the amount of a specific jewellery piece.
Protection
Perhaps the most compelling reason to buy a jewellery box, protection comes in the form of preventing damage and deterring theft. Men's jewellery can be expensive, especially vintage pieces or jewellery made with expensive gemstones. Many jewellery boxes provide men with the option to lock up their valuables. Moreover, the storage compartments prevent damage due to scratches and dents.
Panache
Jewellery box manufacturers typically keep women in mind when constructing their products. They produce visually stunning boxes that enhance room decor. Men can benefit from the same principle, albeit with different styles in mind. Jewellery boxes add panache to bedroom decor.
Types of Men's Jewellery Boxes
While a majority of jewellery boxes are constructed with women in mind, there are four types of jewellery boxes that do not distinguish between the genders. The following four types of jewellery boxes are more functional than decorative, and thus, appeal to men who want a convenient place to store their bracelets, watches, rings, and cufflinks.
Wooden
Wooden jewellery boxes represent the largest type of jewellery box. Most manufacturers construct wooden jewellery boxes with multiple drawers, and possibly a couple of cabinets covered with glass or wooden doors. The drawers may slide out in a traditional fashion or lift out accordion style. To prevent scratching, wooden jewellery boxes possess lacquer finishes that not only create smooth surfaces, but also add aesthetic appeal.
Fabric
Once considered the domain of women, fabric jewellery boxes have gained popularity amongst men. They are much smaller than wooden boxes, and hence, provide enough storage space for most men. Fabric jewellery boxes are mostly lined with silk or satin, and they come in a variety of colours to match various room decors. They may possess decorative beading along the exterior that colour coordinate with room colours. Fabric jewellery boxes have more visual appeal than provide functional utility.
Leather
Leather jewellery boxes are constructed to store men's watches and cufflinks, by far the two most popular pieces of men's jewellery. They may consist of a single layer and a few compartments, or two layers covered by a lid. This was the first type of jewellery box manufactured for men and it is often referred to as a valet. The leather is commonly treated to enhance the durability of the jewellery boxes.
Travel
Men who travel on business should consider buying the smallest type of jewellery box. The travel jewellery box is designed to secure a few pieces of jewellery with a sturdy locking system. Men can choose between a small travel locking box or a fabric roll for storing their valuables. Fabric rolls utilise several zippered compartments that vary in size. Men then roll the zippered compartments up and tuck the roll into a suitcase. Fabric rolls provide storage convenience, but they provide much less security than locking boxes.
Watch
Outside of rings, men spend more on watches than any other jewellery piece. Manufacturers build watch boxes to specifically store wristwatches and pocket watches. The boxes contain several compartments for storing individual watches. Individual compartments ensure the watches do not come into contact while in transit. A recent innovation dubbed the "Watch Winder" rotates the watch to maintain the self-winding process programmed into many timepieces.
Men's Jewellery Box Features
Men's jewellery boxes represent a straightforward way to store valuable jewellery. Therefore, most manufacturers do not offer many features to enhance functionality or aesthetic appeal. However, men should consider three features that provide immense value.
Lock
The question is not whether to add a lock to a men's jewellery box, but which type of lock to add. The majority of men's jewellery box locks are opened and closed by a key. A growing trend among jewellery box manufacturers is to produce combination lock boxes. In either case, a locking mechanism protects jewellery from theft.
Mirror
When it comes to watches or rings, many men display the jewellery in front of a mirror to gauge the jewellery's visual appeal. Jewellery box mirrors provide the same function, and they can be located anywhere on the box or underneath the lid. Mirrors inside of jewellery boxes flip open with a hinged lid.
Music
Jewellery boxes constructed with some type of music playing device are the classic designs that have survived centuries of tradition. The devices play a song when the box opens, and then stops playing the song when the box closes. There has never been a wider variety of music to choose from for a men's jewellery box.
What to Consider Before Deciding on a Men's Jewellery Box
Men should buy jewellery boxes with functionality placed above visual appeal. This is not due to gender difference, but the precept that jewellery requires a durable and protective container for storage. Therefore, the first two factors in the following list should take precedence over the remaining men's jewellery box buying factors.
Materials
Durable jewellery boxes can be constructed from a number of different materials, but by far, wood provides the sturdiest foundation. A heavy wooden box made with treated mahogany provides men with years of rugged use. Jewellery boxes can fall from their perches on top of a chest of drawers and heavy wood does the best job of absorbing the impact.
Construction
Jewellery box drawers should fit tightly, but not too tight as to catch on the sides of the box. The doors should click shut and remain shut. The lid requires strong hinges to hold it in place. Construction issues also include locks and locking mechanisms. Consider buying a jewellery box from a recognised brand.
Compartments
Men should count the types of jewellery they own, and then use that number to choose compartments. Another rule is to choose larger compartments for more jewellery of the same type. Some boxes also include hanging hooks for rings and bracelets. Fine jewellery needs to be wrapped in fabric before it is stored in compartments.
Design
Design is the last factor for men to consider, and it often hinges on personal preference. Some men may choose a jewellery box design that complements room decor, while other men may want designs that promote masculinity. Remember that men's jewellery boxes constructed with porcelain or precious metal do not possess the strength to withstand years of use.
How to Buy Men's Jewellery Boxes on eBay
eBay offers men a wide variety of gender neutral jewellery boxes for storing and protecting some of their most valuable possessions. Simply utilise eBay's search engine to find the right jewellery box seller. Type specific keywords, such as "new jewellery box" or "jewellery box for rings" to reduce the number of search results. Once you find the right seller, navigate to the seller's product page to review delivery terms, accepted payment methods, and return policies. The length of the return period may be the determining factor in your purchasing decision.
Consider buying from eBay's Top-Rated Sellers. The top-rated sellers have established reputations for selling superior products and offering generous return policies. You can also review customer feedback that eBay amasses on seller product pages. Look for positive feedback that goes back at least one year and preferably for some jewellery sales. Once you forge a business relationship with an eBay seller, confirm that the seller runs an eBay Store where you can directly buy other products.
Conclusion
In the top drawer of many men's dressers sits an assortment of beads, bracelets, watches, rings, and cufflinks, unorganised and unprotected. The common perception has always been that jewellery boxes are only for women and only because they are more decorative than functional. That is no longer the case as manufacturers continue to introduce gender neutral jewellery boxes that provide many benefits for men, with the two greatest benefits being organisation and protection. Men's jewellery can be very expensive, and as such, items such as silver rings and sapphire watches require impervious locking mechanisms.
Men have many options when it comes to jewellery storage, with the first option concerning types of boxes. Men can choose among wooden, leather, and fabric jewellery boxes, as well as purchase a box just for storing watches. Wooden jewellery boxes typically provide the most durability and more than enough space to accommodate every type of jewellery that a man owns. Men can order jewellery boxes with advanced locks, mirrors that flip open with a lid, and music to add to a room's ambience. They must also consider the materials used to construct a jewellery box and they way the box is constructed and designed.