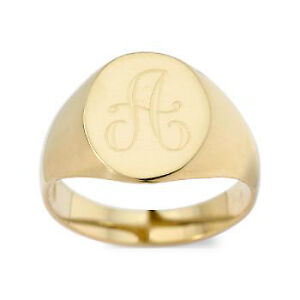 Signet rings became popular during the Ancient Roman Era. Emperors and the ruling elite wore rings that contained impressed symbols or signatures. For example, Caesar's signet ring portrayed an armed Venus. Early signet rings provided wearers with both ornamental and practical benefits. The practical benefits came from the fact that Romans wore clothes that did not have pockets. Therefore, signet rings became the official calling card of the powerful. Contemporary signet rings are made mostly for decorative reasons, as personal initials have replaced a coat of arms as the preferred impression.
Consumers can shop for signet rings at most jeweller shops. However, make sure a trained jeweller is on staff to make the signet ring impression. Consumers can also find signet rings online at the leading auction site, eBay. Before shopping for signet rings, consumers should receive an overview of this type of ring, as well as, learn about signet ring customs, the factors involved in the buying process, and the importance of size as it pertains to purchasing signet rings.
Signet Rings 101
Jewellers typically engrave contemporary signet rings with the wearer's initials or other personalised designs. The engraving options have changed through the years, although some signet ring wearers still opt for Celtic or Egyptian designs. Signet ring designers often present customers with highly decorative blank bands for engraving requests.
One important distinction to note between antique signet rings and contemporary signet rings involves official seals. Antique signet rings had to contain a seal for political and religious leaders to be recognised. Engravers created a mirror image of the wearer's coat of arms, initials or signature. Modern signet rings are not engraved as a form of recognition, but more as personal pendants. Initials comprise the vast majority of contemporary signet ring engravings.
Important Signet Ring Customs
While signet rings have evolved through the centuries, consumers should be aware of customs that not only define contemporary signet rings, but also define antique signet rings. There has been a slow rebirth of utilising more traditional engravings on men's signet rings.
Coat of Arms
Jewellers create signet ring coat of arms by either engraving in a precious metal or arranging minute semi-precious gems. Agate, especially banded or carnelian agate, is the material most often used for creating a coat of arms.
Wearing a Signet Ring
Signet rings are typically worn on the small finger of either the left or right hand. However, individual countries have varied traditions. While the Swiss noble elite wear signet rings on their right hand ring finger, French and German nobility wear signet rings on their left hand ring finger. Signet rings can be worn facing upward or facing the palm of the hand. Facing a signet ring towards the palm conveys a special social status
Power
Signet rings can also represent the level of an authority figure's power. The type of engraving used manifests the wearer's authority. For example, after the passing of a Pope, the signet ring is crushed to release power to the succeeding Pope.
Membership
Long before membership, or personal identification, cards, signet rings represented membership in exclusive clubs. Some signet rings are still consigned to manifest loyalty to universities, organisations, and social clubs. Membership signet rings are custom designed with unique emblems, crests, or logos. Most membership signet rings are constructed with sterling silver or yellow gold.
How to Buy Men's Signet Rings
Consumers can order custom signet rings through catalogues or online shopping outlets. Perhaps the widest variety of collector signet rings can be found on eBay. In addition, most jewellery shops employ at least one person who specialises in engraving rings. Before buying a signet ring, consumers should follow a few steps to ensure that they select the right ring.
Budget
Buying any piece of jewellery requires consumers to place minimum and maximum spending limits on their purchases. Signet rings are no different, as factors such as the material used to construct the band and gemstones, substantially increase the price of the ring. As with most types of rings, price does not always equate to quality.
Style
While considering a budget, select the style of signet ring and the material used to construct it. Most signet rings are made with sterling silver, as well as yellow, white, or rose gold. When selecting gold, there are also weight considerations. Most gold signet rings come in 9, 14, or 18 carats. The heavier the signet ring, the more it costs to purchase it. Some jewellers offer platinum and palladium signet rings, though rings made with either material are considered less durable and more susceptible to tarnish.
Engraving
Most people who shop for signet rings know what they want engraved on the ring before they decide on the other buying factors. The key point at this stage is finding a qualified jeweller to engrave the emblem, coat of arms, or initials onto the signet ring. Carefully vet possible jewellers for engraving experience, especially for intricate emblem patterns.
Personal Style
Jewellers can provide copious amounts of information concerning buying signet rings that can leave consumers befuddled. The ultimate signet ring buying factor comes down to personal taste. Some people prefer signet rings that flash status, while other people choose signet ring designs and engravings that are more subdued.
Negotiate
Find jewellers who are willing to bundle signet ring features into a discounted package. Some jewellers may discount the band if the consumer orders expensive gemstones to adorn the face of the ring. Paying the full price in cash may also lead to lower signet ring prices. The key is to negotiate with jewellers who may be willing to throw in a less expensive piece of jewellery.
Ring Size
While there are many factors to consider before buying a signet ring, none is more important than finding the right ring size. The right ring size is even more important when buying online. Unlike buying a signet ring in person, buying online precludes consumers from receiving the proper fit after buying the wrong size. Even a refit costs more money. Here are some points to remember for considering ring size.
The Right Size
A ring sizer provides a fairly accurate estimate of ring size. Most jewellers utilise ring size charts to match the right sized ring to the ring wearer's finger. Consumers can measure ring size by using the simple yarn method, but the best way to ensure ring size accuracy is to bring another ring into a jewellery shop for the jeweller to have an accurate fitting reference. One important point to remember is that the fingers of a ring wearer's dominate hand may be up to a half-size larger than the finger sizes on the less dominant hand.
Gift Rings
Buying any type of ring as a gift presents size issues. Consumers can either clandestinely obtain an accurate measurement of another ring or bring another ring into a jewellery shop for an accurate measurement. Many people bring along the gifted person to receive an accurate measurement. Signet rings made with gold, platinum, or sterling silver can be easily resized, but only if the emblem or initials have not been embedded into the ring.
Sizes
Consider a smaller size signet ring if the ring possesses a hollow gallery, which is the interior area of the band beneath the setting. Moreover, consider a smaller size signet ring if buying a comfort-fit band. Comfort-fit bands have contoured inner surfaces. Wider signet ring bands may require consumers to choose larger size rings. Signet rings that possess high-domed bands should also be fitted to a larger size. Always consult with a jeweller to receive accurate sizing information.
Buying Signet Rings on eBay
Signet ring buyers can find a surprisingly large number of sellers on eBay. Some sellers offer signet rings at substantial discounts because they no longer need the ring. Utilise eBay's powerful search engine to find signet ring sellers who meet your buying criteria. Moreover, you can search for sellers who offer just ring bands. Type specific keywords into eBay's search engine to reduce the number of search result pages. For instance, type "oval signet ring" or "sterling silver signet ring" to shorten your eBay search. Once you find the right eBay signet ring seller, navigate to the seller product page to review accepted payment methods, delivery terms, and return policies.
Search for eBay sellers who have earned the Top-Rated Seller distinction. These sellers have established track records for selling high-quality products and offering generous return policies. Buying a signet ring requires you to seek out top-rated sellers who allow returns for at least 30 days. This gives you enough time to ensure you receive the right size signet ring. You can also read the customer feedback that eBay compiles on seller product pages. Look for sellers who have received positive feedback over the past year and who have garnered some of that positive feedback for selling men's jewellery.
Conclusion
Rings, as with most other types of jewellery, convey status levels. However, no ring conveys more status than signet rings. Historically worn to project power, signet rings have evolved more into a personal identity statement. Instead of seals and emblems adoring signet ring faces, contemporary wearers typically place their initials, or the initials of an organisation, on the ring's face. Consumers interested in buying signet rings choose the materials used to make the band before beginning the search for a qualified jeweller to make the engraving. Some jewellers promote their signet ring specialists by displaying plaques that verify credentials.
Signet ring consumers must consider a number of factors before making a purchasing decision. They must first set limits on how much they plan to spend on a signet ring. Once the financial constraints are in place, consumers can then consider signet ring style and the engraving they want embedded on the ring face. While a few technical issues have to be resolved before making a signet ring purchase, personal style ultimately determines the ring's final design. As signet rings make an expected comeback, jewellers may offer additional options, such as gemstones, that should make the signet buying process even more involved.