A vest is actually more versatile than most people think. Men can wear this garment under their clothes to keep them warm, or as an outer garment, for example, as a sports vest. Some are designed to shape and support the body. There are so many types, styles, colours, and brands in the market that shopping for men's vests may seem like a daunting task. However, by learning more about this garment and following some practical tips, anyone can purchase the right vest to suit their needs.
Find the Right Type of Vest
There are many styles of vests available on the market, but in general, there are two types: undergarments and outer garments. The latter are those that men generally wear either in the gym or as casual summer wear. Sport vests, or vest tops, are often designed with sporting comfort in mind, and buyers should be sure to look for vests made from 100 per cent cotton for best results. Vests worn as underwear also come in several varieties. The classic cotton vest is traditionally the most common type of vest, but for greater warmth on cold winter days, a thermal vest might be a better choice. Body shaping vests support the body, thereby improving the wearer's posture as well as creating a slimmer appearance.
Get the Proper Fit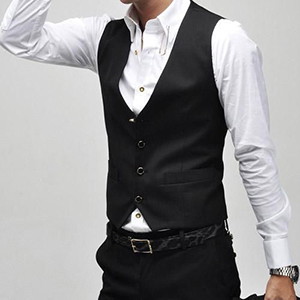 Vests should hug the body a certain way to accentuate and flatter the wearer's body, especially when visible. Buyers looking for sports vests should ensure that the fit is snug, but not too tight. The fit, especially under the arms, should not be constrictive. Vests worn as undergarments should be thin and can hug the body somewhat more loosely, but buyers should consider what they will be wearing over the vest. Any creases in the vest might be clearly visible under a thin shirt, but less of a consideration for those wearing a sweater.
Style Matters

Vests come in many colours and variations. In addition to the plain white cotton vest, buyers can choose from a number of versions in bright colours that may include pictures or other logos. The brighter vests are ideal for a summer day at the beach. Sports vests often have logos and promotional images printed on them, and buyers should also take this into consideration when buying the right vest for themselves. Style may be less of an issue for thermal and body-shaping vests, but buyers may need to consider aspects such as the bulkiness of the material or the placement of body-shaping panels.