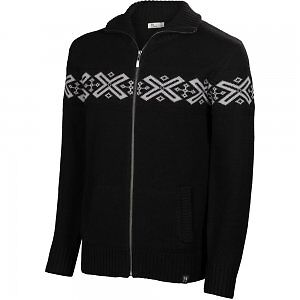 A cardigan can be referred to as an open-front pullover sweater or shirt. They are generally knitted and can comprise either a buttoned or zipped fastener. Cardigans are often machine-knitted, but buyers can also find unique hand-knitted cardigans in various styles. The design of this article of clothing comes from the woollen waistcoat that officers in the British army wore during the Crimean War. Due to the widespread knowledge and reputation of the event, the shirts became a popular garment during that era. They were also named after the British army major general who made an outstanding contribution to the war. The general's name was James Brudenell, and he was the seventh Earl of Cardigan, thus the name cardigans.
Initially, only sleeveless knitted vests were considered cardigans, but over the years, the fashion industry has reformulated the look to include various styles and designs. At one point, cardigans were very popular among college and university students, but it has now stretched beyond academic circles to include business men and women as well as your average Joes. The great thing about cardigans is their adaptability and flexibility, which allows them to be worn in both formal and casual settings. This guide provides details on various cardigan styles and designs, and information that will help men select the best zip cardigan to accentuate their personal style.
Why Buy Men's Zip Cardigans?
Due to the popularity in women's cardigans, men shied away from this particular shirt/sweater style, but it is about time that it is re-introduced as a fashionable alternative. Cardigans are stylish and can easily fit with almost any wardrobe. They are also very versatile, so the buyer can wear them most of the year and to almost any event. Dark grey or black cardigans are popular colours because they complement any outfit; however, buying a white, blue, brown, or even red cardigan can truly brighten an otherwise dull ensemble.
Versatility and Style
A cardigan can be worn zipped or unzipped to create different effects and enhance a certain style. An unzipped cardigan is more casual, while a zipped one would fit comfortably in a formal setting. A man can wear a cardigan three days in a row and create three completely different "looks". For example, it can be worn over a dress shirt and tie along with matching dress pants. This look can be worn to the office, to a meeting, to a semi-formal dinner, or to any other similar engagement. The next day the cardigan can be worn over a T-shirt with a pair of nice, fitted, bootcut jeans, which will radiate a sexy, suave, casual look. This outfit can be worn either day or night and still have the same effect. On the third day, it can be worn completely open or with the zipper only connected at the bottom to an even more casual setting. For this last look, the cardigan can be worn over a T-shirt with jeans pants or shorts.
Types of Men's Zip Cardigans
Some men stay away from cardigans because they are still under the impression that all cardigans resemble a Christmas sweater. Contrary to those beliefs, there are numerous cardigans that are not knitted but are made with various fabrics, such as acrylic, wool, and cotton. Knitted, diamond cardigan sweaters are not necessarily a thing of the past, but if a man is no longer interested in that style or design, there are numerous other options.
Winter Sporty Cardigans
Winter, sporty cardigans refer to jumper cardigans. They are generally long-sleeve jackets that are made with a variation of fabric blends. They are often made from cotton mixed with polyester or wool mixed with acrylic, but they are all made to keep the wearer warm when the temperature drops. Jumper cardigans are also usually long and able to be zipped all the up to just below the chin. Buyers can find these cardigans online and at local stores in a variety of styles and colours. They also tend to emit a sporty yet casually elegant look; therefore, men can wear them to go on a quick winter jog or to a casual event with friends.
Vintage Style Cardigans
There are still some men who prefer the classic, vintage cardigan styles, and these cardigans are also popular in both local and online stores. While they may not be the most obvious choice for the fashion forward younger generation, classic diamond zip cardigans can never become outdated. They are generally made from knitted wool and have a row of contrasting coloured diamonds running meticulously across the chest area. Initially, this design was often seen in pullover, sleeveless, sweater cardigans, but it has since become popular in the more winter-oriented, long-sleeve, front zip ones.
Men's Hooded Zip Cardigans
Hooded sweaters have become increasingly popular over the past decade; therefore, it comes as no surprise that men's hooded zip cardigans have also increased in popularity. Buyers can find hooded cardigans in a variety of styles, colours, and fabrics. They are not synonymous with any one season and as such, there are thin ones made from various cotton blends and thicker ones made from knitted wool.
Men's Cardigan Size Chart
A cardigan size chart is similar to that of a regular sweater size chart. However, men and women sweater sizes vary; therefore, a man should ensure that the size chart he is using is made specifically for men. Men can use the size chart below to determine their cardigan sizes if the seller has not provided their own. Measurements are in cm. Sizes below are estimated and may vary by brand and manufacturer.
| Size | Chest | Length | Sleeve | Shoulder | Armhole | V-Neck |
| --- | --- | --- | --- | --- | --- | --- |
| XS | 76 - 81 | 61 | 58.5 | 35.5 | 20 | 23 |
| S | 86 - 91 | 63.5 - 66 | 61 | 38 - 40.5 | 21 | 25 |
| M | 96.5 - 101 | 66 - 68.5 | 61 - 63.5 | 43 - 45.5 | 23 | 25 |
| L | 106.5 - 111 | 68.5 | 66 | 45.5 - 48 | 24 | 27 |
| XL | 117 - 122 | 68.5 - 71 | 66 - 68.5 | 48 - 50 | 25 | 27 |
| 2XL | 127 - 132 | 71 | 68.5 | 53 | 27 | 28 |
| 3XL | 137 - 142 | 71 - 73.5 | 68.5 | 53 - 56 | 28 | 29 |
| 4XL | 147 - 152 | 73.5 | 68.5 | 56 | | |
| 5XL | 157 - 162.5 | 76 | 71 | 58.5 | | |
When selecting zip cardigan sizes, ensure there is extra room to avoid a tight fit. Cardigans do not have to be loose fitting, but they should at least be comfortable and allow for easy movements. This is especially important when the wearer plans to take part in sporting events like golf or polo. Not all size charts will be as detailed as the one above; they may only provide the chest and shoulder sizes, but that is often enough information to estimate the right size to purchase.
Buying Men's Zip Cardigan Sweaters on eBay
While men's zip cardigans can be found in many clothing stores, eBay is an ideal online store to find many different cardigan styles and designs to suit any wardrobe and budget. You can find your perfect cardigan by performing a search for "men's zip cardigan" from the eBay homepage. The search will generate a large selection of cardigans, but you can further filter the results by adding certain specifications to your search. You can narrow your search by colour, brand, or style, e.g., "men's hooded zip cardigan".
When you find an item that you are interested in buying, always get in touch with the seller to get a size chart or at least an estimated measurement of the garment. Additionally, ensure that you agree on and finalize all delivery costs and procedures before you make a payment. If you are purchasing an auctioned item, you should first determine your budget before you start bidding and also search for an alternative in the event that you do not win the auction.
Conclusion
While men's zip cardigans are flexible, a man should make sure that he buys a cardigan that complements his style and size. It is almost impossible to make a bad buy when it comes to cardigans, but the manufacturing material and design should be considered. Wool is often used to make knitted cardigans, both vintage and sporty designs, but cotton is now becoming popular with more contemporary cardigan styles.
It may be wise for buyers to have at least two styles of cardigans in their wardrobes. One that can easily be worn at a casual and formal event and another that can be worn while jogging, to a simple gathering with friends, or to a quick trip to the store. Additionally, men should not be afraid to buy coloured cardigans as long as they correspond with the their personal style and fit comfortably. eBay makes finding the perfect cardigan a simple task by allowing buyers to personalize their search and filtering through the vast collection.