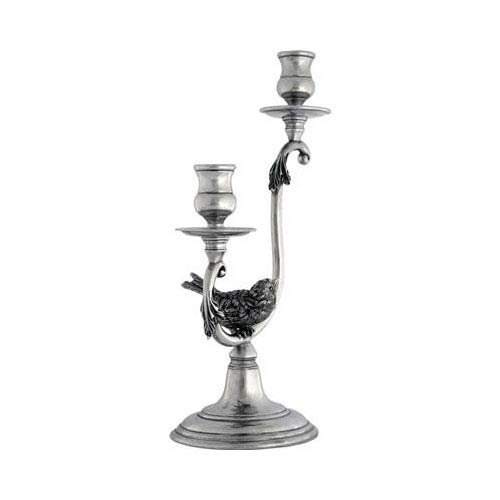 Metal candlesticks come in a wide range of styles. Selecting a particular metal and style of candlestick or candelabra is a matter of personal taste. It is possible to choose from new or used candlesticks. One advantage with buying new is the assurance of knowing the metal, and sometimes other materials used, are as stated. Buying second hand, on the other hand, offers the advantage of picking up a bargain and possibly finding a unique candlestick or pair of sticks. If looking for a particular style, or being interested in collecting a particular type of metal, all needs can be met. Candlesticks may be made to hold slim tapered candles, larger pillar candles, or even small tea lights. All are readily available on eBay, and purchasers can browse by metal type or style.
Types of Metal Candlesticks
Some metals are more commonly used than others, and sometimes a candlestick may use more than one metal or have other materials included. The main metals used in candlesticks are silver, silver plated, brass, bronze, copper, pewter, and wrought iron. Candlesticks with spikes are designed for pillar candles (of any shape) while those with cups are intended for tapered candles.
Solid, or Sterling, Silver Candlesticks
Solid silver candlesticks and candelabras are available both new and used. Avid collectors will usually be looking for a hallmark; researching the hallmark can often give an indication of the candlestick's quality and value.
| | |
| --- | --- |
| English silver candlesticks. Antique, vintage, or new. | Many matching pairs and candelabras can still be found. Usually listed with the hallmark and date displayed. Single candlesticks of all ages and styles are also available. |
| French silver candlesticks. | Not as commonly listed as English silver but can still often be listed. |
| Silver candlesticks from other countries | Browsing through the silver candlestick or candelabra listings can uncover some interesting items. |
| Sterling silver combined with glass | Glass bowls or droppers are sometimes combined with silver to add interest to the design. |
Silver Plated Candlesticks
Silver plating may be applied over any other metal (typically brass or copper). Silver plated candlesticks add sparkle to a dining table, mantelpiece, dressing table, or display shelf.
| | |
| --- | --- |
| Single plated candlestick | A single candlestick can look very elegant, particularly on a bedside table. Available in many styles and ages |
| Candlestick pairs | Paired candlesticks are well suited for mantelpieces, dressers, and tables. Many styles can be found. |
| Two or three armed candlesticks | One stick with several arms is suitable for a dining table or as a centrepiece display in any room. Pieces can often be removed for easy cleaning. |
| Single or double candlesticks with glass or crystal drops | Provide an elegant look in any room. Sometimes available new, but more commonly found in the vintage or antique styles. |
| Silver plated candelabras | Available in a range of styles. Often make a stunning focal point. |
Pewter Candlesticks
Pewter is an alloy made with tin and a combination of other metals. Older pewter candlesticks may be made from the traditional mix of tin and lead. While pewter made with lead would not be considered safe for cutlery items there is no evidence of it being harmful in such items as candlesticks. Antimony and copper are the other metals most frequently combined with tin to produce pewter. Pewter should not be considered a poor man's silver, but rather appreciated for its own qualities. Pewter has been used to make candlesticks all over the world, and this range is reflected in the candlesticks available on eBay. It is unusual to find new pewter candlesticks, but they are available.
| | |
| --- | --- |
| Single pewter candlesticks | Available in a range of styles from different countries. Choose to suit taste and decor. |
| Matching candlesticks | Elegant, chunky, or simply practical. Suitable for collectors and for use in any room. |
| Floor standing candlestick | Suitable for focal floor display. Usually made to suit large pillar candles of any shape. |
| Multi-candle candlesticks | One major stick that supports a number of candles. Ideal for a table centrepiece. |
Brass Candlesticks
Brass is an alloy made from copper and zinc. Brass candlesticks can be displayed in a polished state or left to tarnish and develop a patina. Brass can look effective in either a contemporary or traditional setting. Many European brass candlesticks are available, and there are also many interesting candlesticks from India and Persia.
| | |
| --- | --- |
| Single brass candlesticks | Suitable in collections or as part of a decorative display |
| Floor standing candlestick | Usually made for pillar candles. Suitable as a focal point or used to fill an awkward space. |
| Matching candlesticks | Usually available in pairs although sometimes a trio may be found. All styles and ages. |
| Brass combined with other materials | May be mixed with marble, glass, or wood. Suitable for a variety of rooms and decors. |
Bronze Candlesticks
Bronze is an alloy made from copper and tin. It has a browner look to it than the more yellowy brass. Bronze candlesticks can be found in many styles on eBay.
| | |
| --- | --- |
| Statuesque candlesticks. Single or pairs. | Casting statues in bronze has long been a popular art form. Many bronze candlesticks with figures are available. Choose to suit taste and decor. |
| Single bronze candlesticks | All styles and ages can be found from elegant antiques to funky retro. |
| Matching candlesticks | Suitable for tables, mantelpiece displays and bedrooms. A range of designs available. |
| Multi-candle candlesticks | Attractive focal points for a variety of decors. |
| Bronze combined with other materials | Often used with marble for a classical look. |
Copper Candlesticks
Copper can impart warmth to both contemporary and more traditional homes. Copper candlesticks can be polished to a high shine, or left to develop a natural green patina.
| | |
| --- | --- |
| Single candlesticks | Either tall for table display or sometimes available in "Wee Willie Winkie" type holders. Suitable for any room. |
| Matching candlesticks | All sizes and a multitude of styles available. |
| Multi-candle candlesticks | Available in a variety of styles. Useful for centrepieces or focal points in a room. |
| Copper and other materials | Copper and wood can add further warmth and depth to a candlestick. Sometimes available mixed with silver plating. |
Wrought Iron Candlesticks
Iron candlesticks are often found in their classic black colouring although some may have a patina or coloured finishing placed over the top. Iron candlesticks are readily available in vintage and retro shapes as well as contemporary. Being both strong and malleable, metal iron has been used to create some of the most interesting and often intricate designs in candlesticks. The majority of iron candlesticks have a spike to secure the candle to them.
| | |
| --- | --- |
| Single candle candlesticks | Surprisingly, these are less common than multi-candle holders but can still be found in a variety of styles. |
| Matching candlesticks | May be found in pairs or less commonly in trios. Suitable for mantelpieces and dresser displays. Available for table candles or pillars. |
| Multi-candle candlesticks | A wide variety to be found for two, three, or more candles. These can be found in all shapes, sizes, and styles. |
| Floor standing | These may be made to hold a single large candle or more. |
Choosing a Metal Candlestick by Style or Period
Apart from the type of metal a candlestick is made from, candlestick collectors are often looking for a particular style to suit the taste or decor. Be aware that many new candlesticks are modelled after a certain period or style.
| | |
| --- | --- |
| Antique candlesticks | Over 100 years old. Often the period will be described, e.g. Edwardian or Victorian. |
| Vintage candlesticks | Not as old as antique. Frequently describes a style as opposed to the actual age of the candlestick. |
| | Chunky or unusual shapes are commonly seen. |
| Shappy Chic candlesticks | Often using distressed or painted metal. |
| | Suitable for any decor frequently with a focus on elegance or a minimalist look. |
Finding Metal Candlesticks on eBay
Starting in the Candles & Candlesticks section, browse freely if unsure but interested. Narrowing the search by metal type or candle style will reveal further options. Searches can be made from the search bar at the top of the page and selections can also be made on the side bar according to materials, colour, condition, and pricing. When an interesting auction is found, look at the varying shipping options. Local shipping discounts, or even free shipping, may be offered. Few brick and mortar shops or online stores offer the huge selection that is available on eBay, particularly for candlestick collectors.
Conclusion
Any room in the home can be enhanced with candlesticks. Metal candlesticks can make decorative items but always look at their best with a suitable candle for adornment. All metals are also enhanced by candlelight. Left to tarnish naturally, complete with dripping candle wax, or regularly cleaned and polished, a candlestick is a way to make a statement. Choose from cheap and cute, stylish not stingy, or extravagant and expensive candlesticks on eBay.