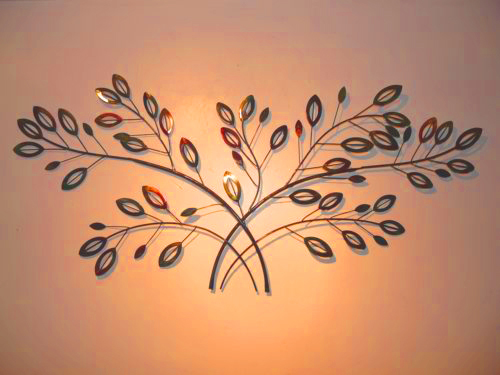 Metal sculptures are one of the oldest forms of art with several pieces dating back to 3,200 B.C. Their natural strength and commanding presence gives them the edge over traditional art. Construction of metal contemporary sculptures requires artists to use molds and tools that allow for metal manipulation.
* Liquid metal is poured into a mold, which is a hollow cavity of the design created by the artist. When the metal has reached solid form the mold is broken off.
* Most artists consider the piece finished at this point however some will alter it during a "cold work" phase.
* Traditionally artists create larger pieces that can be displayed inside and outside. Modern day metal sculptures are some of the most beautiful art available.
eBay has offerings from up and coming artists and those established in the field. It means there is something for everyone on the world's leading online auction site.
Metal Contemporary Sculpture Materials
When purchasing a metal contemporary sculpture the most important thing to consider (along with design) is the material used. All metals offer different attributes when it comes to look; they also have an effect on the lifespan and display potential of a piece. The most common materials used to create a metal contemporary sculpture include:
* Stainless Steel
* Mild Steel
* Aluminum
* Copper
* Brass
* Tin
* Wrought Iron
All metals can be manipulated into works of art, however stainless steel is considered the hardest wearing and best value for money. Buyers should be aware that stainless steel can come across as flat and may not offer the same aesthetics as other forms of metal.
Metal Contemporary Sculpture Finishes
During the construction process artists will treat the metal with a finish of their choosing.
* Coloured
* Andonised
* Etched
* Painted
* Lacquered
* Enameled
Be wary of metal artworks that are made from less stable substances such as mild steel. Even though it is stable in smaller forms, larger pieces tend to use a metallic finish in order to create a silver look. In such instances it can be mistaken for stainless steel but it will not carry the same sturdy foundations.
Types of Sellers
Something to think about when choosing to buy a piece of this magnitude from eBay is the seller. There are four possible options in particular to consider whilst browsing any online auction site:
* Artist
* Licensed Distributor
* Art Dealer
* Third Party
It is really important to think about the aforementioned types of sellers when looking at an item listing. Artists have a tendency to create original pieces that are limited edition. More often than not they will also feature in a series, purchasing direct from an artist will open up the possibility of a working relationship.
* Having the opportunity to buy an artists work in large quantities will mean investors can acquire a collection with possible resale value.
* Buying from a specialised art dealer also carries the same potential. They will always be more than happy to offer shoppers the chance to purchase more of their stock.
* Any purchases from an art dealer should come with the original artists paperwork or a certificate of authenticity.
Buying from a third party or general seller offers both advantages and disadvantages.
* Inexperienced sellers will often not know the value of the piece they are selling so sharp-eyed buyers will be able to pick up real bargains.
* The opposite side of this is that shoppers run the risk of purchasing re-productions that may or may not have been authorised by the artist. Even though this is acceptable to some as they are more affordable, it is worth bearing in mind that they will lack the quality of a commissioned piece.
How to Spot Metal Sculpture Damage
Metal sculptures art is not unlike other pieces of art, so when shopping for them be sure to keep an eye out for damage. The biggest threat to metal contemporary sculptures is cracks and breaks. Such can occur due to corrosion or accidental damage, bear in mind that the aforementioned is not the only possible damage to watch out for.
* Rust
* Colour Fade
* Dents
* Scratches
Humidity also plays a big part in how damage occurs so questioning a seller on how a sculpture has been stored is a must. Corroded and rusted sculptures are usually beyond repair and should be avoided. However there are a few artists who specialise in using such disregarded metals to create scrap metal sculptures.
Model Sculpture Conservation
Metal contemporary sculptures are by no means pieces of art in the traditional sense; they are susceptible to damage in an entirely different manner than just a scratch or tear. The majority of issues generally come from changes in the environments humidity. Metals are reactive to their surroundings so where they are based can have both positive and negative effects. Placing a metal contemporary sculpture in the home can be dangerous so owners should always maintain a safe environment.
* Keep temperatures at a steady level.
* Research the metal prior to placement in a room.
* Know what cleaning products are suitable for the metal.
* Keep it segregated from other items in a spacious area.
Many shoppers will buy larger sculptures that will need to be positioned outside. Exterior sculptures require more care and attention from buyers, as the risk of damage is far greater. In most instances, sculptures that are intended for display outdoors will be constructed from copper.
* Copper as an element cannot be controlled and over time poor weather will weaken it structurally.
* It would be beneficial to protect it with a suitable surface coating.
Metal sculptures in general become unstable when exposed to salts, when this occurs from rainfall there is a serious risk of colour distortion and disfigurement. But fortunately there are useful treatments that can help maintain an outdoor metal contemporary sculptures condition.
* Anti-corrosion Spray
* Moisture Mist
* Inhibitor Spray
* Moisture Rubbing Solution
Metal sculptures are an expensive investment and it is only fair to your bank balance and the artist who created it to keep it maintained. Doing such and taking precautions against the elements will ensure the beauty of a sculpture remains intact.
How to Buy a Metal Contemporary Sculpture on eBay
Metal contemporary sculptures are highly sought after pieces of art. Due to the current demand, artists and dealers alike have taken to eBay to promote and sell their stock.
* In order to find metal contemporary sculptures locate the collectables and antiques category using the links to the left of eBay's home page.
* From there select art and then sculptures, this will display all current live auctions.
* If you have a particular artist or sculpture in mind use the search function at the top of the page.
* The advanced search options will allow shoppers to narrow down their search results.
eBay Shops
eBay shops are a great place to start if you are just browsing or do not have a particular metal contemporary sculpture in mind.
* Sellers who have a large amount of stock or currently run their own store are likely to have an eBay shop.
* It is in these stores that buyers can find genuine bargains and rare pieces of art.
* When buying art from eBay pay attention to seller feedback ratings, they will provide a great indication as to the reliability of a seller.
In order to find an eBay shop use the eBay shops link at the bottom of the home page.
Delivery
Artwork of any form is delicate and that is why delivery charges for metal contemporary sculptures will be high.
* A large amount of eBay sellers will not ship items without the buyer paying for an appropriately insured courier service.
* Due to the size of some sculptures delivery may not be an option, if this is the case the item will be listed as "collection only".
* Purchasing an item that is listed as "collection only" means that the winning bidder will need to arrange collection of the sculpture on their own time.
Understanding the dos and don'ts of purchasing sculptures will come in time but trusted sellers will always be willing to answer any queries you may have.
Completing a Purchase
To buy an item shoppers will have to do one of the following when on an item listing.
* Place a Bid
* Make a Best Offer
* Buy it Now
When an auction has been won complete the transaction through PayPal. Doing so will mean that the transaction is covered by their buyer protection program which can be important should problems arise.
Conclusion
Learning how to purchase metal contemporary sculptures is a trial and error process. The metal contemporary sculptures market is competitive with shoppers always looking for the next great artist.
* eBay has made art accessible to everyone and truly unique pieces can be found regularly.
* Metal contemporary sculptures are a beautiful art form that has tremendous investment value.
This guide has been produced in order to give sellers a base knowledge of the industry prior to investing their money. eBay is well-respected in the art world due to the fact that they have brought such forms of art to the masses in an affordable manner.