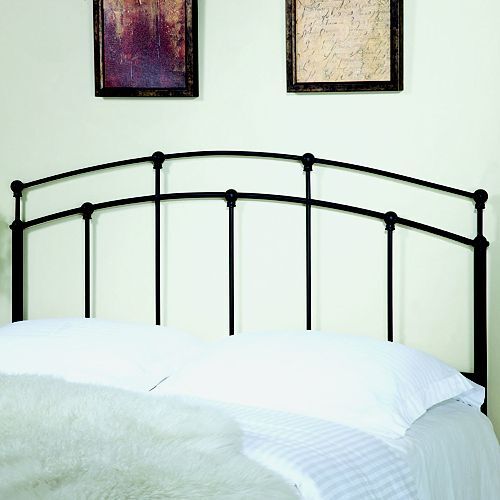 Metal headboards add a decorative touch to a bedroom, and can be found in a wide variety of styles and finishes. Durable and long-lasting, these items are designed in a variety of shapes, sizes, and styles, and can vary greatly in their colour. The high number of products available provides buyers with opportunities to match almost any home decor, so consider the room and bed they will be used with to find the best headboards available.
Look for decorative headboards with scrollwork for a delicate touch, or linear headboards with wide frames for a more grounded feel. Choose from materials and finishes like chrome, brushed nickel, gold leaf, or paint for a variety of visual effects. It is also important to find a headboard that fits properly with a mattress or frame, so buyers should be familiar with the sizes and measurements available before making a purchase. Consider buying headboards together with footboards for a complete look.
Metal headboards can be purchased from furniture stores and their websites. They are also available from private and commercial sellers like those on eBay. Consider the full range of retailers, and shop around to find the best prices available. With a little patience, buyers can find headboards that complement a home decor and provide a decorative touch to any bed.
Choosing Metal Headboards
A high number of metal headboards are available to buyers. They can have one of several different finishes, and can hook to a bed frame or stand freely on the floor. Consider each of these options to find the best headboards available. Begin by deciding on the appropriate style for a headboard.
Style
The style of a headboard largely affect a bed's visual appearance. Matching a headboard to a room's decor can create an attractive and welcoming look, so consider the full range of items available. The following list provides descriptions of popular headboard styles to help buyers begin their search. Look for other styles and products that do not fit into discrete categories.
Modern
Modern headboards look sleek and minimal. They have little or no patterning, and tend to be linear. Typically, they exhibit a chrome or nickel finish to create an elegant sheen. Modern headboards are ideal for buyers wanting to create a clean, sharp looking bedroom.
Knobs and Bars
A more traditional approach to a metal headboard is the knob and bar design. These headboards favour rigid linearity and multiple intersections of bars. The general frame is rectangular, with two posts protruding vertically at either side. Each of these is capped with a knob.
Scrollwork
Headboards with a rounded scroll design have a flowing, organic feel, and can be reminiscent of vines. These headboards tend to have a thin, arching frame, with delicate patterns and designs. Choose this option for a light, organic feel.
Fans
Fan shapes and other contemporary designs are a versatile option for metal headboards. These items have an arch-shaped frame that forms a semicircle above the bed, and the interior designs can range from vertical bars to complex patterns.
Finish
The finish on a metal headboard greatly affects its appearance. From highly reflective metallic surfaces to matte paint, learn about the many options for materials and finishes to find the most visually appealing items.
Chrome
Chrome is an attractive metal with a high level of sheen. Chrome headboards can create a modern, elegant appearance, and are best suited to headboards with a minimal design.
Brass
Brass is a common finish on headboards, and offers a good alternative to chrome. Brass can work well in modern, delicately coloured bedrooms.
Painted
Metal headboards can be painted to create a high number of visual styles. Painted headboards often have a matte finish, and favour black, grey, and white. In general, painted headboards provide a more traditional visual style, and work well in rooms with older furniture and time-honoured aesthetic touches.
Nickel
Nickel is also a common finish for metal headboards. There are a few popular types of nickel finishes, including regular, brushed, and black. Regular nickel is similar in appearance to chrome, and has a bright sheen. Brushed nickel is less reflective, but maintains an elegant appeal. It can also take on the warm colour of a light brown or beige. Black nickel retains the high gloss of regular nickel, but is much darker. Black nickel is an ideal material for modern and elegant headboards.
Gold Leaf
Although not as common as other finishes, one can also find headboards that are covered with gold leaf. These headboards are the most expensive option available, but can also be a highly attractive.
Size
Be sure to choose a headboard that is the appropriate size for the bed. Like mattresses, headboards are designated as small single, single, small double, double, king size, and super king. Headboards are normally listed in feet and inches, though some products have a centimetre listing, as well. The following chart, lists standard measurements in inches and centimetres for headboards.
| Size | Standard | Metric |
| --- | --- | --- |
| Small Single | Two feet, six inches | 75 centimetres |
| | Three feet | 90 centimetres |
| | Four feet | 120 centimetres |
| | Four feet, six inches | 135 centimetres |
| | Five feet | 150 centimetres |
| | Six feet | 180 centimetres |
Design
The design of a headboard and the method in which it attaches to a bed can also vary. There are two primary designs for metal headboards: those that attach to a bed frame and those that are freestanding. Headboards that fit into or otherwise attach to a frame can usually be secured with screws to keep them in place on a metal bed frame. If considering one of these items, be sure to determine the distance between any holes or slots for fasteners, and check them against a bed frame before buying. Standing headboards can be used more generally, and are suitable for use with any type of bed frame. In some cases, these headboards can also be attached via screws or other fasteners.
Footboards
Many headboards are paired with a footboard, and the combination of the two can create a complete look for a room. As with headboards, consider the ability of a footboard to attach to a frame before buying. Be aware that footboards can limit the amount of space available in the length of a bed, so taller buyers may wish to stick to headboards only.
How to Buy Metal Headboards on eBay
A high number of metal headboards are available for purchase on eBay. You can locate these items on the site by entering keywords from the homepage. For example, to see listings for all metal headboards with a chrome finish, type "chrome headboard" into the search field. Listings can be refined by adding new keywords, such as those related to the size of a headboard. It is also possible to narrow listings by clicking on any of the category options that appear in search results pages. These can be used to find specific item types, and can also refine options by condition, size, colour, and brand.
Click on the name or image of any item in search results pages to see its full listing. There, you can view the full price of the item, including shipping charges, and determine the seller's shipping methods. Look for payments accepted by the seller before committing to a purchase, and be prepared to pay promptly to ensure a positive transaction. If buying a used item, look at all available photos, and read the item description thoroughly. If you have any questions about the item, contact the seller.
Sellers on eBay have a positive feedback rating that can be used to determine their reliability. The percentage used in this rating is determined by the satisfaction of buyers within the past 12 months. Look for the positive feedback rating in item listings, along with the user's number of completed transactions to find quality eBay sellers. Additional information can be found by clicking on the seller's name.
Conclusion
Metal headboards are an affordable and attractive way to add visual appeal to a bedroom. They are designed in a variety of styles and materials, and can complement any home decor. Look for modern headboards with linear creations and thick frames, or traditional products with scrollwork for a more classic feel. Choose highly reflective materials like chrome, brass, and nickel for a sleek, attractive look, or select matte paint finishes for a quieter approach.
Be sure to choose headboards that are appropriately sized for a frame, and decide between products that attach to a frame or rest on the ground. Some headboards are paired with footboards, and these combinations can create a complete look for any bedroom. Footboards, however, can limit the available length in a bed, so this option may not be suitable for all buyers.
Metal headboards are available from brick and mortar furniture stores, as well as their respective online sites. eBay and other online marketplaces are another option for finding headboards, and buyers can browse a high number of items through these sites. Shop around to find the best prices available, and choose metal headboards that can add a decorative touch to any bedroom.