#MiTrend - Fun, Fashionable and Affordable !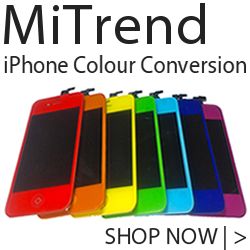 The hottest colours of summer 2013 now for your iPhone , When your out looking great don't have your phone let you down !
Why not convert your iPhone into a new fun fashionable colour instead to make it stand out !
These conversion kits are simple to have installed and will be fitted just as easily as you would have your original screen replaced. The Kit contains the original LCD Glass Screen, the glass back cover and also home button.
With so many black and white phones out there , why not stand out from the crowd and let people wonder how you got such a great colour for your phone !
Refuse to blend in with the rest, stand out from the masses and be yourself ! Choose a colour that represents YOU !!!
Check out our website here too for updates on new stock and also relevant news on smart phone developments simply google
wholesaleiphoneparts
to see more.
5 Reasons you should choose to have a Colour Conversion...
Lets face it , they are Fun and Fashionable.
You can be unique with a colour that others wont have seen before.
Its a replacement if you have an old broken or smashed iPhone.
It some cases it can add Resale value to your handset.
And Best of all ... its Affordable !
Take a look at the listings below to see some of our colour conversion kits that have sold on auction now to get an idea of the current prices !! If you click any text below it will take you directly to our shop where you can view the latest products from our range.
All colours are sold on auctions to give you guys a chance to grab a real bargain !!!