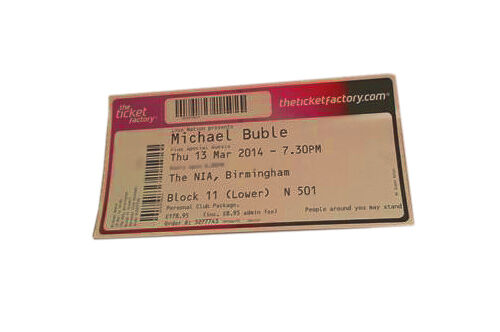 Live concerts are an exciting and entertaining way to get up close and personal with popular musicians and vocalists, especially for those who score front row seats. Fans of Michael Bublé's music are always happy to hear when his latest tour makes a stop in London or another U.K. venue. This Canadian singer, songwriter, and actor is beloved for his jazzy musical compositions and retro vocal style. His classic approach often reminds people of famous crooners from the past like Frank Sinatra and Bing Crosby. Many fans keep track of his tour schedule in order to buy concert tickets as soon as possible.
In general, to see a live show, tickets must be purchased in advance of the event. This is especially true when the entertainer is quite popular, as is the case with Michael Bublé in the U.K. To successfully locate and purchase tickets to a Michael Bublé concert, fans are encouraged to keep tabs on upcoming tour dates. Advance knowledge of the on-sale date makes it easier for people to acquire tickets before they sell out. It is also helpful to know where to purchase the tickets and which seats are preferable.
The Michael Bublé Concert Experience
With his charming character, good looks, and vocal talents, Michael Bublé is a hit with fans of all ages. Even those who have never heard of him are likely to find themselves mesmerised by his winning stage presence. Because of the timeless quality of his music, fans of Michael Bublé often span multiple generations. Many families find common ground in his retro style, which is reminiscent of jazz and soul music from a much earlier era.
Although he mostly covers classic songs, his unbeatable charisma allows him to be much more than a stale lounge singer. Rather than distracting his audiences with flashy stage accessories, Michael Bublé attempts to give his fans a more intimate experience. He often jokes around and tells stories in between songs, and though his musical numbers are quite tame, his banter is not always kid-friendly, so take this into consideration before bringing the little ones along.
Find and Buy Michael Bublé Concert Tickets
Ever since his debut album reached the top 10 in the U.K. and Canada, fans have clamoured for tickets to Michael Bublé concerts. Before people can purchase tickets to one of his live shows, they must figure out if he is currently touring or plans to tour in the near future. Using tour date information from the official Michael Bublé website or other sources of concert information, fans can decide where they want to see him perform and then track down the necessary tickets. Since ticket prices often vary depending on the quality of the seats, shoppers must consider how much they are willing to spend to see Michael Bublé perform in person. Payment methods vary depending on the source of the tickets.
Examine the Current Concert Schedule
Before purchasing Michael Bublé concert tickets, fans must first select a specific date and location from his performance schedule. Since he tours worldwide, people can either travel to see him in concert or wait for him to perform locally. Because he has a large fan base in the U.K., Bublé often schedules several consecutive concert dates in London. By looking at the most recent tour schedule, fans can see where and when his concerts are taking place. After finding a concert they are interesting in attending, the next step is determining where to purchase the tickets and how much money to spend on them.
Concert Seating Arrangements
When they are ready to purchase tickets to a Michael Bublé concert, fans must often decide between various seating options. The capacity and layout of an event facility dictates the type of seating it is prepared to offer concert goers. The following chart describes the three most commonly employed seating arrangements for large events such as a performance by the award-winning Michael Bublé.
| | |
| --- | --- |
| Seating Type | Description |
| Festival Seating | Open space rather than fixed seating; ticket grants admission to designated area where stage is located; mainly outdoor venues |
| General Admission | Ticket guarantees entry; does not guarantee specific seat; many general admission venues offer limited seating or standing room only |
| Reserved Seating | Each ticket reserves an individual seat; desirable up-front seating typically more expensive than seating located farther from stage |
When reserved seating is offered, sometimes buyers are allowed to choose specific seats. If not, they can usually select a particular area, such as orchestra or balcony seating. In general, a group of tickets purchased together are located next to each other in the same row. Check the venue's seating chart to learn more about seating options. Front row seats and backstage passes can be hard to come by, but fans willing to pay more than face value can always check for availability with third-party resellers.
Where to Purchase Concert Tickets
Depending on their proximity to the location of the concert, buys can stop by the box office to purchase tickets directly from the venue at face value. If they are not able to visit the box office in person, fans can also purchase tickets through a designated ticket distribution company, though additional fees are usually assessed for this service. After these sources sell out, there is still hope for people who are determined to see Michael Bublé perform live. Third party resellers also make concert tickets available to buyers, but prices are often substantially higher than face value, depending on the seating level. Online resellers and marketplace sites like eBay offer a platform to connect ticket holders looking to sell with potential buyers willing to pay extra to see Michael Bublé in concert.
Michael Bublé Fan Club Perks
Diehard Michael Bublé fans can join his official fan club, called Bungalow-B, for bonus perks like early access to concert tickets. Members of this exclusive club get first dibs on tickets, before the general public can buy them. Depending on the chosen membership level, additional benefits include limited edition lithographs, exclusive online content, and special discounts on authorised merchandise.
Buy Michael Bublé Concert Tickets on eBay
If you are a fan of Michael Bublé, eBay can help you find tickets to his next concert. eBay provides an easy-to-search platform powered by StubHub, an eBay-affiliated website where buyers can find and buy event tickets from third parties. When you browse or search for " Michael Bublé concert tickets" on eBay, there is a link to the StubHub website, where tickets are organised according to concert date. It is important to note that as of May 2013, all ticket sales are officially moving to StubHub, though they are still going to be promoted through eBay based on relevant product searches.
eBay Payment Options
When you find Michael Bublé tickets on eBay that you are interested in purchasing, always read the listing page carefully to see which payment methods the seller accepts. Many buyers and sellers on eBay prefer PayPal because it is a safe and reliable way to conduct online payment transactions. PayPal payments are easily verifiable, and sensitive personal information is never released to the seller.
Research Seller Feedback
Before purchasing tickets to a Michael Bublé concert on eBay, be sure to check the seller's Feedback profile. Written customer reviews and detailed seller ratings provide important insight into the character of the person selling the tickets. When a seller has plenty of positive feedback, you can feel confident that he or she is capable of shipping your tickets on time and as described. Look for listings from top-rated sellers to make it easier to find trustworthy people offering Michael Bublé tickets for sale.
Conclusion
Michael Bublé is an award-winning vocalist known for putting a fresh spin on well-loved classic songs. In doing so, he bridges the generation gap, inspiring young and old by making these past hits relevant again. While drawing from a wide range of influences that include musical legends like Ella Fitzgerald and Stevie Wonder, Bublé uses his lively stage presence to keep adoring audiences amused and entertained. Because he spices up his live shows with amusing jokes and conversational anecdotes, every Michael Bublé concert is a unique experience that attendees are sure to remember for years.
Fans who want to go to a Michael Bublé concert must first find tickets. By researching his tour schedule, interested people can learn about concert locations, ticket sources, and on-sale dates. Since he has a large following in the U.K., those who are determined to see Michael Bublé in concert locally are urged to buy tickets as soon as they are made available. Another option is to see a concert elsewhere while on holiday. If buyers are unable to find tickets at face value from the box office or an authorised ticket vendor, they can opt to purchase from a reseller if possible. People often utilise eBay to resell tickets to concerts they are no longer able to attend, so fans are encouraged to check the current listings.