The book "British Studio Pottery Marks" by Eric Yates -Owen and Robert Fournier is a terrific resource for the studio pottery collector, but I do get frustrated by the sometimes over-enthusiastic reliance on this to identify pots. Errors are common - especially where the line drawings are used in isolation to attribute items - and novice buyers are regularly taken in by these errors - paying out good money on dodgy items.
Some of the most common attribution errors are made on Michael Cardew items - and this guide pulls together some real pictures of the marks - and some of the potential mistakes.
Firstly - here are some genuine Cardew marks - from left to right these are on Winchcombe, Abuja, and Wenford bridge items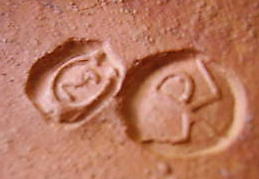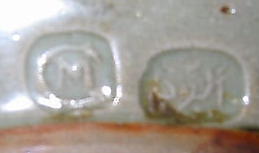 Note the earthenware material at Winchcombe, and the stoneware at the other two potteries. Note also that both personal and pottery seals are commonly used.
Also showing a personal and pottery seal is this item, a teapot made by Michael Cardew at the Bagot Aboriginal reserve near Darwin in the Northern Territories in 1968 on one of his lecture tours to Australia. My sincere thanks to Rob for the pictures.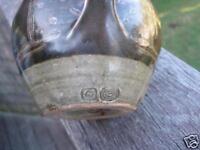 And whatever you do - look at the item itself - examples of his work at all three potteries are common in reputable galleries and collections, and the style may be very distinctive in each case.
Now for the potential mistakes. The following mark is an early Mick Casson mark on a stoneware vessel. He didn't use this for very long, but it does turn up - and he made a wide range of items in different styles so its harder to spot that way. Note that there is no pottery mark, and the shape is much more rounded. Still a decently valuable pot!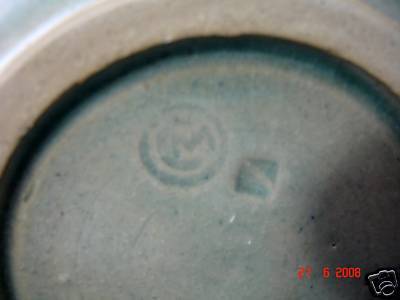 The next one is less valuable - but much more common. Both these marks are on the same item - made by Molly Curley in Cardiff. She commonly worked in slipware, but with much more extravagant decoration than Cardew, the base earthenware is also much finer and smoother than the rough Winchcombe material.


And here is one to watch for - I havn't seen any for sale in the UK (yet), but its only a matter of time before a Leach style stoneware item turns up from Australian potter Malcolm Cooke. They look nice - but I havn't held one so its hard to be assertive about the quality. He also uses other marks, and fortunately often signs his name - or australia- in full as well.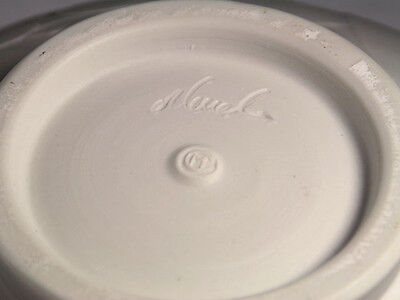 I hope this helps - Unfortunately I lost my picture of a Cardew Kingwood mark, but I will add that to the list as well if it turns up.