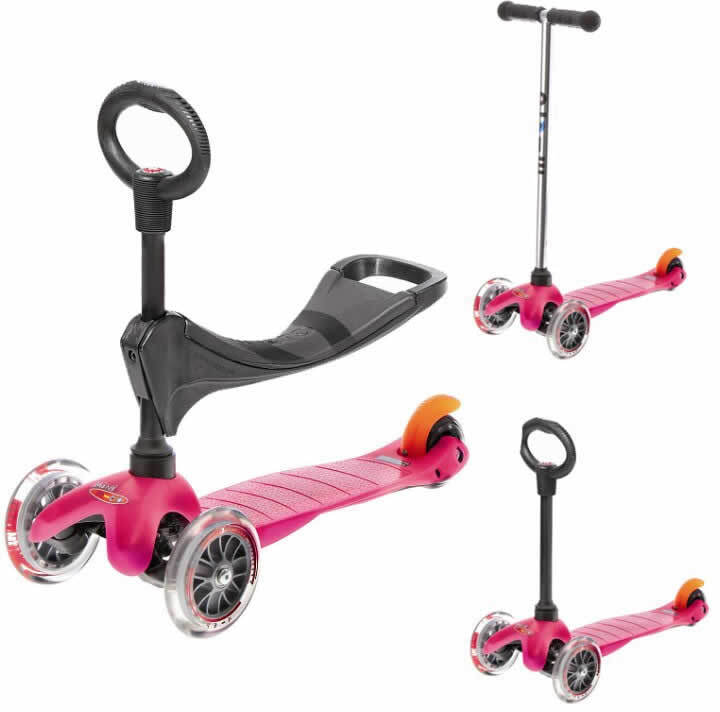 Micro Scooter Definition
Confusingly, in the UK the entire push scooter product category is often referred to as 'micro scooters..' Some people call them 'kick scooters'.
The name 'micro scooter' came about following a major development in push scooters.
Back in 1996 an executive at Micro Mobility Systems in Switzerland was searching for a good way to help his sister get around. One of her legs was shorter than the other so she found riding a bicycle uncomfortable. He thought that she might find a scooter easier to use. He designed a compact push scooter with inline skate wheels, which was rugged enough to carry an adult. Micro continues to produce push scooters to this day.
In the rest of this eBay gguide we sometimes refer to push scooters as "micro scooters" to try to keep everybody happy.
Push Scooters Generally
Whether for adults or children, push scooters have become much more popular recently. With growing popularity, the range of push scooters is much wider than before.
Push scooters are becoming so widespread that it is quite normal to find parking racks for scooters only at schools. You will also see commuters unfolding push scooters as they emerge from railway stations.
Push scooters are:
Fun to ride
Easy to store
Kind to the environment
Good exercise.
Push scooters made of aluminium with small wheels and handles are a good bet. They are easy to fold away into a backpack.
You will also see stunt scooters on eBay. These have fixed handlebars, known as 'bars', and the kind of paint-jobs that you might associate with the culture of the skate park.
Before you spend any money, try to learn a bit more about price levels in the push scooter market. It will help you set a budget.
What Is a Push Scooter?
The Oxford English Dictionary defines a scooter: A child's toy consisting of a footboard mounted on two wheels and a long steering handle, propelled by resting one foot on the footboard and pushing the other against the ground.
Things have changed considerably since that definition.
Following on from the invention of the Micro scooter in Switzerland, the next major development came from Taiwan in the shape of the Razor push scooter from J.D. Corporation. The Razor came with:
aircraft grade aluminium, designed to bear a weight of half a tonne
steering handle with short bars
urethane wheels on ultra-quiet bearings
brake working by treading on the rear mudguard
In the 12 months following its 1999 launch, Razor sold half a million units. Razor remains the world brand leader.
How Much Does a Push Scooter Cost?
There is a huge range of people in the push scooter market so you should be able to find a good machine from a decent brand close to your target price.
Prices range from something like the JD Bug Eco at around £30. JD Bug is the aged 4-plus range from Razor. £45 should get you a better specification in the form of the JD Bug Original Black or Pink or Blue or Red. This is the most popular scooter in the UK. There are usually several of them for sale on eBay.
In the middle of the range, intermediate freestyle scooters for everyday use, and occasional trick or stunt riding, might come in the shape of the Razor Black Label Ultra Pro Lo and the Mod Scooters Lite V2 at around £120.
Stunt scooters, such as:
the District V4
the Micro Xtreme MX 180
The Grit Scooter Invader Pro
MADD – MGP Nitro Extreme She Devil
These are found at the upper end of the price range. These scooters will cost you between £200 and £250. Although this seems a lot, the investment is worth it because stunt scooters are built to be light and robust; they should last for years.
Your Guide to Push Scooter Parts
A push or 'micro' scooter is made up of:
handlebar or 'bar' and grips
headset between the bars
steering tube or stem
quick release for the steering tube
front fork containing the compression suspension system
All of this is secured with a collar clamp, to a deck or platform to stand on and push from, wheels and a rear brake.
Folding scooters have a joint mechanism; this allows the bar to be folded against the deck. Freestyle scooters have no folding mechanism. They are rigid. Because there is no folding mechanism, they are unlikely to collapse in the middle of a stunt.
Decks or Platforms
Anodised aluminium is most often the metal to go for because it is so hard-wearing.
Freestyle push scooter decks are either one-piece or two-piece.
The one-piece platforms have the deck and the headset welded together, like the Madd Gear curved down-tube, which is welded to the deck.
Two-piece models have the head tube bolted to the deck, like the Lucky Evo 2.
Both styles are equally strong. Madd Gear decks are noted for their durability. The Razor Ultra Pro deck is something of a benchmark. The latest decks from District and others have integrated head tubes which allow you simply to slide in bearings and caps.
Handlebars
The original Razor A folding scooter and JD Bug scooters have bars that can be adjusted to suit riders of different heights. Micro's foldable scooters for adults have handlebars that you can both adjust and fold down flat for storage. The standard design is 'T' shaped but other types are available. Some bars have a pair of diagonal struts from bar to stem to give them more strength.
Handlebars for rigid freestyle push scooters are normally somewhere between 18 and 24 inches high and 14 to 24 inches across. Watch out; bars can be custom-cut so be careful to check with the seller if you are in any doubt.
Grips are available to fit separately in a broad range of colours.
Forks
The fork takes the impact, whether in everyday use or when performing tricks, so strength is vital. As a result, most forks are manufactured from steel. There are two main types of push scooter fork
Until recently, threaded forks were the industry standard, providing a simple way of attaching forks to bars.
Nowadays you will find more and more 'threadless' forks. These were invented because the very nature of threads compromises the strength of a fork's tube. Threadless forks provide more security and feel between forks and handlebars. Fitting threadless forks requires a compression system to hold the bars to the forks. You will also need a threadless headset.
Brakes
Brakes often come fitted to the deck. They comprise:
the brake itself
a bolt that runs horizontally through the bottom of it
a spring, designed to stop it rattling
Rattling brakes have now been countered by the development of the flex brake. This is a curved or straight piece of metal which is depressed by the heel to rub on the rear wheel and slow it down. Flex brakes are made by:
Blunt
Phoenix
Razor and others.
Flex brakes can be bought and fitted separately.
Wheels
Most new wheels come with a machined aluminium core and hard-wearing urethane rolling surface. Most micro scooter manufacturers produce wheels in a wide range of colours so that you can match them to your deck and handlebar grips if you wish.
Wheel bearings do wear out as time goes by. You can replace them with skateboard bearings, which are the same size. You will usually find them on sale in packs of four.
Headsets
Headsets on freestyle micro scooters are the same as those found on BMX bikes. You can only use a threaded headset with a stock threaded fork. Threadless headsets are used with a compression system on threadless forks such as SCS (standard compression system). These look like large clamps but operate much like a bicycle stem.
Variants include the ICS (inverted compression system) and the HIC (hidden compression system or hidden internal compression). Each of these needs a specific number of bolts on the clamp. You will need either two, three or four bolts. When buying a clamp look out for the reference for the relevant type of compression. Clamps themselves often carry the push scooter's brand name; choosing the right clamp is important to riders who want to stay on trend.
Looking for Affordability
The wide range of micro scooters offered on eBay makes it the perfect place to find the right price and specification for you. It is good to do some research first and get to know the price levels in the market. Search for any brand or model on eBay and you can compare items in next to no time. There are so many push scooters on the market that it makes sense to spend a little more time doing your research. That's what this guide is designed to help you with.
Another option is to custom build a micro scooter, selecting each component individually. Some sellers on eBay enable buyers to select from categories including bars, grips, clamps/compression, decks, headsets, forks and wheels. You can then cross-check your selection for compatibility. Once it is all paid for, your fully built micro scooter will arrive a few days later, tailor-made exactly as you wish.
Buying Micro Scooters on eBay
While you shop, don't forget Tricycles & Trikes,, Ride-on Cars,, Garden Games & Activities,, Other Outdoor Toys/ Activities & and Pogo Sticks.. To start shopping, go to the Sports and Leisure category. Click the Sporting Goods portal aand click Scooters..
Categories
The Categories list on the left side of each page will help you narrow down your listings by item type. You'll find links for Electric Scooters,, Petrol Scooters,, Pocket Bikes,, Push Scooters and Other Scooters.. As you refine your search you'll be able to narrow down your choice by subcategory.
Product Finder
Use the Push Scooter Finder to quickly narrow down item listings by brand, model and condition (new or used).
Keyword Search
Search eBay listing titles for specific words. For example, if you want to find a new push scooter, type the keywords "push scooter new" (without quotation marks) into the Search box. Click, "Search title and description" to expand your results. Visit eBay's Search Tips page for more tips on searching with keywords.
If you can't find exactly what you want, try browsing eBay Stores or tell the eBay Community what you're looking for by creating a post on Want It Now,, or save a search on My eBay and eBay will email you when a matching item becomes available.
Buy Push Scooters with Confidence
Make sure that you know exactly what you're buying and understand how eBay and PayPal protect you.
Know Your Item
Read the details in the item listing carefully.
Remember to add delivery costs to your final price. If you're buying a high value item, check that the seller will insure it until it is delivered to you.
If you want more information, click the "Ask seller a question" button on the seller's profile or the "Ask a question" link at the bottom of the item listing page.
Always complete your transaction on eBay (with a bid, Buy it Now or Best Offer) otherwise you will not be covered by eBay Buyer Protection.
Never pay for your eBay item using an instant cash wire transfer service like Western Union or MoneyGram. These are not safe ways of paying someone you do not know.
Know Your Seller
Research your seller so that you feel safe and positive about every transaction.
What is the seller's Feedback rating?
How many transactions have they completed?
How many positive responses do they have?
What do buyers say in their Feedback?
Are they positive about the seller?

Most top eBay sellers operate like retail shops and have a returns policy.

Do they offer a money-back guarantee?
What are their terms and conditions?
Buyer Protection
In the very unlikely event that you do not receive your item or it is not as described, eBay Buyer Protection covers your purchase price plus original delivery cost.
Conclusion
Push scooters have seen huge developments over the years. The choice today is wider than ever before. Price depends on the materials and brand and this tends to be dictated by the materials used in their construction and the perceived quality that the brand offers.
Affordability in the end comes down to your opinion of whether the goods are worth the money. Push scooters are robust, simple to use and fun. They are easy to store and transport (thanks to the folding handlebar assembly). This works for everybody from kids to commuters, so the consumer base is also very diverse.
eBay is the ideal place to research the market and buy a new or used push scooter. This guide will help ensure that you make good use all the tools available and get the most from using eBay.