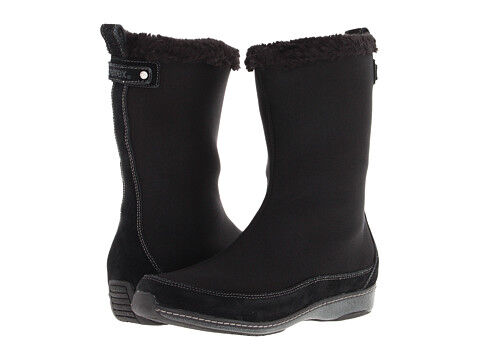 Mid calf boots are an essential addition to any woman's wardrobe. Available in practical and fashionable designs, these boots complement a variety of outfits, from dresses to skinny jeans, or tights and a top, and are worn all year round. They come in high heel and flat models and are made from a variety of materials, including leather and synthetic fabrics. When looking for mid calf boots it is important for women to consider how the boots are constructed, the fabrics used, the height of the heel, and the type of fastenings. Another key factor is the fit of the boot, which is more than just the size of the insole: women should also factor in the shape of their calves in order to choose the right pair of boots.
While many shoppers may choose to purchase mid calf boots from high street shoe shops or department stores, they may only find them during the colder seasons. Buying from an online auction site, such as eBay, is an excellent option, as it provides a broad selection all year round.
Mid Calf Boot Terminology
Before buying a pair of mid calf boots, it is important to understand some of the key terms used to discuss their construction. The chart below highlights some of these terms.
Term

Definition

Goring

Elastic panel built into the side or back of the boot

Makes it easier to pull boot on and off

Instep

Upper, middle part of the boot

Covers the arch of the foot

Insole

Lining on the inner part of the boot

Covers entire length of boot

Sometimes called the footbed

Can often be removed and replaced with other insoles

Outsole

Bottom of the boot

Faces outward

Shaft

Extends upward

Height typically measured from the middle of the boot arch to the tip of the boot

Circumference typically measured around the shaft, at its widest point

Upper

Entire part of the boot above the sole

Tabs

Small pieces of fabric placed at the top of the boot to make it easier to pull on or off

Typically found on boots with no fasteners
Each part of a boot can be made from a variety of materials. The insole may be made of natural fibres such leather or cotton, as well as synthetic materials such as silicone or foam. The outsole may be made from leather, rubber, or ethyl vinyl acetate (EVA), a synthetic material that is highly shock absorbent.
Materials for Mid Calf Boots
As with the insoles and outsoles, the uppers of boots are available in a variety of materials, both natural and synthetic. Most synthetic materials are made to replicate the qualities of a natural fabric, but at a lower cost. In addition, all fabrics can be dyed a range of colours, from the popular natural browns and blacks, to blues, reds, purples, and more.
Leather Mid Calf Boots
Leather remains one of the most common materials for making boots, because it is both comfortable and durable. Leather is a natural fabric made from the hides of animals and comes in a variety of forms. The material breathes easily and absorbs moisture. However, it is porous, so any boots made from leather require special care and conditioning to protect them from cracking. In addition, some boot manufacturers may use faux leather, or treat the leather to create a different appearance, such as patent leather, which has an ultra glossy sheen.
Suede Mid Calf Boots
Suede is another common material for mid calf boots, made of napped fabric. Although suede is a term often used to talk about a variety of materials, genuine suede is made from leather. It is softer to the touch and not nearly as durable as ordinary leather, so it requires a great deal of care. An alternative to genuine suede is microsuede, a synthetic material that mimics the soft, napped quality of its natural counterpart.
Sheepskin Mid Calf Boots
Mid calf boots made of sheepskin are a popular option defined as much by their material as they are by their style. Sheepskin boots typically have a leather or suede upper, with a soft wool lining and a flat heel. These boots are highly breathable, naturally wicking away moisture, and regulating temperature. However, they are not waterproof and should be treated with protectants if they are going to be worn in wet weather. In addition, buyers can choose from imitation sheepskin products or sheepskin boots blended with other fabrics that give them a waterproof quality.
Factors to Consider When Buying Mid Calf Boots
Women should consider five key factors when choosing a pair of mid calf boots: the material used, the heel, fastenings, and the shaft length and circumference. All these features influence how the boot will look and fit the wearer.
High Heel vs. Flat Mid Calf Boots
Mid calf boots come in both high heels and flat models. However, even within the high heel varieties there are a myriad of options. Some designs may have thin stiletto heels, while others have a wedge heel that provides more support for the wearer. For a lower heel, kitten heel boots are a good choice.
When deciding between a high heel or flat pair of mid calf boots, women should first choose a height that is comfortable for them. Also important is when and where the boots will be worn. A stiletto heel may not be the best choice for a walk in the rain or snow, but it may work well in a conservative colour in an office environment.
Fastenings for Mid Calf Boots
Mid calf boots use multiple types of fastenings that affect the style of the boot. Popular options include lace-ups and zips, but many boot are simply meant to be pulled on, often using tabs to assist in the process. All three styles may have decorative buckles or other embellishments. However, while boots with laces and zips tend to hug the leg tightly, a pull-on boot can range from form fitting to slouchy.
Fitting Mid Calf Boots
There are three measurements to consider when sizing mid calf boots: the length of the foot, and the height and circumference of the shaft of the boot. While retailers may have staff on hand in a shop to help buyers to measure their size, women can also do the sizing themselves at home using a soft cloth tape measure.
Measuring the Feet for Mid Calf Boots
To obtain measurements for boots, women should stand on a piece of paper and trace the outline of one of their feet, the larger foot if one is slightly bigger than the other. Draw a straight line through the centre of the foot extending from the furthest reach of the toes to the heel. Then measure it. This measurement is the overall length of the foot. The size chart below converts the length measurement into UK, US, and European footwear sizes.
| Foot length (cm) | UK Size | US Size | EU Size | Foot Length (cm) | UK Size | US Size | EU Size |
| --- | --- | --- | --- | --- | --- | --- | --- |
| 21.3 | 2.5 | 4.5 | 35 | 24.6 | 6.5 | 8.5 | 39 |
| 21.6 | 3 | 5 | 35-36 | 25.1 | 7 | 9 | 39-40 |
| 22.2 | 3.5 | 5.5 | 36 | 25.4 | 7.5 | 9.5 | 40 |
| 22.5 | 4 | 6 | 36-37 | 25.9 | 8 | 10 | 40-41 |
| 23 | 4.5 | 6.5 | 37 | 26.2 | 8.5 | 10.5 | 41 |
| 23.5 | 5 | 7 | 37-38 | 26.7 | 9 | 11 | 41-42 |
| 23.8 | 5.5 | 7.5 | 38 | 27.1 | 9.5 | 11.5 | 42 |
| 24.1 | 6 | 8 | 38-39 | 27.6 | 10 | 12 | 42-43 |
When buying any footwear, women should bare in mind that sizes can vary between individual pairs or even from designer to designer, so measurements may not be a perfect indicator of size. For example, a woman who is a size 6 normally may need a size 5 or a size 7 for a particular style.
Shaft Length and Circumference for Mid Calf Boots
The dimensions of the boots themselves also play a role in fitting. Women should pay attention to the listed shaft length and circumference of a boot and compare it to their own calves to see where the top of the boot will rest to ensure a flattering fit. Mid calf boots typically range in length from 21 to 33.5 cm. Remember to factor in a some extra space for the circumference of the shaft, about 1 to 2 cm, if the boots will be worn with tights or skinny jeans tucked into them. Women with wider calves may benefit from boots with lacing or goring rather than zips, as these may be more comfortable.
Buying Mid Calf Boots on eBay
When you are ready to shop for mid calf boots, visit eBay's home page and enter whatever you are looking for in the search box, such as "green mid calf boots" or "mid calf fur-lined boots". From there you can narrow down your results by a variety of factors, including boot size and colour. Before buying always research the seller. Good ratings and positive feedback are strong indicators that you are dealing with a reputable seller. In addition, eBay recognises those who consistently demonstrate excellent customer service by labelling them as Top-rated sellers. After you have made a purchase, leave feedback for the seller.
Shopping on eBay
eBay offers a convenient way for you to keep track of the items that you are interested in with its list feature. To add an item to your list, simply login to your eBay account. You can go back and review your lists and remove items at any time. This is a convenient way to keep track of the items that you like when you are not ready to buy them straight away.
Conclusion
Midcalf boots come in a variety of styles and designs, offering a wide range to suit any woman's sense of style. Common materials used to make boots include leather, suede, and sheepskin. Beyond the materials, women should also factor in the type of heel that they want. High heels look good, but they are not always ideal for long walks in poor weather. Alternatives are a low kitten heel or a flat heel. Also worth noting is the type of fastening used. Zips are a common and convenient choice, but other styles include lace-ups and pull-ons. To fit a boot properly, women should use a current foot measurement and factor in the shaft length and circumference to ensure that the boot hugs the leg in a way that is comfortable and in keeping with the style of the boot. Whatever style of mid calf boot women are looking for, eBay is an excellent place to shop.