Mineral makeup is made from, you guessed it, minerals. Although a lot of companies say 'all natural' or 'completely 100% pure' about their mineral products, there is in fact no such thing as '100% pure' or 'completely natural'. At some point they have to be treated in some way or we wouldn't be able to use them. Another thing I've noticed is the term 'we don't use fillers' which, apart from bismuth oxychloride and some colours is another term that I don't really agree with. Bismuth is a well known irritant that's used by the mass money making cosmetics corporations so that particular ingredient I leave out of my products, as there are a lot of compaints about that particular ingredient. If you check the biggest mineral makeup companies ingredients list, you'll see that they themselves use this as their main ingredient, so although it is not very popular among smaller companies, it hasn't done any harm to the larger ones.
Rice Powder I do use as it is lightweight, translucent and offers slow oil-absorbing properities, gives a silky and shine free finish, while Kaolin Clay helps give a smooth creamy finish to foundations, plus helps control oil without drying out the skin. I also use magnesium Stearate to make my powders longer lasting, which I find is a bit of a problem with the smaller mineral makeup companies. They use less base powders thinking it gives them a more 'natural' product and make a big statement on how they 'don't use fillers' due to their cheapness, again not entirely true. A lot of base powders cost more than the staples of titanium dioxide, zinc oxide and mica do. By leaving other main ingredients out what they are left with is some nice and gentle makeup, but unfortunately they don't last very long at all, and even have problems with their application. They are loaded with titanium dioxide which although is a necessary ingredient, it tends to have an overly thick consistency and when used as the main ingredient tends to be too whitening. There is a place for all the different formula's used by different companies as the coverage acheived is different from product to product.. It's like using different brands of face cream, what one person swears by will irritate another, it's all about personal taste, and what the finished look you prefer is.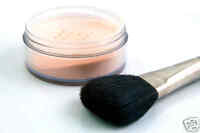 One of the main reasons to try mineral makeup has to be its ability to cover most skin conditions. You'll be amazed by how it gives a sort of glow to your skin, like a soft focus look. You don't feel like your actually wearing any makeup it's so light. Rosacea sufferers will love it as it can help to calm the condition down and won't irritate it any further. It helps with acne prone skin too as it won't irritate. It helps smooth the appearance of acne scars and thread veins by using a corrector first which should be lighter than your usual foundation shade or a green based corrector for more severe redness, followed by your normal yellow based concealer and then your foundation. It won't clog up your pores and feels so light and airy. Use a good quality kabuki brush with tightly packed bristles to gently buff your skin with the minerals in soft circular motions. I forgot to mention the best way to use your foundation is to just tap a bit of powder into the lid and swirl your brush in, then just tap the back of the brush on your dresser to load it. Some people like to add a bit of powder to their moisturizer for a heavier coverage, although I find this a bit too cakey. It might be best keep 2 application kabuki brushes so you can wash one and leave it to dry naturally while you use the other one and vice versa. Whatever brand you decide to try I'm sure you'll be hooked and that's before we even start on the glitter mica eyecolours you can get..