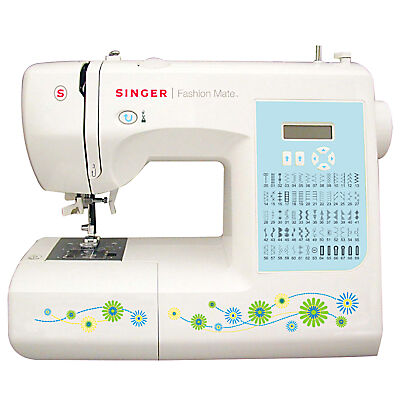 Mini sewing machines are useful items for quilting, scrapbooking, and other crafts like creating clothing for dolls. They are designed in two different types: tabletop and handhelds. Begin shopping by learning about each type, and look for features and accessories to refine options. Mini sewing machines can be designed with a range of stitch types, along with settings to adjust length and width. Mini sewing machines are also packaged with a range of accessories, including scissors, tape measures, and needle threaders. They can be battery-powered or use an electrical outlet. Products with both options can save owners money on batteries when at home.
Mini sewing machines are available from several different manufacturers, and the variety of models on the market can make it difficult to choose the best products. Look on shopping sites and online marketplaces for customer reviews and ratings to make a decision. These reviews can offer insight to a product's durability and performance, and help buyers feel confident in their purchase.
Mini sewing machines are available from craft and hobby retailers, as well as some department stores. They can also be purchased from sellers in marketplaces like eBay. Shop around to compare prices and find a full selection of products, and choose machines that can make sewing a quick and enjoyable process.
Choosing Mini Sewing Machines
There are two primary types of mini sewing machines available: handheld and tabletop. Learn about each type to choose the best item, and refine options by their features and accessories.
Tabletop
Mini tabletop sewing machines look very much like full-size products, and are meant to be used in a similar manner. They must be set on a flat, solid surface to be used properly. Fabric is fed into the machine, and the operation of the needle is controlled either by a foot pedal or a button on the machine itself.
Mini tabletop sewing machines are significantly less expensive than full-size models, and can be easily transported. They can also be an excellent option for users who do light sewing work from time to time, but have no need for a full-sized, professional sewing machine.
Handheld
Handheld sewing machines are small enough to be held in one hand. They are highly portable, and do not require a level surface to be used. Instead, the machine is held in one hand while paper or fabric is fed past the needle with the other hand. The needle is activated by pressing a button on the top of the machine. These items are versatile, and can be effective on many types of small projects. Their small size makes them extremely portable, and they can be used almost anywhere. They are also the least expensive option on the market, which makes them ideal for buyers who are new to sewing, or plan to use a sewing machine only infrequently.
Features and Accessories
Mini sewing machines can be designed with a range of features and capabilities. Look for variable sewing patterns and stitch lengths, as well as different types of power sources. There are also several types of accessories and other materials that may be included with a mini sewing machine. Look for products with the best range of features and accessories to select a machine.
Stitches
As with full-size units, there are several types of stitches that can be performed by mini sewing machines, such as straight, chain, buttonhole, and zigzag. The stitch width and length can also be adjusted on many machines. Check to see the number of settings and stitch types a machine is capable of. This information can be found on product packaging and item listings online.
Accessories
Sewing machines are sometimes sold with a range of tools and accessories. In some cases, these tools can save buyers money by eliminating the need to purchase them separately. The following table lists some items that may be included with a sewing machine, along with a brief description of each.
| Accessory | Description |
| --- | --- |
| Thread | Thread is created in a high number of colours. Look for products with an assortment to begin using the machine right away. |
| Tape Measure | A soft tape measure can be rolled and easily stored when not in use. |
| Pin Cushion | Keeps needles and pins organised for easy access. |
| Thimble | Thimbles protect the wearer's thumb while threading with a needle. |
| Scissors | A small pair of scissors is useful for cutting excess thread. |
| Needle Threader | Helps users work thread through the eye of a needle. |
When shopping for mini sewing machines, look for pictures of the product with all included parts laid out. This helps buyers be clear on all items being sold. Alternately, look for a list of accessories.
Power Source
Mini tabletop sewing machines can be powered by batteries or electrical cords. Some models are designed with both options, allowing users to plug into an electrical outlet at home, and use battery power while travelling. Handheld sewing machines are typically powered by batteries only. Consider the type and number of batteries required to operate a mini sewing machine, as it may become expensive to use over time.
Read Product Reviews
Mini sewing machines are created by several manufacturers, and the price and quality of products can vary significantly from one product to the next. To ensure that a reliable product is purchased, look for reviews online. The best place to find these is on shopping sites and marketplaces. Many sites allow buyers to rate a product and write a review of its performance. In some cases, dozens of reviews can be found for a single product. Look for information about the durability, features, and performance of a mini sewing machine in relation to its price to choose the best products available.
Buying a Used Mini Sewing Machines
Buyers on a budget can find many pre-owned sewing machines available for sale. These are sold at discounted rates, and it is possible to find items in excellent condition. When possible, test a used mini sewing machine in person to be sure it functions properly. If shopping online, read the full description of the machine to assess its condition, and inspect available images for signs of wear or damage. If there are any doubts about the item's condition, ask questions of the seller. Find out how long the machine was used, and why it is being sold.
It is also worth shopping for products that include their original instruction manual. This helps new buyers get the most use from all features of the product, and also ensures safe use. If no instructions are available, try looking online. Full instruction manuals for specific models are sometimes posted on websites for reference.
How to Buy Mini Sewing Machines on eBay
All types of mini sewing machines can be purchased from the sellers on eBay. To find these items, begin a search from the home page. You may use category links, or enter keywords into the search field. For example, type "mini sewing machine" into the field to see all listings tagged with those keywords. You may add new keywords at any time, or use category links to browse by item type, condition, price, and other criteria. Try using a combination of the two methods for the best results.
Once you have found desirable search results, click on individual items to bring up their full listings. Read the description provided by the seller, and look for a specifications sheet or other information from the machine's manufacturer. Examine all available photos to be clear on the item being sold. Note the price of the machine, and remember to add shipping charges to your estimate of the total cost. It is also important to check the forms of payment accepted by the seller, and pay promptly to ensure a positive transaction.
Look for information about a seller before committing to your purchase. Reliable sellers on the site have a high positive feedback rating and many completed transactions. Click on the seller's name in an item description to view additional information such as comments from previous buyers and ratings based on aspects of the seller's performance. Leave feedback once you have received your purchase to inform the ebay marketplace about your experience.
Conclusion
Mini sewing machines are an inexpensive and lightweight alternative to full-size machines. They can be used at home or while travelling, which makes them versatile and convenient products to own. Buyers should begin shopping by deciding between tabletop and handheld units. Tabletop machines are similar in design and functionality to full-size ones, and can perform many of the same tasks. However, they are lighter, smaller, and less expensive. Handheld units are highly portable, and can be operated without the need for a level surface or large working area. They are also the least expensive machines on the market.
Consider the features of a machine and the accessories sold with it to select a product. Some machines can perform several different types of stitches, so look for ones with the desired functions. Products can also include accessories like scissors and tape measures. If buying a tabletop machine, it is often worth looking for products that can be powered by either batteries or an electrical cable.
Mini sewing machines can be purchased from craft and hobby retailers, department stores, and online sellers. Marketplaces like eBay also have a high number of listings, and can be used to shop for both new and used items. Consider all available options to find the best mini sewing machines for the next project.