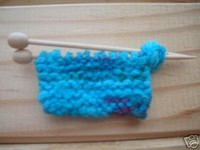 These little knitted items can be made using left over yarn and can be used either as badges or card toppers. Experiment with different types of yarn, stitch and bead to make yours as individual as you are!
You will need:
Cocktail sticks
Small beads
3.25mm needles
4 ply yarn
Small safety pin/broach pin
To make the broach/topper
Find some beads that just fit on to your cocktail sticks, squidge them on (glue for extra security if needed) then chop off the pointy end closest to the bead. Scissors shoul be fine for this.
Using 3.25 needles (you can knit with the cocktail sticks but you'll need to sand them first and it's fiddly) cast on 12 stitches and knit for approx 2cm or as long as you like! Don't cast off, cut the yarn about 15 cm from the finnished piece of knitting then slip the stitches onto the right hand needle and then onto one of your cocktail stick needles (so the spare yarn ends up at the correct end of the needle.)
Hold the second needle in place and wind the spare yarn around the pair to give the impression of a ball. If you wind tightly enough the needles will hold together nicely. Finish off by passing the end of the yarn from front to back between the two needles (at the side of the ball closest to the points), pull tight, then sew the end into the back or leave it dangling. Sew in the end of yarn from your cast on. If you want to make a card topper then congratulations, you are done! For a badge sew a small safety pin or badge back to the reverse of your miniature knitting and wear your knitting with pride!