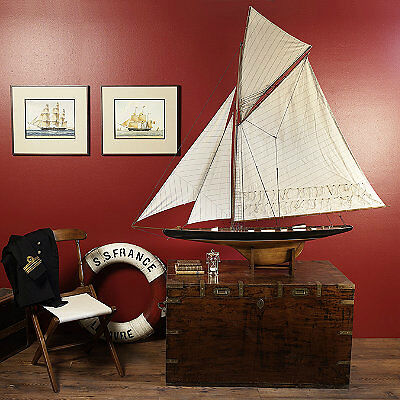 There is a great tradition of building model boats and ships; everyone will find a fascination of putting the pieces together to reveal something beautiful and intricate such as famous historical vessels.
The Internet has increased the availability of models. Finding certain models can be difficult, but with eBay, finding the perfect model ship or boat will be plain sailing.
The Types of Model Boats and Ships
Model boats and ships are not as clear as the water they may sail in. Some ships come fully made and only need the mast and sail putting up; others are kits in which the buyer will assemble themselves. There are also motorised boats in which the user will place on the water and enjoy races. The following table breaks down the different types available on eBay and their particular characteristics.
| Types | Use/Characteristics |
| --- | --- |
| Display | These types of model ships come in a variety of designs, sometimes historical vessels based on the exact plans of the ship and perfect in every detail, or more general designs for younger collectors. |
| Kit | For the model collector who enjoys assembling, these kits come in a wide range of materials from plastic to metal, and in a range of levels of skill. |
| Motorised | These can be assembled by collector but these often come ready made and only needing a few adjustments making before being ready for the water. They are controlled by a remote control. |
A key aspect when dealing with a model ship or boat is scale. This is how much bigger the actual boat is in relation to the size of the model, for example a scale to 1:50 is that the boat is 50 times bigger than the model itself. For a 1:25 scale, the boat is 25 times bigger than the model. On eBay boats can be narrowed down by the scale which is a highly useful search function.
The Materials Used For Model Boats and Ships
The material of the model varies greatly depending on the function and price of the model. Cheaper materials like plastic have greatly increased the availability of kits.
Such model kits are good for young users or those just starting out in the hobby. The quality of the materials will impact on the model kit, and these can be defined from 'high quality' to' museum quality', this will all depend on how decorated the kit is and how finely finished the kit will be.
The following table outlines the most common materials used for Boats and Ships:
| Material | Description |
| --- | --- |
| | This can be spruce, beech, and walnut, a variety of woods depending on the price and value of the model. Some kits come with the wood pre-cut for easy assembly |
| | A good material for beginners, it is easy to piece together and does not need much glue. However pieces can be difficult to adapt unlike wood. |
| | Metal is a more unusual material to make model ships from, these tend to be older models predating the plastic models. These can be rare and collectable items. |
Skill Level of Model Boats and Ships Kits
Before the buyer begins to research the wide range of model kits available on eBay, they must decide which skill level they are, or which skill level they wish to attain, as some kits are complex and this could cause much frustration for a beginner. Skill level generally comes in three classifications:
Beginner - No prior knowledge of building a model ship is needed as the instructions will be clear and helpful. These require simple hand tools and glue to assemble and no prior knowledge of nautical terms. These models are reasonably inexpensive to buy and are often made from plastic. These kits can take a few hours to put together.
Intermediate - Some experience of building model ships is required and a few more hand tools will be needed. Some kits will need parts cutting out, sanding and gluing together and working knowledge of nautical terms is useful. Kits like this may take a few dozen hours to complete depending on the size and complexity of the kits design.
Advanced- These are the most difficult models to put together and can take hundreds of hours to complete. This will have many smaller pieces that will need cutting and sanding carefully before gluing together. A thorough knowledge of nautical terms will be vital as the model will be an exact replica of the particular boat.
For users who do not wish for kits, they can purchase boat model plans,, these are for the hobbyists who enjoy constructing the boat from raw materials and piecing it all together. This is a highly skilled pastime but also very rewarding.
How to Buy a Model Boat or Ship Kit
Once the buyer has an idea of the model ship wanted, navigate to the home page http://www.ebay.co.uk and find the Toys & Games portal and select the Model Kits sub category. From there the buyer can browse some of the suggested categories or refine the search more typing in 'Model Ship Kit' if they are unsure of exactly what type or scale they may be after. If they are after a warship for example, the search 'Warship Model' can be used to refine the search to specific listings.
eBay offers some useful tools when searching for Boat model kits, these options are highlighted as below:
Scale-these are from 1:24 to 1:1200
Brand – this will show the most popular brands available, as well as some vintage brands that are popular collector's items.
Condition – some models come in new and used conditions. Some may be sold as already made but the used option refers to vintage kits.
Model Type- the most popular types of models sought after, from the Titanic to H.M.S Victory.
Buying a model boat on eBay can prove a challenge as the items will vary greatly, from size to historical accuracy. The important aspects to consider are some of the following:
| | |
| --- | --- |
| Aspect to Consider | |
| Clear Instructions | Check the origin of the model if possible, as the instructions may not be clear and this will lead to frustration when piecing the model together. |
| Materials in the kit | The type of materials in the kit will be important and this should be stated on the listing. Also consider the age of the kit, as some parts may have become missing due to transport etc. |
| Packaging of the Model Kit | The kit should not come in a flimsy box as pieces may become damaged during transit. If at all concerned then message the seller directly to request extra padding around the box to protect it. |
| The description in the listing | The seller should detail everything about the model such as date and materials it is made from. If unsure ask the seller any questions about the listing before making a purchasing decision. |
The condition of the item can be searched as well; this is easily achieved by simply clicking on one of the options at any stage in searching, such as looking for 'Used Ship Model'..
Due to the size of some of the kits, the price of the postage will be higher. If the ship or boat model is a delicate and rare item, it may need to be taken by courier to avoid any heavy handling or for collection only for the buyer.
Buying through eBay is usually done through two means:
Bidding is a fantastic way of getting a good deal with model ships or boats, but always consider your actions when bidding, as it is a legally binding agreement between the buyer and seller. 'Buy it now' options are great ways of securing an item without the worry of losing out on a bid. There are also many specialist shops on eBay that offer a range of model ships and boats, these can be found with the Top Rated Seller search function.
Accessories for Model Ships and Boats
Paints- a wide range of paints can be found on eBay for models of any type as well as for ships and boats.
Glue- there is a variety of glues from plastic cement to wood glue; it is advised for the hobbyist to check the type of glue needed before applying to any part of the model.
Stands and cases- these are a good option to protect rare and vintage model ships and boats.
Conclusion
Buying model ships and boats couldn't be easier with eBay for the beginner ship builder or for the vintage ship model enthusiast. The range of models that can be found on eBay is unparalleled to anywhere else on the internet, and with secure payments like PayPal, a purchasing decision can be made with total confidence.
The range of materials available for model building is extensive and easy to find for the more advanced model builder as well as ship plans. With the help of eBay the perfect model can be found and the hobbyist can enjoy their models for many years to come.