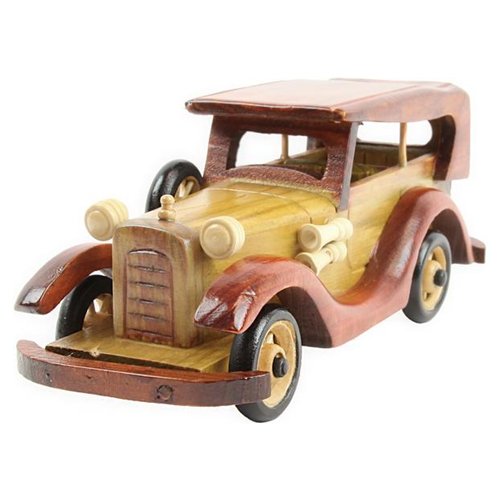 Model cars have always been popular and although originally introduced to the market as toys, they quickly grew in popularity as a collectable item, as model car building kits made their way onto the market worldwide. The Golden Age of model cars was in the 1950s and 1960s, when more companies began producing them, cementing their popularity as a collector's item.
Today, they are as much a fun way to entertain children as they are a hobbyist's dream, with model car kits available on eBay ranging from just a few pounds to hundreds of pounds for the more complex and rare kits, which can contain hundreds of pieces. Modern model cars can feature realistic photo etched details, wiring to include engines, and even special foil, which adheres to the car to simulate chrome trim.
Car manufacturers produce miniature toy versions of today's cars in a range of materials from die-cast metal, to resin, plastic and even wood. Popular brands such as Abrex, Hot Wheels and Dinky Toy as well as model car kits from brands such as Revell can be found on eBay.
Model Car Materials
Model cars can be constructed from a range of materials and kits are available on eBay for wooden, plastic and metal cars. Brands such as Tamiya produce highly detailed metal models, from Formula One racing cars to traditional Mini Cooper models and are a popular choice with collectors and hobbyists. Tamiya kits usually contain paints and decals to create exact replicas of full size vehicles.
Wooden Model Car Kits
Wooden model car kits have been around for a lot longer than plastic kits and are a great choice for younger children, as they are usually less complex and easier to assemble. Ace and Berkeley created the first wooden model car kits in the 1940s and today wooden kits are as popular with collectors as they are with children.
On eBay there are a range of wooden model car kits aimed at younger children, which are often a more affordable alternative to buying a highly detailed metal or plastic model kit. Brands such as Billing and Humbrol are popular and although wooden kits may be less detailed than plastic or metal options, they are often just as durable and as long lasting.
Plastic Model Car Kits
Revell has been the leader in plastic model kits since 1945, with the detail of their kits unsurpassed. They are a brand that pays particular attention to the scale of their vehicles for a realistic feel. Popular car model kits by Revell include a classic 1:25 Ford Mustang, which features a detailed, multi-part engine and true to original reproduction bodywork and recent models such as the Audi R8, which is as popular with adults as it is with children. Plastic model car kits offer great value for money, with many kits available on eBay for just a few pounds, and used kits available in mint condition. Other manufacturers that produce plastic model car kits include:
Italeri
Airfix
Guilerman
AMT
Trumpeter
Metal or Die-cast Model Car Kits
Brands such as Tamiya create die-cast model car kits as well as plastic kits, and die-cast models are generally the most complex and valuable kits for hobbyists and collectors. For those who do not want to complete a model kit themselves, ready-made models are available on sites such as eBay, or kits can be purchased for self-assembly. Tamiya models pay attention to every minute detail and their model cars have high quality reproduction interiors, suspension, engines and bodywork.
Most die-cast and metal kits, including those by Tamiya, require the separate purchase of modelling glue and paint, so they are usually unsuitable for younger children or those inexperienced with model kits. Brands manufacturing die-cast and metal model car kits include:
Decals
Many model car kits nowadays come with decals included, but rarer collector's kits may have these missing, or replacements may be needed if decals have aged or been lost. eBay is a great place to begin looking for replacement decals for any model car, as bulk packs of decals are available as well as specific single ones, making it easy to find the correct decal for any model.
Choosing the Right Size of Model Car Kit
Model car kits are sold in various sizes or scales, with the most popular sizes being 1:18, 1:24 and 1:43. Websites such as eBay stock models in a range of sizes and materials, and an explanation of model sizes and how these are translated into inches is listed below:
| Scale | Scale Foot in Inches | Scale Foot in Millimetres | Further Info |
| --- | --- | --- | --- |
| 1:8 | 1.5" | 38.10mm | 1:8 scale model cars are usually limited edition, highly detailed and hand-built models, created by small, niche manufacturers such as Amalgam. Pocher, a now defunct firm, were one of the leading manufacturers of 1:8 model car kits in the UK |
| 1:10 | 1.2" | 30.48mm | Sometimes used for motorcycle models but generally not for cars |
| 1:12 | 1" | 25.40mm | The largest popular scale for die-cast model cars, created by manufacturers such as Sun Star. |
| 1:18 | 0.666" | 16.93mm | The second most popular scale for die-cast model cars with a large range produced. Resin models are also produced in this scale by manufacturers such as TrueScale |
| | 0.5" | 12.70mm | This scale is now less common than in the past and more popular in the USA than the UK |
| | 0.279" | 7.088mm | This scale originates from British 'O Scale' model railways. Dinky were the first manufacturer to produce model cars in this scale. Both die-cast and resin models are available in 1:43 scale. |
Scale conversion kits and tables can be found online and it can be helpful to utilise a scale drawing when constructing a model using a kit.
Used or New Model Car Kits?
Used and new model car kits are available to buy online, on websites such as eBay and prices are competitive. Whether to opt for a new or used kit is a personal choice that will depend largely upon availability but also upon the purchaser's budget. There are many used kits in mint condition on eBay, where bargains and rare collectable kits can also be found. It can often be cheaper to purchase a used kit rather than investing in a brand new one, although older and rarer kits will sell for higher prices.
When investing in a used model car kit, it is important to double check the product description, as this will usually detail whether there are any items missing such as parts or decals. When browsing the selection of used model cars available on eBay, it makes sense to check the prices for the same kits in new condition, to ensure the item in question is really a bargain.
Used Model Car Kits for Collectors
On websites such as eBay, there are many rare and valuable used model car kits for collectors to choose from. These range from Tamiya electric model car kits, which can sell for hundreds of pounds, to limited edition car kits such as reproductions of rare Ferrari models. Usually collectors look for 'mint in mint box' condition items and the better the condition, the more the kit will usually cost.
It is possible to find bargains on eBay by browsing the model car kits section regularly and checking both used and new categories, sorting the list of available options by price. Hunting for a specific brand online is also easy, and many collectors have a 'wish list' of rare and valuable car kits that they are always looking out for.
Choosing Age Appropriate Model Car Kits
When selecting a model car kit, it is vital to ensure that it is appropriate for the age of the recipient. More advanced die-cast model car kits may be unsuitable for younger children due to small parts and toxic paints and glue. Those inexperienced with constructing models may struggle to finish a complex car kit that is designed for older children or adults, as these may have hundreds of parts and require specialist tools, paint and glue to assemble.
One of the easiest ways to check if a model car kit is suitable for the age of the child in question is by checking the box, and websites such as eBay will usually have pictures of this as well as a full product description. If in doubt, it is possible to use Google or the manufacturer's website to check on the age suitability of the kit.
Model car kits are a great way for children to learn patience and commitment to a project whilst improving their motor skills and having fun. But choosing a kit that is too difficult for them to complete could be frustrating and counter-productive.
How to Buy Model Cars on eBay
The easiest way to buy model cars and model car kits is to browse on eBay. Visit eBay and go to the drop-down menu of categories that you will find at the top of the page. Select Toys and Games and this will open up a list of sub-categories. Under the sub-heading Model Kits, click on Models, then in the left-hand side bar, under the sub-heading Type, select Cars.
It is possible to narrow any search further by selecting options from the left hand side bar, including the scale of the kit, the condition, the price, brand such as Airfix or Fujimi, model such as Ferrari or Toyota and even the location of the kit (whether it is in the UK or abroad). Shipping charges will usually be more affordable when purchasing a model car kit from a location close to home.
Using a specific term to search can help if looking for a certain kit. Just type the words related to the item, such as 'Revell Ferrari Kit' into the main search box. For further tips on how to search eBay, take a look at their Search Tips page.
Conclusion
Model cars have been a popular toy as well as a collector's item for much of this century and will continue to be popular with children and adults in the future. As more and more people try to economise and take up hobbies that are inexpensive, model making represents an affordable and constructive way to spend your free time, and many kits are available on websites such as eBay at very reasonable prices.
The level of detail found in many model car kits, particularly die-cast kits, is one of the reasons why model cars are such an enduring success story with collectors and children across the globe. Creating a miniature version of popular cars, such as a Ferrari or McLaren racing car, can feel like a real achievement, particularly considering that some of the more complex model car kits can take around 20 hours to assemble, paint and decorate.
Browsing on a website such as eBay offers the perfect opportunity to hunt for an unusual model car kit that may not be available elsewhere online, or to purchase a model car for a child's birthday at an affordable price.