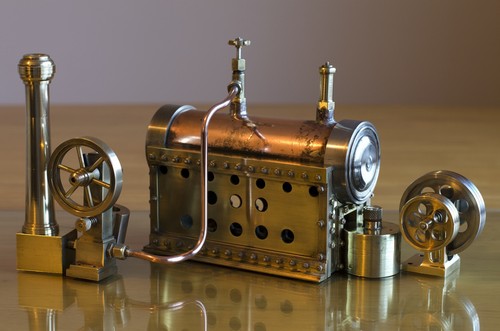 Model steam engines are a popular toy and collectable, and work by heating up water in a boiler to generate steam under pressure, which can then be used to achieve motion. Numerous different types of modern steam engine are available, from stationary steam engines to locomotives such as model trains.
Model engine kits are often considered to be separate from ready to run models of steam engine, which arrive to the user constructed and ready for use, while kit engines can require some assembly. Many different types of model steam engine kits are available on eBay.
Stationary Engines
Stationary engines are popular among some collectors, and often consist of small engines used for educational purposes. These can come in different materials, such as wood or steel.. The most commonly used material for the boiler, however, is brass..
This material is more affordable and suited to the lower pressure and temperature of the smaller sized stationary engines. Steel is a more popular material for the larger models. Some stationary engines include features such as LED lights which help to demonstrate the generation of steam power. Others are available as low temperature models,, for added safety of use.
Pre-Milled Kits
A key element to look out for when purchasing a stationary model steam engine kit is whether it is a pre-milled, sometimes called 'machined', kit, or not. A pre-milled kit has parts which have already been drilled, threaded, turned and milled, which means these kits can be easily completed by the user using simple tools such as screwdrivers, spanners and files. These kits are popular, as they do not require access to a workshop to successfully complete. Furthermore, eBay offers a selection of built and un-built model steam engine kits.
Locomotives
Among the most popular model steam engines are scale model locomotives. These are often modelled closely on real life steam powered trains, and are available in different sizes, from small models to garden railways large enough for users to ride on.
Scale
The scale of a steam locomotive is one of the key defining characteristics of a model steam engine. The scale of a steam engine locomotive is important to consider, as the space available will determine the suitable size of both the engine and the track it needs to run on. Some of the most widely available include:
O scale. Sometimes called O gauge, this scale is the smallest available for steam engine locomotives. O scale steam engine locomotives often have an emphasis on finer detail, and are popular amongst hobbyists and collectors. This scale is not as widely available as others, and is therefore less popular for collectors who emphasise the running and operation of the steam engine over the detail of its appearance.
OO scale is among the most widely available scale in the United Kingdom. OO scale model engines often place an emphasis on the durability and affordability of the models, making them a popular choice for those who wish to regularly run their model steam locomotives. This scale, however, has less of a focus on realistic scales and appearance.
G scale is one of the larger available model train scales, and a popular choice for steam engine locomotives. The large size and durable construction of these models means they are most commonly used outside, in garden railways. Due to the ease of producing steam engines to a larger scale, a large number of G scale steam engines are available.
Accessories for Steam Locomotives
Many different accessories are available for use with model locomotives of all kinds, including those with steam powered engines.
Tracks are a necessary accessory for the use of a model train, and the scale of the train track should be matched to that of the locomotive itself. Available track can range from straight and curved pieces to turning stations and junctions.
Numerous accessories are available to add to the experience of using a model, such as scale scenery such as shrubbery, buildings and stations, as well as detailed carriages, signals and signs.
Various accessories specifically for use with steam engine locomotives are also available. Cylinder oil is a useful accessory for model steam engines, helping to ensure the proper functioning of the engine by keeping moving parts lubricated.
Engine cowls, replacement wheels and roof canopies are also available for purchase. In addition, tools useful for use with all kinds of steam engine are available, such as hack saws and lathes. These can be highly useful for model steam engine kits that have not been pre-milled.
Road Vehicles and Boats
Numerous steam engine models of vehicles which do not require tracks are also available. These are popular amongst collectors and hobbyists as they do not require lengths of track to function, which makes them more versatile, and means that they take up less space when not in use.
Model traction engines are among the most popular of this type of steam engine, though models of steam rollers and steam cars are also available. Popular accessories for these include farming equipment such as threshing machines.
In addition, boats are also available. Steam engine model boats are most commonly based on real life steam powered vessels. These can include warship, cruise liners and paddle steamers.
A more unusual example vehicle is the steam hydroplane. These are usually tethered during use, and burn through a great deal of fuel. The steam engines in model hydroplanes often use flash boilers, which maintain a very high temperature so that the water can very quickly be turned into steam.
Fuel Types
Steam engines require the burning of fuel in order to heat the water and generate steam. A number of different kinds of fuel are available, and are suitable for different scales and situations.
Hexamine fuel tablets are among the cheapest kind of fuel available, and are among the safest to use as they generate relatively little heat. These tablets are smokeless, do not liquefy as they burn and leave no ashes, making them among the cleanest fuel. Hexamine fuel tablets are the most commonly used in smaller scale steam engines, particularly in more modern models of locomotive.
Methylated spirit is easily obtained and cheaply available, and is a common fuel for some older models of steam engine locomotive. Methylated spirit burns hotter than other fuels, and as a flammable liquid should be handled and stored with a great deal of care.
Butane gas is a potential fuel used for steam engines. This fuel is clean burning and fairly safe to use, though can be difficult to obtain and expensive.
Electric steam engines are widely available, and are particularly common in more modern steam engine locomotives. Electrical power is delivered through an electric track to the locomotive, which then boils the water through the use of an immersion heater.
Coal is sometimes used, particularly in large scale and ride on steam engines, though smaller scale model steam engines which use coal are sometimes available.
Another popular fuel for larger model steam engines is oil. Oil burns hot, but is also messy and can be expensive to obtain. As a flammable fluid, it should also be carefully handled and stored.
Propane gas is another less commonly used possibility, most commonly used with large scale model steam engines.
How to Buy a Model Steam Engine Kit on eBay
A wide variety of model steam engine kits are available on eBay, including static engines and locomotives. To access the full listing of available model steam engine kits, navigate to Toys & Games. Model steam engine kits can be found under Steam.
The listings can be arranged by categories such as location, price, condition and distance to seller, as well as by scale brand and engine type.It is also possible to sort between Auction and Buy it Now buying options, which offers flexibility in how a model steam engine kit can be purchased.
Key specifications of an item, such as the type and scale of the steam engine, are usually prominently displayed on the item listing. This makes it easy to quickly identify whether or not a particular model steam engine kit meets any necessary requirements.
Further information can be accessed on the items page. As well as more detailed information about the item, information about the seller can be accessed here, which includes item reviews and feedback ratings, allowing a purchase to be made with confidence. Furthermore, it is possible here to ask the seller a question regarding the specific item.
If a specific model steam engine kit is required, it may be more effective and easier to use the search function available at the top of every page. This function can be used anywhere on the site, and can be used to return search results from all available categories, or from within a specific category. Further information on how to use the search function is available on the Search Tips page.
Conclusion
A wide range of model steam engine kits are available to suit a variety of different collectors, from educational stationary engines to finely detailed locomotives. Finding the most suitable steam engine kit for the interests of the collector and the space available is important, and it's easy to find one on eBay.