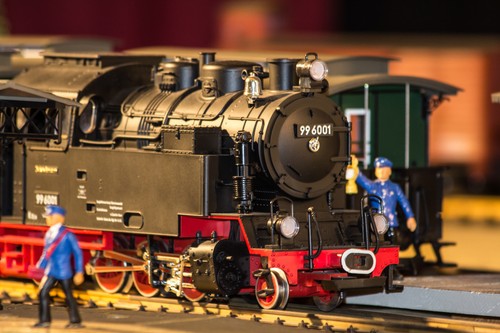 Model trains are a hobby beloved by many thousands of people across the globe with the extensive and detailed models attracting everyone from rail specialists to amateur enthusiasts.
However, how to go about building up a model train set complete with engine, carriages, track and all the various accessories can be confusing. With all the brands, train types and scaling systems, those wishing to buy parts can be left in the dark as to what they actually need.
With this guide, buying model train parts and accessories will be made simple, with advice for parts, scales, brands and how to go about buying on eBay.
What Model Train Parts and Accessories Are Needed
Whether just starting out, or an experienced model train hobbyist, the buyer must consider what parts they need. Whether they just want the model trains, or the full set including carriages, tracks, electric power, identifying exactly what items are needed is essential for quick and efficient buying, particularly when on a budget as model train parts can be expensive. A breakdown of the main parts and accessories used for model trains are as follows:
· Engine/Locomotive – The most important and distinctive part of the train is the engine/ locomotive,, these usually contain a motor for those wishing to place it on a track.
· Rolling Stock – Rolling stock is the name given to carriages and freight, and can be coupled to the back of engines.
· Track – Needed whether running an electric railway or just for display, the buyer must make certain that the engine and track match.
· Feeder Track/Input – If wishing to run electricity through the track to power a movable train, a track with an electrical input is needed.
· Transformer – Attached to a track with input and then into the mains, the transformer converts the required amount of electricity in the tracks.
· Controller – Coming in two different types, these controllers are needed to move the train on an electrified track. DC controllers are only capable of adjusting speed and direction, but newer DCC controllers are capable of a range of functions including controlling different trains, working points remotely and a LCD display. Locomotives and accessories, however, must be fitted with a chip before the DCC can control them.
· Motor – Most model engines come with their motor included, however some motors might need replacing after wear and damage. Most motors are permanent magnet, this helps anchor them to the track, but the buyer must be certain that the motor will fit inside the scale of their engine.
· Points – These are an optional accessory, and used to move trains from one track onto another. With regular tracks they must be changed manually, however many DCC controllers can now change points remotely.
· Couplings – Used to hook engines to rolling stock and rolling stock to each other, these often come attached to the models. However, they can be bought separately in packs.
· Chassis – If repairing an old engine or wishing to make a new one, chassis can be bought motorised or not to allow for the buyer to create their own stock.
· Bogies – Spare wheels than can be used to create new rolling stock or just as spare parts for repair, these can be bought separately or as part of a chassis.
· Scenery – Including buildings, bridges and greenery, these can be bought to lend an atmosphere to the train set, or to recreate a particular section of track.
Important Things to Consider When Buying Model Train Parts
Model train parts and accessories can become expensive quickly, and none more so than for those buyers who are not sure exactly what they need or indeed want. These aspects are particularly important to focus on:
· Cost – The buyer should decide on their budget before looking for parts or accessories, particularly when getting started with model trains.
· Brand – With a range of brands available to buy, and some more costly than others, the buyer should consider whether they want to buy all one brand or if they are happy to mix whatever is more affordable.
· Parts – Which train parts are needed is important to consider, particularly for those starting buying model trains. Basic parts (e.g. engine, track, power and controller) are best to start with, and the buyer can add to their collection when they are certain what they want.
· Scale/Gauge – When buying engines and rolling stock, the buyer should decide on what scale (commonly called gauge) they want to buy.
· Fit – The engine and rolling stock must be the same gauge as the track, as the wide variety of gauges available mean that some tracks are too big or small for particular models.
· Type – The decision on what type of model train the parts are bought for is a decision; diesel, steam, or electric train.
Model Train Scales and Gauges
One of the more complicated aspects of model train collecting is the numbers attached to particular models. For those just starting out, this can be incredibly hard to understand. The numbers indicate the scale the model is compared to their full-size counterparts. The most common scales (referred to as gauges for the size of the space between wheels) are:
OO Scale – reduced to a scale of 1:1.76, these models are the most popular type in the UK and the most commonly featured on eBay.
· Advantages: Large and commonly available. Stock and ready to run sets are easy to find, more affordable and varied than other scales.
· Disadvantages: For those invested in the small details, the gauge size is inaccurate for the scale and lends an incorrect narrow-gauge look. These can also be difficult to find outside the UK.
NScale – ranging from 1:148 to 1:160, these are one of the smaller model train types available
· Advantages: These models are good for those who particularly want large layouts, as the smaller models take up less space and therefore allow longer tracks.
· Disadvantages: The smaller size and manufacturing process means than N models tend to be more expensive than other scales.
HOScale – on a scale of 1:87, the HO are the most popular in the US and Europe and also heavily featured on eBay. Larger than OO, they are more accurately scaled down
· Advantages: Bigger and better suited to children, wide availability drives prices down
· Disadvantages: Takes up more space than the smaller scales, doesn't allow for large tracks.
OScale – scaled to 1:43.5, the O model is undergoing a revival in the UK with it becoming a favourite among collectors for detail.
· Advantages: Medium-sized and favoured for its detailed work, this set is popular for modelling narrow gauge railways.
· Disadvantages: Expensive due to small market and not usually available as ready-to-run sets.
ZScale – the Z model is one of the smallest commercially available scales at 1:220, this scale can mimic the movement of real trains most closely.
· Advantages: Due to the small size, larger sets are able to be built in smaller spaces.
· Disadvantages: More costly due to the smaller market and lacking the intricate detail of larger models due to size limits.
GScale – commonly referred to as the Garden scale (though at around 1:32 scale, this actually means gröss, big) due to its common location.
· Advantages: Durable and big, these sets can be used outside and therefore allow for as big a set as the space permits.
· Disadvantages: More expensive due to size, and extra measures have to be taken to protect the track from wet weather (e.g. a DC power source is not advisable).
For buyers in the UK who wish to build an inside model train track, OO stock is the most widely available on eBay and is supported by UK eBay sellers with a broad knowledge of their subject. If buying, and unsure about which scale would suit, ask the seller for their advice.
Model Train Brands
· There are a range of brands available at affordable prices on eBay, thought the two brands the buyer is most likely to encounter are Hornby and Bachmann.. These two brands have a huge variety of models, tracks, accessories and power supplies, and are high-quality whilst still being reasonably priced.
· Other common brands Lima and Tri-ang have been absorbed by Hornby, and items advertised as these brands are likely to be older models, though many are now being distributed by Hornby.
· Another brand of note is Peco,, which produces huge amounts of track and is compatible with other companies, though the track is more suited to HO scale models than any other.
· Though most brands are interchangeable, it is best to check with the manufacturer or the seller whether the item the buyer wants will fit together with other models, track or stock.
Model Train Packs and Bundles
· One of the most notable bonuses about buying model train parts on eBay is the frequency of packs or bundles sold at affordable prices. There are frequently sellers wishing to downsize or liquidate their collection, and they will often be complete sets, including models, track, scenery and sometimes even power transformers and controllers.
· These are at a far more competitive price than in any brick and mortar store, and the items will naturally fit each other. Bundles of track are also a frequent item featured on eBay, in large amounts and often far more affordable than any other market.
· The mixed bundle or set will usually be pictured with a description, but if unsure about what the set actually includes, what scale the models are on or their condition; then the seller will be able to provide informed and helpful advice on the bundle.
Model Train Parts for Sale On eBay
When buying on eBay, it is important to consider the points raised in this guide and what the buyer needs and wants for their model train set. The buyer should:
· Make sure they conform to their budget, or that the item matches the price the seller is asking for it.
· Check the fit of the model, track or parts they want, and if details are not provided in the description then they should ask the seller for a description or measurement, or ask their advice on whether their item will suit.
· Brand and age are important aspects of model trains, and with the many manufacturers n longer in business or operating under different names choosing items can be difficult. It is important to check scale size, and remember that most brands are compatible provided the scale and gauge is right.
· Item searches can be narrowed by brand, item type, condition and price.
Conclusion
· When buying model train parts and accessories, eBay is the ideal place to either expand a collection or start to build a new one. With the variety, competitive prices, and expertise of the sellers finding what is needed is easy with the specifications provided by eBay. With the advice of this guide buyers can find what they want in the scale they need without losing out on quality or price.
· Remember when buying on eBay using PayPal is advised as the quickest and most efficient way to pay, with the extra security given buyers with eBay Buyer Protection.