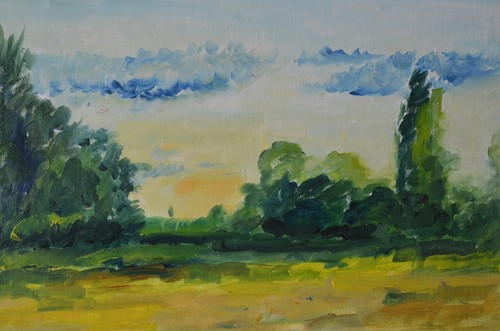 Purchasing landscape art can be a challenging yet enjoyable process. With an array of styles, subjects, colours and forms to choose from, it can sometimes be difficult to separate the good from the bad. As ever, focus remains on research and knowing the industry in order to select the perfect piece for the home.
The process of buying modern landscape paintings will be different for each person. eBay is able to customise that process for every individual. From openly browsing to finding a specific piece, this guide (along with eBay's search functions) will help everyone find the modern landscape painting that they're after.
Painting Style
Getting to know the style of paintings that are available is a key part of the shopping experience. Popular painting styles for modern landscapes include:
Abstract – Artists who paint in this style do what they can to create a visual language form. Built upon emotional intensity, the paint flows instead of being manipulated. Usually the artist will dribble, smear or splash paint onto the canvas in order to create a unique and eccentric take on a modern landscape.
Impressionism – The most common style used for painting landscapes. This style places focus on working solely outside of a studio. Light plays a key part in creating tone and atmosphere in such paintings. Creating impressionism art can be a test of not only an artist's skill but also patience.
Realism – Artists will try to recreate the exact subject matter of the painting. They will be truthful in such representation whilst avoiding adding artistic preference and implausible elements. Realism is the most common form of art currently available for purchase.
Surrealism – Surrealism originated in the 1920s and is based on producing art that contains the element of surprise. Expect modern landscape paintings of this style to feature beautiful views form an alternate perspective.
Photorealism – A style that bases itself on using photographs as a point of reference. The goal is to create a painting that appears to be a replica of the original reference photograph. Paintings of this style first appeared in the late 1960s as an extension of the pop art movement.
Modern landscape paintings can take on various forms, all of which depend on the style of the artist. When shopping for such paintings have an open mind, consider all styles even if they aren't your usual choice. eBay is there to lend a helping hand in such matters by having pieces from all styles of painting for sale at affordable prices.
Types of Paint
Many artists have a personal preference when it comes to what type of paint they use. Different paints create different looks when applied to a canvas, the four most popular paints used are:
Modern landscape painters have a huge variety of paints at their disposal when it comes to creating art. Knowing what an artist's familiarity is before purchasing a piece of their work will help a buyer predict the quality of the painting. When selecting a modern landscape painting take into consideration where you're going to position the piece. As some paints can be reflective, placing a painting in direct sunlight can have an effect on how it looks.
Types of Canvas
When shopping for a modern landscape painting you'll be sure to come across a variety of canvases. Dependent on budget some types of surfaces will appeal more than others. Even though paint and style help dictate the look of painting, the surface used will give an indication towards its build quality and longevity.
Antique – Landscape paintings that are considered antique differ in value and build quality from piece to piece. They will come on grey looking canvases (due to age), and feature dull colours with a greater attention to detail. Depending on the painting purchased resale value is also something to consider. The right artwork can be an investment in such circumstances.
New – A new painting produced post-2000 will feature vibrant and fuller colours. They come on white canvases and may even carry the much debated new art scent. Doesn't offer the same degree of resale value as an antique piece of artwork.
Print – Print work usually features on canvas and is a replica of an already produced piece of art. Has little resale above purchase price. Advantages of choosing prints include being able to own copies of art that is rare or limited. The image is generally quite flat and lacking in definition.
What a painting is produced on will have an effect on its aesthetics. Budget plays a large part in dictating what options are suitable when it comes to this. eBay offers modern landscape paintings that come on a variety of surfaces in order to suit all budgets.
Price Points
When purchasing art of any kind, be sure to set a budget that can be stuck to. Art prices can escalate quickly in an auction environment and have been known to engulf shopper's budgets in an instant. Be prepared for the competitiveness of the environment and don't overspend unnecessarily.
It is impossible to pinpoint an average price when discussing modern landscape paintings as such is dependent on the artist and the piece. However it is safe to assume that when looking at modern landscape paintings you get what you pay for. When searching eBay for a particular piece there are several rules to take into consideration.
Avoid being bid up by other buyers.
Know your financial limits.
If possible do not complete payment until you've seen the piece in person.
Be cautious of well-known artists work being priced lower than expected.
Do not be put off by sellers who ask for deposits, this is par for the course when purchasing artwork.
The above guidelines may seem obvious but many buyers have been quick to ignore them and paid the price. On the most part eBay offers high quality modern landscape paintings at affordable prices, but it pays to be diligent when purchasing artwork in the online environment.
How to Buy a Modern Landscape Painting on eBay
Modern landscape art has the potential to alter the look of a home's interior, with most pieces having the trait of being able to bring a room together. No matter what your requirements are, eBay will have a piece of modern landscape to suit your tastes. To start exploring what the world's leading online auction site has to offer, use the navigational tools to the left of the home page. Find the collectables and antiques section before heading into the art sub-category.
Delivery Charges
Artwork of any form is delicate and that is why delivery charges for certain pieces will be high. A large percentage of eBay sellers will not ship paintings without the buyer paying for an appropriately insured courier service. Some larger pieces will only be available for pick up; if that is the case the item will be listed as "collection only". Understanding the dos and don't of purchasing art via online auctions will come in time but if you have any worries don't hesitate to ask trusted sellers for advice.
Completing a Purchase
When buying a painting from an eBay seller you'll need to submit a bid, make a best offer or complete an immediate purchase by using the buy it now option. Once an auction has been won complete the checkout process using PayPal. Doing so will mean that the order is covered by their buyer protection program.
Conclusion
The amount of enjoyment that can be taken from a piece of artwork is endless and modern landscape paintings can be truly breathtaking. Selecting the correct piece is the challenge facing a buyer when they enter the online auction environment.
Using this guide, those who are new to art buying (and even those with experience) will have the edge in the auction environment. eBay has been praised in the art community for its diverse offerings and has something to appease even the most selective of art enthusiasts.