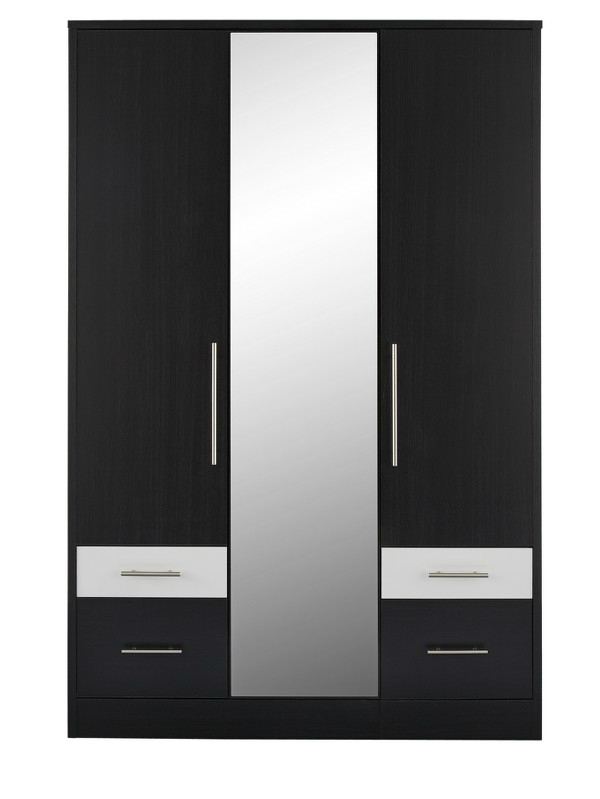 A wardrobe is a large, freestanding piece of furniture used predominantly for the storage of clothing items. They typically have drawers, compartments, and hanging rods inside them. The very first wardrobes are believed to have been used to hold equipment and machinery, but were adapted over time to be used for garments. The wardrobe is very similar to the armoire and while the terms are sometimes used interchangeably within the furniture market, they are not technically the same. The armoire started out in early French history as a cabinet for the safekeeping of ones weapons and armour. Today, a true armoire is typically more ornate and decorative than a wardrobe.
The key to finding an affordable wardrobe is to research and compare the styles and prices available at different places including home goods shops, department stores, and online at eBay. Initially, the buyer should consider the space available and size of the clothing collection. There are many different styles of wardrobes to consider including wardrobes with and without doors, wardrobes with drawers, mirrored wardrobes, and wardrobe hanging rails, and shelving space.
About Wardrobes
Years ago, there were not so many options available when it came to purchasing a wardrobe. Today, however, there are many different types of wardrobes to fit any style or budget. Wardrobes are selected as much for their aesthetic appeal as they are for their functionality. Most shoppers take their home decor taste into serious consideration before purchasing a large furniture piece like a wardrobe. There are many beautiful wardrobes available, but certain styles don't always look very good together. Shoppers should take into account how well the piece will work with the overall motif of the room it will be placed in before purchasing.
What Wardrobes are Made From
Wardrobes are most often made of wood and which type a particular piece is made from will determine many things, including how much it will cost and how long it will last. The table below is a listing of types of wood most commonly used for making furniture, along with a brief description for each. There are, of course, many other types of woods available out there and sometimes wardrobes can be found that have been made from more rare and uncommon types of wood.
| Type of Wood | Characteristics |
| --- | --- |
| Oak | Oak is hard and dense, and is often used for making furniture items. It is long-lasting and has a high resistance to moisture. Because of this, solid oak furniture tends to be somewhat costly. |
| Cherry | Cherry is a hardwood known for its beautiful grain patterns. Cherry wood is a very popular choice for furniture items, since it ages very well. Wardrobes made of cherry wood are often substantially more expensive than those made from other types of wood. |
| Mahogany | Mahogany has a dark auburn colour and deep, lovely grain markings that make it a highly sought after material for furniture-making. It tends to be expensive, and is a very long-lasting and durable wood. |
| Pine | There are many types of pine. All are fairly light in colour, and respond to stain very well. Pine is a soft wood, and therefore knicks and scratches more easily than harder woods. Pine has an interesting grain pattern, is fairly strong, and usually on the less expensive end of the furniture wood spectrum. |
| Cedar | Cedar is a very durable wood that is used for both indoor and outdoor furniture because of its natural resistance to water damage and insect infiltration. |
| Walnut | Walnut is known for the beauty of the swirled patterns of its grain. It is expensive and is sometimes used for inlays and decorative portions of furniture pieces that are made mostly from another, less costly, type of wood. |
| Maple | Maple is used often in furniture because of the deep, eye-catching grains. It is also very durable and dense, making it a good choice for achieving a balance between beauty and strength. |
| Mahogany | Mahogany is considered a very high-quality type of wood and wardrobes made from it are usually fairly expensive. Mahogany is dark-coloured and has very attractive markings. It is also resistant to from moisture, which can cause warping in other wood types. |
| Birch | Though most often used in outdoor applications, birch is sometimes used to make furniture like wardrobes because it is inexpensive but has an attractive grain pattern. |
| Beech | Beech wood is a good all-around wood for furniture. Not too expensive, it takes stain well and is durable, making it a favourite wood for do-it-yourself enthusiasts to restore. |
There are wardrobes made from materials other than wood, as well, including inexpensive and highly portable versions made almost entirely of canvas. These kinds of wardrobes usually have a framework made from a lightweight metal, resin, or wood and canvas flaps which cover each side of the piece, giving it shape and concealing the garments stored within. Additionally, some people like to buy used or damaged wardrobes and restore them by sanding, staining, painting, or otherwise beautifying them.
Wardrobe Buying Terminology and Accessories
Anyone shopping for a new wardrobe is sure to encounter certain terms and ideas that are associated with the furniture industry and with wardrobes themselves. Knowing what they mean will save a lot of time once a person is in the midst of shopping.
Burl
Burl is a term that describes wood cut from a burled or knotted section of a tree. Once sanded, burl wood produces beautiful grain patterns. For this reason, it is often used on higher-end furniture pieces.
Antique
Antique wardrobes are highly sought after, as many people enjoy the craftsmanship and designs of past eras. Many collectors only consider a piece of furniture to be a true antique if it is at least 100 years old.
Vintage
Vintage pieces are those that were made - or at least closely mimic the styles of things that were made - in a particular given era. For instance, there are vintage 1950s items and vintage 1980s items. The definition is certainly used more loosely than that of the word antique, but there are still some limitations. In order to be considered "vintage", an item must be (or look) at least 20 years old and be in a style that is commonly associated with a specific era. Vintage items are also often referred to as "retro".
Within the main categories of wardrobes, there are also particular styles - some associated with particular eras and/or aesthetic movements like art deco, rustic, and victorian.
Wardrobe Accessories
Along with a wardrobe, there are a few inexpensive accessory items that should be obtained as soon as possible if they are not already in the buyer's possession.
Hangers
Anyone who has just bought a wardrobe may find him or herself in need of some hangers on which to place the garments that will be going inside of it. Today, most hangers are made of some type of plastic, though many people still prefer to use old-fashioned wire hangers. Both can be purchased for very cheap.
Furniture Polish
In order to properly care for a wooden wardrobe, some kind of polish should be used to clean, preserve, and protect the wood's surface. Specially formulated cleaners that contain non-drying ingredients should be used on wood furniture.
Furniture Cups
Furniture cups fit around the legs of a large furniture item, such as a wardrobe, and serve to protect the floor from being damaged by the weight of the furniture piece. Sometimes called sliders or floor protectors, these cups can also aid in moving large pieces of furniture without scratching the floor.
Shelf Paper
People often choose to purchase shelf paper to put inside the drawers and compartments of their wardrobe. Shelf paper is usually self-adhesive and simply needs to be measured and cut to size. It comes in a wide variety of colours and patterns. Shelf paper serves the dual purpose of creating an easy-to-clean surface upon which to place clothing and adding an element of style and personalisation to the wardrobe.
How to Buy a Wardrobe on eBay
Now that you are aware of the initial considerations and the types of wardrobes available, it is time to start shopping. eBay offers thousands of options when it comes to choosing a wardrobe that fits your bedroom needs. To begin, simply start with a keyword search to find the perfect wardrobe. To do this, go to eBay and locate the search box. Type keywords into the search box as broad or specific as you like. To get the largest number of results, simply type "bedroom wardrobe" into the search box and click search. You can narrow these results by options such as price, condition, and location. If you know exactly for what you are looking, you can be more specific with your choice of keywords. For example, if you are looking for an "oak bedroom wardrobe with doors", type this into the search box and click search. This query retrieves more specific results to suit your needs.
Buyers can search by price if desired in order to make sure they only view pieces that they can afford. Searching for wardrobes can be done multiple ways. Once a shopper has entered a category page, search results can be narrowed by selecting one or many details. Shoppers can customise their search by choosing to see only items in specific types of material, styles, or sizes.
Purchasing and Shipping on eBay
Since wardrobes are large and often heavy items, shipping costs can be substantial if the seller is located far away from the buyer. This is why its always a good idea to first see if there are any sellers nearby who have what a customer is looking for. This way, shipping costs can be kept to a minimum if possible. Sometimes, if the proximity is close enough, an in-person pick-up can be arranged between buyer and seller, avoiding the need for shipping at all.
Conclusion
When buying a wardrobe, it is important to choose one that suits your needs. Look for a wardrobe that offers the right amount of space for your apparel and that fits in your bedroom. A wardrobe can make up for a lack of a closet and drawer space and bring an important element of organisation to your daily life. Without organisation, your clothing and accessories can just clutter your bedroom. There are many different styles of wardrobes that offer features, such as drawers for extra storage and mirrors. Most all wardrobes contain hanging rails and shelving. There are also aesthetic differences in the wardrobe, such as the different styles of doors or lack thereof.
Wardrobes are useful and popular home furnishing items, often becoming prized family possessions that are handed down from one generation to the next. Not only can wardrobes be an impressive part of a home's decor, they also serve the practical purpose of providing storage, organisation, and preservation for beloved garments. Buyers should first decide where and for what they will be using the wardrobe, so that they can make better-informed decisions about how much they are likely to spend to get the one that will best fulfill their needs.