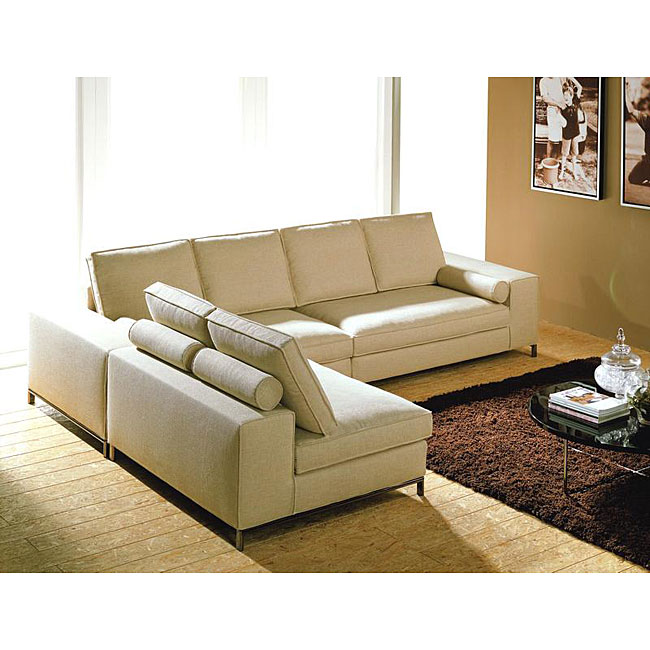 Modular sofas, with their separate elements, flexible layouts, and contemporary aesthetic are becoming an increasingly popular seating solution for many homes. These unique sofas combine separate sectional pieces to allow consumers to create any one of several set-ups in a home. Modular sofas can create a welcoming seating corner or give owners an easy way to arrange seating in a room with a difficult layout.
Finding and purchasing a modular sofa can seem intimidating at first, especially if a consumer is not armed with the right information. By getting to know the different sectional pieces that comprise a modular sofa and the different style choices that can come into play when selecting a modular sofa, consumers can be better prepared to undertake this endeavour. Modular sofas can be purchased at furniture stores, department stores, as well as an online merchant such as eBay. It can also be of help to consumers to have an understanding of how they can use the online auction site, eBay, to purchase modular sofas easily.
What is a Modular Sofa?
A modular sofa is comprised of separate elements that can be put together in a variety of arrangements. Each of these components is designed to work with another component in a modular sofa set, allowing owners of a modular sofa to arrange them in a number of ways in a room.
Upholstery Materials Used in Modular Sofas
Modular sofas typically follow a contemporary aesthetic and are often made of solid-colour materials set on a wooden, streamlined frame. Materials used in the upholstery of modular sofas can include leather, corduroy, velvet, suede, tweed, and synthetics that mimic all of those materials, as well. The materials used in modular sofas may be treated to discourage staining and to facilitate cleaning, making them much easier to maintain in busy households.
Separate Elements in a Modular Sofa
Modular seating is comprised of multiple component pieces. Different manufacturers may only address some of these component pieces or may have their own variation on these pieces, but by and large, the following section provides a general idea of what consumers can encounter when shopping for a modular sofa.
The Corner Modular Piece
The corner piece in a modular sofa is a cube-shaped section with two back supports forming a "V" or corner. These sectional elements often act as the centrepiece of a modular set-up, anchoring the location of a modular sofa in a room.
The Chair Modular Piece
The chair component in a modular set is typically wide enough for one individual to sit on. This sectional element can have a back support but no arm rests, allowing it to port with other modular components on either side. A chair component in a modular set can also be a two-seater which is wide enough for a pair of people to sit on.
The Side or End Modular Piece
A side or end component in a modular set-up is a chair component which features one arm support, creating an end point or side to the modular set-up. A side modular component is one of the few pieces in a modular set which cannot be placed just anywhere within the mix, as it is limited by the orientation of its armrest. A side component with a left armrest, for example, must always be placed at the leftmost edge of the modular arrangement.
The Lounger Modular Piece
The lounger component of a modular sofa set is a one-seater which has an integrated foot support element extending from the seat of the piece. A lounger component provides a way for individuals to lounge and rest their legs, as well. A lounger usually has either one arm support and a back support piece or just a back support piece with no armrests.
The Ottoman Modular Piece
An ottoman is a self-contained cube that acts as a footrest and sometimes as a table in a modular set-up. Ottomans can be placed flush with another component to create a makeshift settee of sorts, or they may be left at the centre of a modular set-up to function as a coffee table. Ottomans can come in a full size, which forms a perfect square, or a half size, which forms a smaller rectangle.
Accessory Items in Modular Sofas
Modular seating can come with standard accessory items that enhance comfort and facilitate cleaning. These accessory items make it easier to unite a modular set.
Cushions
Cushions in a modular sofa are usually integrated pieces that are sold with each component. Cushions may be permanently fastened to the modular piece, or they may be removable. A cushion may also be fully integrated into the design of the couch instead of being a separate piece. For modular sofas with separate cushions, the cushions may feature removable covers that can be laundered in a washer for easy cleaning and maintenance.
Linkages
Some modular sofas are meant to be simply pushed together to form a modular set. Others can come with linkages which work to hold a set in place. These linking elements are usually located at the base of each component's structure and connect with another component via a male and female piece.
Measuring a Space for a Modular Sofa
Before shopping for a modular sofa, consumers should take the time to carefully measure the designated space and ensure that they find modular seating that fits well within that space. If a modular sofa is going to be placed against the wall, one should use the flush surface of the wall to measure the length, depth, width available. If a modular sofa is going to be placed in the middle of the room, then one should attempt to get as straight a measurement as possible without a flush guideline. When taking measurements,, a consumer should remember to leave space for items such as end tables and lamps.
All dimensions should be cross-referenced with a merchant during the purchasing process. It is important to communicate with a seller to ensure that one has the right idea of the required dimensions of a modular sofa before completing a purchase. The bulk of a cushion on a particularly plush sofa, for example, can add a few centimetres to a modular unit's dimensions and affect whether or not it can fit in a space. Taking the proactive step of communicating with a vendor can make the purchasing and installation of a modular sofa more seamless.
Buying a Modular Sofa on eBay
For a truly diverse catalogue of modular sofas, consumers can leverage no better option than the online auction site, as epitomised by eBay. To start the purchasing process on eBay, you can run a search for the term "modular sofa" using the search bar located at any page on the site. This gives you an overall idea of the eBay marketplace.
To narrow a search, you can use the related search suggestions eBay extends to you or run a search using a more specific term such as "leather modular sofa". Alternatively, you may use eBay's advanced search feature that allows you to search for an item by entering parameters in categories such as price range and location of the item.
Finding a Seller
Once you have spotted a listing that looks promising, it is important that you evaluate and communicate with the seller to ensure that you get the sofa you want in a timely and efficient manner. You can evaluate your merchant by looking at his or her past auctions and also reviewing the feedback the seller has received from past customers. It is recommended that you take the time to confirm important details such as shipping costs and delivery times with a seller. As delivering a modular sofa involves more complicated shipping than most purchases, being proactive up front can ensure the desired results.
Conclusion
Modular sofas are a fun, modern, and innovative way for people to get the most out of their living space as well as decor. These easy-to-arrange sofas allow consumers to explore different set-ups in sitting rooms, lounges, and rec rooms by leveraging their own creativity. With their flexible pieces, modular sofas help create a comfortable environment in a home.
Buying a modular sofa does not have to be a complicated process if one takes the time to familiarise oneself with the different components involved in modular seating and reviewing the different materials and upholstery options available. By understanding the considerations involved in the choice of a modular sofa, one can start the purchasing process off on the right foot.
With its vast catalogue of modular seating options, eBay can be a highly useful tool in a shopper's arsenal. By reviewing listings and taking the time to evaluate sellers, a consumer can use the power of eBay to find the ideal modular sofa that he or she desires. Thanks to its numerous user-friendly features, eBay makes it easy for an individual to create a great space in which to relax as well as entertain at home.