A few questions I have been asked about Monoï de Tahiti oil are:
Is this product certified organic?
Is it cold pressed?
Is it "Extra" Virgin?
Is this product ethical?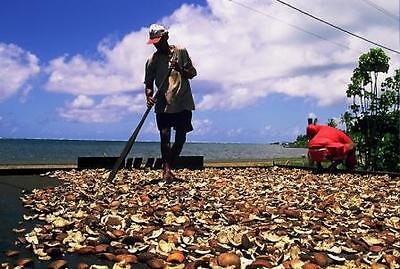 All good questions, and I will answer them, and give you some additional information.
Monoï is NOT certified organic, and the oil is made from a single pressing only (Virgin) this is done by a gentle heat extraction.
Is Monoï ethical? Coconut Palms grow prolifically around the South Pacific, including French Polynesia. The harvesting and processing employs many local people. As the palms occur naturally rather than being farmed, the industry is based on naturally sustainable resources. Land is not set aside for farming and Monoï oil is never tested on animals.
Coconuts of the Cocos nucifera variety must be grown on coral soil, which is naturally mineral rich, and harvested only at a mature stage. The fruit is never picked, but allowed to drop. A single pressing of the oil is obtained from the coconut after they have been carefully dried in the sun. By using a gentle heat the coconut oil is then naturally refined, without chemicals and not mixed with a 2nd pressing inferior oil, to preserve its excellent organoleptic properties. There are only a select few manufacturers on the Island of Tahiti who work with the final processing of the oil, and Parfumerie Tiki who have been producing Monoï commercially since 1942, have established an excellent reputation.
To ensure authenticity, including plant geographical origin, from harvest right through to processing, a Decree (AO) appellation d'origine was established in 1992. This ensures strict manufacturing standards are met when producing Monoï de Tahiti Oil, which has to include fresh Tiaré flowers - 10 per litre of oil. The AO Certification obtained was as a result of research performed by the Monoï Institute to establish the unique qualities of the product, and to prevent uncertified coconut oils from other destinations being marketed as "Monoï". Monoï is the first cosmetic ingredient ever to have its authenticity and qualities confirmed by AO.
Mature coconut palms over 6 years old produce 60 or more large coconuts per year, and this cycle continues for 70 years. Tahitian Monoï is made from 98% pure coconut oil, and despite high usage of the fruit for cosmetics, including worldwide exports, 90% of coconuts from the Pacific go to waste. The tree, and the fruit it bears are used by the Islanders.
Monoï de Tahiti is used from birth to nourish and protect the skin of the new born, through to death to ensure a smooth passage into the afterlife. This oil has an ancestral history included in religious and traditional ceremonies, such as weddings. Pitaté (Jasmin), the strongest of the Monoï oils is the favoured oil of the bride to be, as this is classed as the "Flower of Romance". She is bathed in Jasmin oil and flowers from head to toe prior to her wedding.
Monoï de Tahiti oil is highly regarded, and used in everyday life by both men and women as protection from wind, sun and salt water, healing and as a daily skin moisturiser and hair conditioner.
We hope you find this additional information helpful.