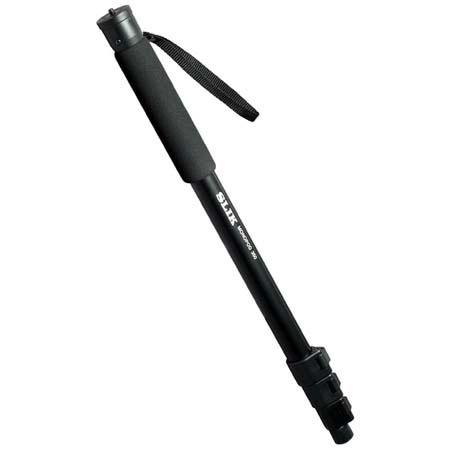 A monopod is a piece of equipment that is used by photographers in order to support a camera and to help keep the camera steady while shooting. This enables the photographer to use longer exposure times that might not be possible with a hand held shot. Unlike the structure of a tripod, a monopod does not have separate legs. It is constructed of a single column and the camera is fixed onto the top of it by means of a standard single screw mount although it is possible to use a head attached to the monopod as well. A monopod cannot support a camera on its own and needs to be propped against an object. Some monopods can be used by balancing the bottom of the monopod against the photographer's waist although this may not give as steady results as placing the base of the monopod on the floor.
A monopod will be more successful in reducing vertical shake, although the additional support that can be gained by resting the monopod against an object will help to reduce horizontal shake as well.
The main advantages of using a monopod instead of a tripod are that a monopod is much lighter, is generally easier and quicker to set up and to collapse and a monopod will take up less space than a tripod. This makes it incredibly suitable for using in a crowded area, which is why it is a popular choice for news and sports reporters.
Features

There is a wide range of monopods available to buy and it can seem like a confusing choice, but considering several factors beforehand will help to pinpoint the most suitable monopod. If in doubt, it is always advisable to consult with a seller or an experienced photographer.
Height

It is vital to check what will be the fully extended height of the monopod. Ideally a monopod should be able to raise the camera to several inches above the eye level of the user. This will mean that once the monopod is braced by the user, it will then be directly at their eye level. If the monopod is intended to be used by more than one photographer, checking the extension capabilities really is essential.
Portability

The smaller size of a monopod will make it easier to carry and travel with than a tripod, but it is worth checking the fully collapsed size of the monopod. Many will collapse to a size of 24 inches. If the monopod is intended for use on hiking trips or for extensive travelling, then it may be better to look for one which has a fully collapsed size of 18 inches as it will be easier to store in a bag or rucksack. The number of sections that the monopod has can be used as a guide to how compact it will be when collapsed. Generally a monopod with a greater number of sections will collapse to a smaller size, as the sections telescope within each other. One additional factor that makes a monopod a more portable and versatile option is that they are often allowed into place where a tripod is not permitted. One of the main examples of this is museums who do not permit tripods, presumably because they may hinder the access of other visitors, but monopods are allowed. Together with portability goes, of course, the monopod's weight. Ensure that the monopod is not too heavy to be carried. The material used for the monopod is key to the item's weight.
Material

Many monopods are made of aluminium and this is a cheaper option, but an aluminium monopod will be heavier. It may be preferable to look for a monopod which is made from carbon fibre if the intended use of the monopod means that weight may be an issue. A monopod which is made from carbon fibre will be significantly lighter but it will cost more than an aluminium one.
Locks

A monopod is extended and collapsed by the opening and closing of locks. The locks will generally either be flip locks or screw locks. There is little difference between the two types of lock but flip locks are generally easier to use and faster so they may be the best option if speed is an essential option.
Heads

It is possible to screw a camera directly into the top of a monopod or to use a separate head for the monopod. Using a head may make it easier to connect the camera and will offer greater flexibility in positioning and adjusting the camera. A tripod head which has been designed for a lightweight tripod will generally be suitable to use with a monopod. There are three different types of head available with ball heads, pan heads, and geared heads. A ball head is probably the easiest type to use, it can be adjusted quickly, and provides a lot of flexibility in aiming the camera.
Foot

There are various types of monopod foot available. The majority of monopods are fitted with a rubber foot and this will work well in most environments. It is also possible to find a monopod which is fitted with a spiked foot which might be preferable if the primary use of the monopod will be outdoors or in muddy or grassy conditions. It is also possible to buy an attachment to fit on the foot which has a suction cup in order to provide the monopod with greater stability.
Maximum Load

Every monopod will have a maximum weight capacity listed in its specifications. This represents the heaviest weight that the monopod can support securely. It is vital to check that the maximum weight capacity is greater than the weight of the camera that is intended for use with the monopod. This should include the weight of any heavy lenses such as telephoto lenses that may be used with the camera while it is attached to the monopod.
Finding a Monopod on eBay

The first step in looking for a monopod on eBay is to open the eBay homepage and click on the All Categories link which is positioned near the top left of the page. This will pull up a list of every eBay category and the next step is to click on the link for the Cameras & Photography category. A list of sub categories will be displayed on the left of the page including Tripods & Supports. Then click on the further sub category for Tripods & Monopods. The final step is to click on the link for Monopod. This will pull up a list of all monopods which are currently available to buy. It is possible to further refine the search if a specific brand is required as there are further links for the main camera equipment brands including Canon and Manfrotto. There are also links which enable the user to specify details about the type of monopod that they require such as the number of section in the column and then to refine the search accordingly.
Conclusion

A monopod will offer a certain amount of stability and give more opportunities to a photographer by extending their choices over exposures and shutter speeds. It may not offer as much stability as a tripod, but a monopod will provide more stability than using the camera by hand and it will also be lighter and easier to carry than a tripod especially if it is a monopod that is made from carbon fibre. A monopod will be easier and quicker to assemble than a tripod and will give the user greater flexibility in moving the camera around and changing position. There is also a full range of heads available to use with a monopod which will assist with positioning the camera. As long as the primary use of the monopod will not be taking photographs with an extremely slow shutter which can exacerbate the effects of camera shake then a monopod can be a very useful piece of camera equipment to own.