Morphy Richards Soup Maker
This soup maker is fantastic.
I bought this soup maker the other day and I've used it a few times already as it so easy to use.
You just have to put the ingredients you want into the unit, pretty much anything, with some stock water and switch it on. 21mins later its cooked and blended either smooth or chunky with no hastle.
It can make smoothies as well as soups.
I love it and its easy to clean too as the lid and blade are one sealed unit that just lifts straight off the base, which is a bit like a kettle with no element inside.

A great quick and easy product to use!!

Some further product info
Fresh, Home-made Soup in Just 21 Minutes

Introducing the Soup Maker from Morphy Richards. The fuss-free way to make delicious soup, just the way you like it. In as little as 21 minutes, you can be sitting down with a bowl of fresh, homemade and nutritious soup. Unlike shop-bought soup, this soup will be made to your own personal taste and consistency.

3 Simple Steps

The Soup Maker from Morphy Richards is designed to be quick and easy to use. Simply prepare and chop your ingredients into small pieces, place them inside the soup maker and choose either the smooth or chunky setting. The easy to use control panel features an LED countdown display that shows exactly how long your soup has left to cook while you just sit back and let your soup maker do the hard work for you.

Made to Your Taste

The Smooth programme blends and gently cooks soup in just 21 minutes, while the Chunky programme cooks wholesome soup with a thicker consistency in 28 minutes. If your soup is a little too chunky for your liking, just press the Blend button until the texture of the soup is to your taste.

Stylish, Functional and Practical

This stylish soup maker fits well into any style of kitchen, and with an innovative top-down design that allows for a large 1.6 litre jug, you can make enough soup for up to four servings at once. After you've enjoyed your meal, just give the jug a quick rinse under the tap, wipe it with a soapy sponge and your soup maker is ready for next time.

Smoothies and Juice Drinks

This soup maker even comes with an additional juice function, so you can create delicious, healthy smoothies and juice drinks too.

Recipes to Get You Started

Delicious recipes are included in the instruction booklet to get you started; from a smooth roast tomato and basil to a chunky chicken and sweet corn as well as some inspirational ideas such as butternut squash, chilli and coconut if you're feeling adventurous. A step by step guide to making tasty creations, Raspberry smoothies and blueberry milkshakes to name a few, with the smoothie function are also available.

User Tips

•Due to the starch and sugars present in some foods, these may stick to the inside base of the jug if they are placed in direct contact. To prevent this, add half a cup of water or stock to the Soup Maker before placing in any solid ingredients.
•Chop your ingredients to 1 cm – 2 cm pieces to allow quicker cooking and better blending.
•Do not overfill the jug as this could lift the lid during cooking process and cause the programme to reset.
•The two programmes are preset and if the lid is lifted during the programme, it will be reset and you will need to start again.
•Follow a couple of the easy-to-use recipes when you start using your Soup Maker to familiarise yourself with the product and have optimal results from the start.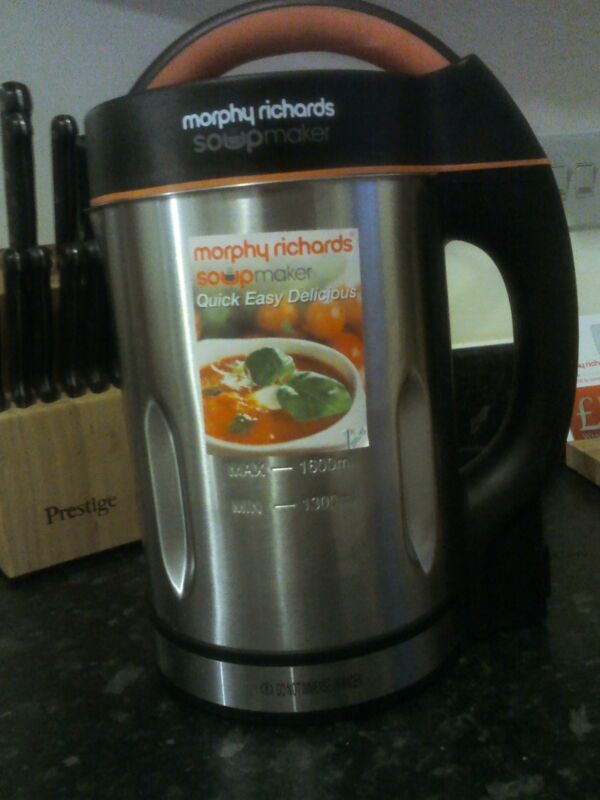 Add a caption
http://www.ebay.co.uk/bhp/morphy-richards-soup-maker