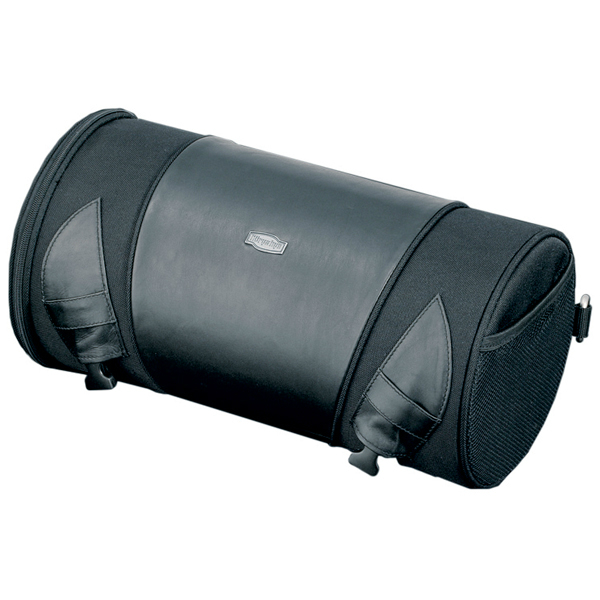 While enthusiasts typically consider motorcycles to be the preferred mode of transportation, many models do not feature a great deal of storage space. When there is not much room to pack the necessities, it can be difficult to travel long distances on a motorcycle. Even a trip to the shops across town is frustrating when there is no place to stash a few small items. Some owners choose to remedy this issue with a few carefully chosen pieces of motorcycle luggage. Depending on the make and model, a handlebar bag is one possible solution for lack of storage space on a motorcycle.
Motorcycle handlebar bags allow riders to make use of space that might otherwise go to waste. While this type of motorcycle luggage tends to be smaller than tank boxes or sissy bar bags, a handlebar bag enjoys a convenient location directly in front of the rider. Installation generally depends on the size and style of bag, along with the shape and design of the handlebars. It is also up to consumers to consider their riding habits before selecting a handlebar bag in order to find the one that is most appropriate.
Find Compatible Motorcycle Handlebar Bags
When motorcycle owners decide that they want to install a handlebar bag, the first step is identifying which size and style best suits their bike. As the name suggests, motorcycle handlebar bags are designed to fit directly in front of the rider, either in front of or behind the handlebars, depending on the style of bike. When installing the bag, the handlebars serve as the anchor to which the bag is secured. To promote safety and comfort, it is essential to find the correct fit when shopping for handlebar bags.
Where to Buy for Motorcycle Handlebar Bags
In order to check out a number of handlebar bags before making their purchase, buyers must know where to look for motorcycle luggage. For starters, shops that sell motorcycle parts and accessories are likely to carry handlebar bags. Suppliers who specialise in factory and custom parts for a particular brand are another possibility worth seeking out. People interested in buying used motorcycle luggage are encouraged to read classified adverts and visit flea markets to look for vintage handlebar bags.
Many buyers prefer to shop online where they can browse a number of different handlebar bag options quickly. Amongst the many Internet vendors selling motorcycle luggage, many brick-and-mortar parts and accessory shops also operate web stores that customers can visit anytime from the comfort of home. Additionally, marketplace sites like eBay offer buyers an opportunity to shop various sellers.
Explore Motorcycle Handlebar Bag Options
Since there are quite a few different types of handlebar bags, it makes sense to explore a number of options before making a decision. Once shoppers have a general idea of the many different types of motorcycle luggage, they can further investigate models that seem feasible for their bike.
Size and Shape
Motorcycle luggage is available in a wide range of shapes and sizes, and handlebar bags are no exception. While some styles are only big enough to hold a few select items like a wallet and mobile phone, others can fit a bit more. Since they must contend for space with dashboard gauges, pouches designed for easy access on a bike with a windshield are generally smaller than triangular or barrel bags that fit in front of the handlebars, above the headlight. By considering various shapes and sizes, riders can get a feel for their options while noting which type is most likely to fit their style of bike.
Installation
Whether a motorcycle sports cruisers or clip-ons, the handlebar style dictates which types of bags can fit comfortably and securely on the front of the bike. When browsing various bag options, it is essential to consider how and where they fit on a bike. Product pictures showing the handlebar bag mounted on a motorcycle are helpful for those who are having a hard time imagining one on their own bike. While some models feature universal installation kits that employ a series of adjustable straps, others are mounted with clips that only fit handlebars of a certain diameter. For this reason, it helps to measure the handlebars on a motorcycle before browsing for bags, as this can help buyers find the right fit fast.
Material
Along with various bag sizes and installation methods, buyers have a number of material options to explore. For instance, many handlebar bags are made of leather in order to match the numerous biker accessories made of this sturdy material. There are also various synthetic materials available, some of which are completely waterproof. When the bag itself is not waterproof, some manufactures include a cover to protect the contents from the elements. Designs that incorporate plastic and other rigid materials are especially durable and tend to hold their shape better than flimsier, all-fabric models. Snaps, buckles, zippers, or any combination of the three allow riders access to the items stored within.
Manufacturer
If desired, buyers can looking for a handlebar bag designed for a specific make and model, such as Harley-Davidson or Honda handlebar bags. In general, though they are not always made by the original equipment manufacturer (OEM), some handlebar bags only fit a particular type of bike. Since this type of bag is designed to meet motorcycle specifications, they are likely to fit well with little effort on the part of the buyer. Alternatively, there are also plenty of aftermarket handlebar bags with universal installation kits. While these are a bit more flexible in terms of compatibility, buyers must still consider whether or not they are suitable for installation on their particular make and model of motorcycle.
Consider the Needs and Preferences of the Rider
Once bikers are able to narrow down the wide range of handlebar bags to those that are compatible with their model of motorcycle, the next step is thinking about personal style and riding habits. For instance, riders who often encounter inclement weather on long rides appreciate a waterproof handlebar bag to protect their phone and wallet. Fair-weather motorcyclists need not worry as much about the rain, which leaves them open to stylish options that are both convenient and decorative.
There are also various speciality handlebar bags, such as those meant to protect a portable GPS system. While it does not take much time to examine intended usage, this step is immensely helpful when it comes time to make a selection. Rather than focusing solely on price, those who want the best possible handlebar bag for their motorcycle are encouraged to look for a product that meets or exceeds all requirements.
Shop for Motorcycle Handlebar Bags on eBay
If you are interested in shopping for motorcycle handlebar bags on eBay, there are several ways to approach your product search. To conduct a broad search for listings, type a general keyword phrase like "motorcycle handlebar bags" into the search bar on the eBay home page. By customising the results according to your preferences, it is much easier to browse the items that meet your initial requirements. If there are too many results to consider individually, listings can be narrowed down according to various product refinements such as:
Manufacturer
Intended Use
Condition
Price
Location
Tips for Finding Specific Products on eBay
If you are looking for a certain type of motorcycle handlebar bag on eBay, make sure your keyword combination is specific enough. While you are likely to see less results overall, it should be easier to find the right product fast using this method. Remember to include product descriptions in your search if the first try fails to produce enough relevant results. You can also attempt an advanced search when you already know exactly which type of motorcycle handlebar bag you are looking to buy on eBay.
Try to choose sellers with a lot of positive feedback on their profile. Sellers with a proven track record of satisfying customers are a good bet, and are likely to provide great customer service, prompt shipping, and quality products.
Conclusion
A conveniently located handlebar bag offers a safe place to store important items while riding a motorcycle. Situated directly in front of the rider for easy access, both windshield pouches and handlebar bags are designed to carry items that are easily lost if left loose in a pocket during a motorcycle ride. Rather than letting their wallet, phone, glasses, or other personal belongings slip out while rounding a bend, experienced bikers prefer to secure their stuff. Before selecting a handlebar bag for their bike, buyers are encouraged to take a look at the many possibilities available to them.
For people who are looking for plenty of options, a large array of motorcycle handlebar bags are available all day, every day at eBay. Motorcycle luggage tends to vary in terms of size, shape, material, manufacturer, and installation method, and not every handlebar bag is universally compatible. By comparing size specifications with handlebar dimensions, riders are more likely to choose a bag this fits their motorcycle. As an alternative, buyers can avoid any confusion over compatibility by looking for a handlebar bag designed specifically for the make and model they ride.