I Recently purchased some new LED indicators for my Kawasaki ZX-6R motorcycle and found that once fitted the flash rate of the LED's had increased.
Just remember when purchasing new indicators for your motorcycle you may also need to purchace a new indicator relay to reduce the flash rate.Faster flashing indicators are likely to get you pulled over by the police as they are illegal.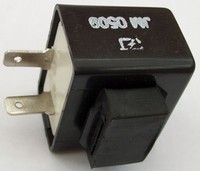 Relays come in lot of shapes and sizes.Here is just one example.