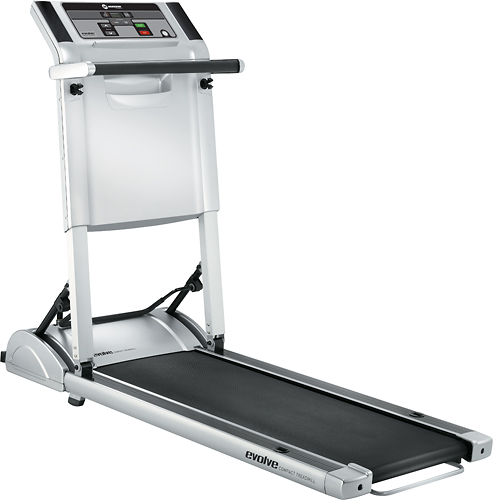 Motorised treadmills are often used for running indoors during winter months, or for use in the home as an alternative to gym membership. There is a wide range of motorised treadmills on the market with varying features, benefits and suitability for a range of budgets. Motorised treadmills can be easily found and purchased on eBay.
Advantages of a Motorised Treadmill
Motorised treadmills are designed to provide a cardio workout as an alternative to road walking or running. The advantages of a motorised treadmill are:
The ability to exercise from the comfort of home.
An investment in a motorised treadmill can be more cost effective over time than gym membership.
The motorised treadmill feeds back statistics of a workout such as calories burned, heart rate, speed and other information to help assess performance and track improvements.
During winter months when running outdoors can be prohibitive, a motorised treadmill provides an opportunity to exercise and maintain a fitness regime.
Having a motorised treadmill at home can make it easier to keep an eye on children or to enjoy watching television while exercising when free time is limited.
Disadvantages of Motorised Treadmills
Since the workout will not be as varied as exercise taken in an outdoor terrain, muscles are not worked in the same way as when running on varied surfaces. This must be a factor to consider for runners using a motorised treadmill to prepare for outdoors events.
Price and Performance
Motorised treadmills are available in a variety of price ranges with a vast difference of quality and build. The price of a motorised treadmill is reflective of quality, expected lifespan of the product, and the features available. In terms of quality, stronger frames, stronger motors, a wider and longer running area, and larger, more sophisticated dashboard consoles will command a higher price.

| | |
| --- | --- |
| Lightweight Motorised Treadmill | An inexpensive entry level motorised treadmill is lightweight and likely to only be intended for walking. A lightweight motorised treadmill will have limited functions. |
| Basic Home Motorised Treadmill | A basic home treadmill will be suitable for jogging and light running, and may also have an incline feature. |
| Intermediate Motorised Treadmill | An intermediate treadmill will have a higher quality of motors and components, consoles, and more robust suspension. This range of treadmill will often prove to be the best for value when considering the cost versus expected lifespan of use and features available. |
| Premium Treadmill | A premium treadmill will have the strongest motor and suspension, and superior additional features and console area. |
Features of Motorised Treadmills
Treadmills may have a variety of features such as:
Built in heart rate monitors built in.
iPod docks.
Water bottle holding areas.
The facility to fold up and maximise limited space.
Safety cords.
Lifespan of a Motorised Home Treadmill
The average expected time-frame for the life of a motorised treadmill is 10 years.
Premium models sometimes last for over 12 years.
A motorised treadmill can last a long time when looked after well and treated with proper care.
Care of a Motorised Treadmill
Dust and belt friction are the main factors to be aware of when looking after a motorised treadmill.
Wipe the motorised treadmill of any dust once a week
Vacuum the area around and beneath it regularly to prevent dust and debris from damaging the inner workings and suspension.
Lubricate between the belt and running deck with a silicone lubricant as per the manufacturers instructions if purchasing a new treadmill.
If buying a pre-used motorised treadmill, check online if information is available on how to care for the treadmill with particular information from the brand manufacturers.
Motor Horsepower Ratings and Requirements
Power Ratings of Motorised Treadmills

The power of a motorised treadmill is measured in Horsepower (H.P), which is the measure of the motor's power.

Continuous Power

Continuous Power is abbreviated to C.P.

It refers to the sustained output of a motorised treadmill.

Peak Power

Peak Power is abbreviated to P.P.

It refers to the maximum power of the motor before failure. Be aware that Peak Power numbers can be high and sound impressive, but compare against the Continuous Power ratings of a motorised treadmill for a true picture.

Minimum Requirements

Most users would require at least 1.5 C.H.P (Continuous Horsepower) for the purposes of a home use motorised treadmill.

General Use

2 C.H.P is the ideal minimum power for most home joggers and runners.
With a stronger motor and C.H.P rating, a motorised treadmill can carry more weight and provide a faster run. Be sure to bear in mind weight and required speed of the motorised treadmill when browsing products available to ensure the correct motor capacity is selected.
Running Belt Size
The size of a running belt is a relates to the natural stride, gait and movement of the runner.
Tall runners will require a longer belt to allow for a comfortable stride.
The wider and longer running belt is, the more comfortable using the motorised treadmill with be.
Large running belts are around 55cm by 150cm in size.
Suspension
The motorised treadmill deck is often constructed of laminated wood, and rests on shock absorbing pads which provide the suspension.
The construction of the deck will dictate how smooth or hard the motorised treadmill feels to run on, and how well it absorbs shock when running.
Thicker decks and soft shock absorbing pads are worth bearing in mind when browsing for a motorised treadmill.
An average deck is around 16mm in depth, and premium motorised treadmills have decks of around 25mm.
Console Features
The console requirements for a motorised treadmill will vary depending on the intended use for the device.
A console acts as the dashboard to display running information and an interface to operate the treadmill.
Essential feature are an accurate feedback of running time, distance, speed as well as incline and heart rate if available.
Some models include a range of pre-programmed workouts and training programmes to help vary workouts and improve fitness.
The more programmes and facilities available, the better the console and motorised treadmill model.
Some of the high-end consoles include Web-browsing functions as well as music and video, whereas a basic console will control speed and display distance run and calories burned.
Safety Awareness when using a Motorised Treadmills
Bear in mind that using a motorised treadmill in the home needs to be done safely. Some key points to be aware of:
Be aware of babies, toddlers and young children that may be near the device.
Running on a motorised treadmill can be a high-impact activity, so take care with joints, bones or any other condition that may prevent the body from tolerating impact.
Be aware of the possibility of tripping and entrapping shoes laces in the motorised treadmill.
Buying New or Second Hand
Finding the ideal motorised treadmill to suit a range of budgets is made very easy on eBay. Hundreds of sellers offer well priced motorised treadmills in a range of models and conditions.
Motor Condition

Pay particular attention to the condition of the motor on a pre-used motorised treadmill. Ensure the motor is in good working order by giving it a test run at all speeds.

Console

Check if all the different programmes and features on the console are in good working order.

Previous Use

Determining the previous use of a motorised treadmill will give an indication of expected product life span.

Used treadmills that are sold by a gym or club are likely to have been used more than a motorised treadmill offered for sale by a middle-aged or elderly, for example.

Part Replacement

It can be beneficial to check online how much parts for replacement would be on a used model in case the need to replace working parts arises.

Upgrading

If a used model does not have all the features required, check how easily additions such as a heart rate monitor or safety belt can be added after purchase.
Reviews and Research
It is always advisable to read as many reviews as possible when comparing models of motorised treadmills, whether used or brand new. Sites which have discussion forums and feedback from buyers can be really useful when making an informed choice. Blogs also offer a useful source of information, and ask around by word of mouth too if anyone has bought a motorised treadmill and what they thought of the brand and performance.
How to Buy a Motorised Treadmill on eBay
eBay seller offer a wide range of motorised treadmills in a variety of models, motor capacities and specs. eBay sellers are well known for competitive pricing and wide range of products, coupled with the flexible payment options available by buying on eBay.
To search for motorised treadmillsvisit the Sport & Leisure portal category on the home page. From there, can navigate to Exercise and Fitness and select the Cardiovascular Equipment category. Alternatively, you can type in specific search terms into the search box provided on every page. Type in specific searches such as "Motorised Treadmill", or a particular brand name of equipment to locate the right item from the marketplace.
When searching through listings, carefully review all the information and details of the product. Feel free to ask the Seller a question if anything needs to be clarified further. When ready to buy, either place a Bid, Buy it Now, or put down a Best Offer. Buying with PayPal will ensure the transaction will go smoothly. eBay users are protected by the Buyer Protection Program.
Conclusion
Choosing a motorised treadmill depends on personal needs and budget. Many brands are available on eBay for both used and new motorised treadmills, in a variety of motor speeds and price ranges. The length of running deck and components required will vary according to personal needs and fitness. Finding the right motorised treadmill is simple and easy on eBay.