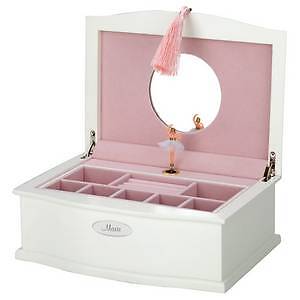 Jewellery boxes have been around since people invented jewelleries. In the early days, only the very rich could afford jewellery, making boxes much like treasure chests. These days, jewellery boxes come in many different types and sizes. There are jewellery boxes only large enough to hold a single ring and boxes large enough to hold an entire jewellery collection of a person.
Musical jewellery boxes have been around since the second part of the 19th century. Originally made for the upper class, they gained in popularity after the Second World War, when returning soldiers brought them home for their families. Musical jewellery boxes were a natural extension of the music boxes that had been invented at the end of the previous century. Musical jewellery boxes have been a popular item since then. Consumers interested in purchasing a musical jewellery box need to be aware of the different styles, features, ages, and conditions of musical jewellery boxes before buying such an item. In addition, they should consider who they are buying the musical box for, since those for children can be very different in features and styles from those made for women.
Collector's Items or New Jewellery Musical Boxes
Popularized toward the end of the 19th and the early 20th century, many musical jewellery boxes have survived to modern times in collectible condition. Most early boxes were handmade and included Swiss-made music movements. Many of these boxes had small ballerinas that popped up when the box was opened. After the Second World War, Japanese companies began making the music movements that were smaller and cheaper than the Swiss ones. This facilitated the mass production of musical jewellery boxes that continues today.
Traditional Jewellery Musical Boxes
Collectors of musical jewellery boxes are generally interested in the ones produced in the early part of their history. The handmade boxes with quality Swiss movements tend to survive centuries in excellent condition. Consumers interested in vintage musical jewellery boxes can readily find them in a variety of materials, from hand-carved wood boxes to intricate inlaid designs and even Lucite. There are two manufacturers to note when looking for vintage musical jewellery boxes, Mele and Reuge.
Mele Jewellery Musical Boxes
Mele is an American company established in 1912. The company started by creating jewellery store displays and eventually expanded to jewellery boxes of all types. In the 1950s, Mele began to import musical movements from Switzerland to include in their own jewellery boxes. It was around this time that the company started producing a musical jewellery box with a ballerina theme. When opened, a revolving ballerina would pop up and a tune would play. This box, originally geared towards children, became an icon of musical jewellery boxes.
Reuge Jewellery Musical Boxes
Charles Reuge was a watchmaker from Switzerland, and in 1865, he created the first musical pocket watches by miniaturizing the music movements of the new music boxes. This pioneering move led the way for music movements small enough for boxes, ladies' compacts, and other paraphernalia. The Reuge family later opened a small factory to create musical movements. These movements were frequently included in early era musical jewellery boxes. Today, Reuge continues to make high quality musical boxes, but consumers rarely find their music movements in new jewellery boxes.
Modern Musical Jewellery Boxes
Modern musical jewellery boxes come in a wealth of sizes, styles, and tunes. There are musical jewellery boxes that mirror popular culture, including Twilight musical jewellery boxes, as well as ones that reproduce classic designs. The Japanese company, Sankyo Seiki, is a large producer of music boxes and even produces many of the music movements that are used in boxes all over the world today. Sankyo Seiki's music movements are notably more complex than earlier movements, some with up to 100 notes. This allows them to reproduce a wider range of music, including some modern songs. Cheaper music movements tend to have only 18 notes, allowing for recognizable but not detailed music reproduction.
What to Look For when Choosing a Musical Jewellery Box
Whether vintage or new, musical jewellery boxes come in all shapes and sizes. In order to choose the best box for their needs, consumers should consider the recipient of the box as well as the intended use. Women with a substantial collection of jewellery may wish to have one or even two musical jewellery boxes to hold all their jewellery pieces. On the other hand, children may not have much jewellery and may be more interested in the mechanics of the box than having one to hold their things.
Women's Musical Jewellery Boxes
There are three main things to consider when looking for women's musical jewellery boxes: the size of the box, the organization, and the looks of the box. Firstly, women with a large collection of jewellery may wish to look at larger musical jewellery boxes or even consider purchasing two or more boxes. This way, silver and gold jewellery, pearls, and other pieces can be kept separately to prevent scratching and other possible damage.
The second consideration for women's musical jewellery boxes is the type of organization allowed. Musical jewellery boxes come with many options for trays, drawers, and compartments. Consumers wanting a musical jewellery box should consider the type of jewellery that they own. Rings, bracelets, and necklaces all have different storage needs. Some musical jewellery boxes also come with anti-tarnish lining to help protect silver jewellery. Finally, the appearance and music is a key factor in choosing the perfect musical jewellery box.
Whether vintage or modern, musical jewellery boxes range from wooden to Lucite and plastic, painted and enamelled, so there is a wide range of appearances to choose from. Similarly, there is also a wide range of music pieces. Early musical jewellery boxes tend to have simpler tunes, but as the technology has improved, so has the complexity of the tunes. Today, buyers can find musical jewellery boxes with popular as well as classical music.
Children's Musical Jewellery Boxes
There are also a few considerations for children's musical jewellery boxes. Unlike women's boxes, a musical jewellery box for a child is smaller, typically holding just a few pieces. Instead of size, buyers should focus on the appearance and music a jewellery box plays. Vintage children's musical jewellery boxes often have romantic designs on the exterior, with flowers, dancers, or images of nature. Modern musical jewellery boxes can be modelled on these vintage boxes. For example, Mele still makes ballerina musical jewellery boxes for children.
On the other hand, musical jewellery boxes for children can be completely themed on pop culture, with images from recent movies or even Barbie and cartoon characters. As with larger boxes for women, children's musical jewellery boxes come with a range of tunes. The simpler boxes have 18 note music movements, while the more expensive ones have music movements with up to 100 notes. The latter enable more complex tunes to be played.
Buying Musical Jewellery Boxes on eBay
Whether looking for vintage or modern, women's or children's, there is a broad range of musical jewellery boxes to be found on eBay. To start your search, type in 'musical jewellery box' in the search box on any eBay page. The results include a list of boxes that are currently available. In order to narrow down your search, you can add more words to the search such as 'wood musical jewellery box' or 'vintage musical jewellery box'. If you only have a general idea to purchase a musical jewellery box, you could scan the listing before narrowing down the search. The more descriptive you can be, the more quickly you can find what you are looking for.
Once you find a musical jewellery box you are interested in buying, you should check the item description carefully. It should have photos and the dimensions of the box as well as the lining. Also, each seller has different return policies and postage requirements. In addition to inspecting the item listing, you can research the seller, their feedback score, and contact them if you have any question about the item that you want to buy.
Conclusion
Musical jewellery boxes can be found in many different styles, ages, and conditions. Buyers should first decide is if they are interested in vintage or new boxes. Vintage boxes can date back to the late 19th century and usually have Swiss-made music movements. New boxes are found in either traditional styles or with modern cultural references. They can have Japanese-made or the cheaper Chinese-made music movements, with modern or classical tunes.
Buyers should also consider whether they are looking for musical jewellery boxes for women or children. Musical jewellery boxes for women should take into account the size of the jewellery collection, the organization of the box, and the appearance and music. On the other hand, musical jewellery boxes for children is a simpler decision process. Since most children do not have large jewellery collections, boxes targeted to girls are smaller and focus more on appearance. Musical jewellery boxes for children can be traditional reproductions of the early ballet themed boxes or more modern designs. No matter what type of musical jewellery box is desired, there are numerous styles buyers can choose from on eBay.