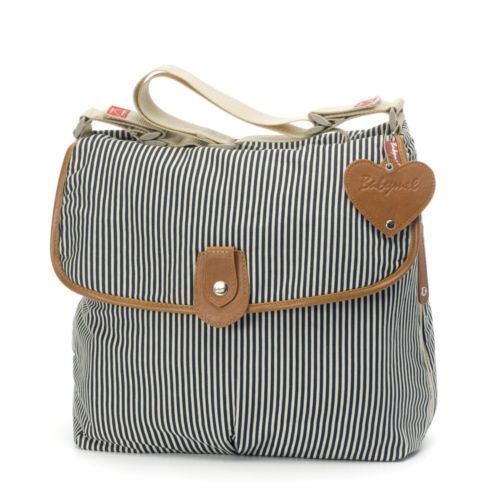 Leaving home with a child and forgetting to bring a nappy changing bag is nothing short of a disaster for a parent. What if the baby needs a change of nappies in the middle of strolling around the mall or when visiting a friend or a relative? Where is the milk bottle the baby is crying for in the pile of items in the pushchair's shopping basket? Organising the essential things needed by a child before going out and about can be made easier by a nappy changing bag. A nappy changing bag does not only store what its name suggests. Aside from nappies and changing mat, it is also a storage bag for milk bottles, baby clothes, toys, and, essential things for parents like house keys and wallet.
When shopping around for a nappy changing bag, there are a number of things to consider. Knowing the right type, size, shape, and components or parts of a nappy changing bag for the buyer's needs allow a better-decision making process when purchasing this bag.
Nappy Changing Bag Overview
At first glance, many nappy changing bags look like regular bags, but the difference lies in its structure and add-on features. A nappy changing bag consists of multiple compartments so parents can sort the many things a baby need when he or she is taken outside the house. This type of bag has the ideal size to fit under a pushchair or pram, and messenger changing bags can be hung on the handles of a pushchair.
There is a trend against large changing bags probably because of the "carry light" attitude that has become a mantra of many people. The usual contents of a nappy changing bag includes the nappies and changing mat, milk bottles, baby wipes, bibs, infant formula, snacks, blanket, baby clothes, toys, and a digital camera.
Typical Contents of a Nappy Changing Bag
A great storage of baby essentials should be complete with the right amount or number of contents. Typical items carried in a changing bag include:
* Nappies, changing mat, baby wipes, baby powder
* Baby clothes, bibs, blanket
* Toys
* Baby bottles, pacifier, infant formula
* Camera, nail clipper, hand sanitizer
Factors to Consider When Buying a Nappy Changing Bag
Before buying a nappy changing bag, buyers must keep in mind several pointers to make sure they get the value for their money and maximise the use of the bag. A nappy changing bag, ideally, should have an insulated bottle pocket or bag to keep milk or food warm or cool. This also saves the buyers money by not having to buy a separate insulated bottle bag. The interiors of the bag should be light-coloured, made of mesh, or see-through so that parents can view what is inside the compartment without needing to open each pocket or compartment. A detachable changing mat bag or a separate changing mat that fastens to the changing bag is ideal because it is easy to access, considering that it is one of the essential materials in the package.
Types of Nappy Changing Bags
As mentioned, there are different types of nappy changing bags. Buyers would want to know about each type before buying one.
Backpack Changing Bags
Many parents recommend a backpack changing bag because it is comfortable to use. While wheeling a pushchair, a mum or a dad can just sling a backpack changing bag on their back and not worry about it. A backpack can also be hung on a handle of a pushchair. It is important to choose a backpack with padded shoulder straps to lessen the pressure on the shoulders. A back padding also makes a backpack more comfortable.
Samsonite offers a line of backpack changing bags, and just like the typical design of Samsonite bags, the body of its backpack changing bag is solid and boxy, making it an ideal storage for items without the bag bulging or deforming. The whole bag can be zipped open up to the base, and when opening the bag there are big sheets of fabric that stretch on both sides of the interior to make sure that items do not fall out.
Changing Bags for Dads
Changing bags for dads are not so much different from other types of nappy changing bags. The only difference is that changing bags for dads have a more masculine design, usually made of a black fabric and no floral prints. One model, Graco Sports Baby Bag, is categorised as a changing bag for dads. It is a messenger bag type that zips open on the top, as well as on both sides. The bag comes in dual colour, with one shade or colour having black or brown and another colour that ranges from red to green.
Luxury Baby Bags
Changing or baby bags do not escape high fashion. There is a demand for luxury baby bags that offer fashion and function for parents who can afford to buy one. Coach, Kate Spade, and Ralph Lauren are among the brands who are taking advantage of this demand. Buyers of these bags clearly want their child to have the best even in their youngest years.
Gucci has a luxury baby bag that has all the iconic parts of a typical Gucci bag: straps with the highly-familiar green and red strips of Gucci and brown- to cream-coloured body with the repeating pattern of the Gucci logo.
Messenger Changing Bags
Messenger changing bags are valued for the convenience they give to a parent. A messenger changing bag, when carried, distributes the weight across the body because the strap is on one shoulder while the bag is on the opposite side of the body.
Unlike a backpack, a parent can easily slide a messenger bag to the side of the body to take something out of it. The straps of a messenger changing bag can also be hung on the handles of a pushchair to relieve a parent of a burden of carrying the bag. Cath Kidston brand is known for its shiny bags and quirky designs. Aside from the polka dot, star, and flower patterns, they also have messenger changing bags that feature a full cowboy theme.
Overnight and Hospital Bags
Overnight and hospital bags are more spacious than regular changing bags. When expecting a baby, it is important to have a maternity hospital bag. After giving birth, the bag would be suitable for travelling with the baby and hospitalisations. Maternity hospital bags should be complete with labour gear: several copies of a birth plan, a stopwatch to time contractions, a pillow, oils and lotions, sugarless candies to prevent dryness of the mouth, snacks, any type of diversion like magazines or gadgets, and a camera or a video camera. It should also contain personal items and clothes for the mum, but most of all, it should have the essential things for the baby like a blanket, nappies, and clothes.
Tote Bags
Tote changing bags resemble the regular tote bags for ladies. This is a great bag that mums can use when taking the baby to a shopping mall or a nice event. The design of such bags does not scream, "I'm a changing bag", so it can go well with what mum is wearing. The Cocalo Couture tote changing bag looks like any glamorous bag, but it is complete with insulated bottle pocket, changing mat, and other baby essentials.
Twins Changing Bags
For parents who have twins, they know that they need to pack twice as many of everything. That means twice the number of nappies, infant formula, baby clothes, and other baby essentials. A regular changing bag would not do. The solution is to get a bigger changing bag, probably twice as big as a regular changing bag, or buy a set of twins changing bags that includes a regular bag for the essentials, a separate diaper bag, a separate changing mat bag that can be fastened on the main bag, just like Moon's Twins Changing Bag .
Summary of Different Types of Nappy Changing Bags
The table below shows the different types of nappy changing bags that are available online. It also exhibits the distinctive feature or benefit of each bag.
| | |
| --- | --- |
| Type of Nappy Changing Bag | Distinctive Feature or Benefit |
| | User can sling it on the back-out of the way, out of sight. |
| Changing Bag for Dad | More masculine design |
| Luxury Baby Bag | Value of high fashion |
| Overnight or Hospital Bag | First used as a maternity bag to take in a hospital when about to give birth, then when travelling with the baby/baby's hospitalisation |
| Messenger Changing Bag | User does not need to take it off to take out something; he or she can slide it on the side of the body |
| | Resemble regular to glamorous ladies' bags |
| | Ideal for twins; bigger or has more bags in a set |
The distinctive feature or benefit determines which bag is ideal for the buyer. The general considerations revolve around two factors: perceived value and convenience from how the bag is designed.
Buying a Nappy Changing Bag on eBay
With different types of nappy changing bags available, you might find it difficult to choose the best one for your needs. It is convenient if you can view all the types in one website, compare them, and pick the right one. Luckily, on eBay, you can view all types of nappy changing bag; and with a few taps on the keyboard you can see two, three, and even all types of nappy changing bags in one list. It is even possible to display bags with your certain preferred features.
eBay lists many nappy changing bags, and you can find different brands, sizes, styles, and colours on the site. To save money, you can buy a new changing bag with a slight defect or a used bag for a relatively lower price. It is convenient to purchase an item on eBay because it supports different payment methods, with PayPal being one of them. When transacting on eBay, make sure that you have thoroughly read the product description, and if any information is unclear, feel free to message the seller directly through the site. For other concerns, eBay customer support is always available to help.
Conclusion
Any parent knows how important to bring a nappy changing bag when taking the baby outside. It helps parents to efficiently organise all the essential items for the baby. The bag can even double as storage for the parents' things. When planning to buy a nappy changing bag, there are must-have elements that a buyer should consider, including multiple pockets or compartments and pockets, insulated bottle pocket or bag, and detachable changing mat bag.
There are different types of nappy changing bags, and the choice of buyers can base from the perceived value and convenience from how it is designed. Buyers can choose a luxury bag because of the value of high-fashion design, a tote bag because it looks like a ladies bag, or a changing bag for dad because it is masculine.
Moreover, buyers can buy a backpack because it would not limit their movement, a messenger bag because it distributes the weight of the bag evenly across the body, or a maternity bag because its size renders it useful in other occasions. A nappy changing bag is a very important storage bag, and buyers should consider how they plan to use it in order to determine which type is best-suited for them.