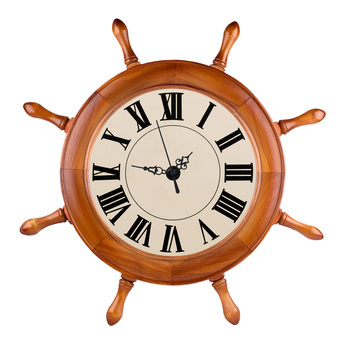 Ever since the dawn of man, some form of decoration has been used to add a bit of colour to the home. Placing decorative hangings onto walls is just one option, and within this form of decoration, there is a particular style that stands out from the rest, namely nautical wall hangings.
What are Nautical Wall Hangings?
Nautical wall hangings are pieces of art based on the theme of ships, sailing, and the sea. This type of wall hanging looks best when used to accessorise a sea-themed room. There are many different types of wall hangings available, from small decorative items to large canvas artworks, designed to add impact to a room and create an instant focal point.
Common Themes of Nautical Wall Hangings
Even though "nautical" is a theme in itself, nautical wall hangings have various, more specific themes, making the selection quite diverse.
Fish
A popular choice that fits in well with a seaside themed room is a group of fish-shaped wall hangings, clustered together to form a shoal. Designs for such artworks are often bright and colourful, so it is a good idea to consider the colour scheme of the room before buying. Ceramic fish are a fun and colourful way of making a statement, especially in a bathroom, as they are water-resistant. Fish-shaped hangings are also available as metal cut-outs, which take advantage of the shiny surface of the metal to create a shimmering effect. For a more formal wall hanging, consider framed artworks featuring fish.
Boats
Sail boats in particular are a recurring theme in nautical wall hangings. Quite often, they feature in fabric wall art, and they can look particularly effective when incorporated into a tapestry. For a more contemporary look, consider a metal sculpture of a sailing boat. These sculptures are typically made from metals such as copper, brass or aluminium and look striking when placed in a hallway or foyer as a focal point. Boats also feature on tiles and canvas paintings of various sizes and shapes, making it easy to find the perfect wall hanging to fit a particular room.
Lighthouses
A canvas wall hanging or mural featuring a lighthouse is another way to incorporate a nautical theme into a room. Designs vary, from neutral-toned artworks featuring sand and sea, through to more impactful images, featuring sunsets with deep shades of orange, red and yellow. More subtle images can be found on canvas hangings that feature black and white images of lighthouses. Lighthouses also feature in many vinyl wall art designs, in the form of bright decals which can easily be removed and repositioned. Metal or wooden sculptures of lighthouses are effective on both the interior and exterior walls of the home.
Shells
Sea-themed wall hangings often feature shells and can even incorporate real seashells into the design. Garlands of seashells can be hung on a bathroom or kitchen wall. Picture frames and mirrors can be decorated with small seashells and larger individual shells can be suspended from pieces of ribbon on the wall. Shapes such as boats, anchors, and fish can be covered with tiny shells and hung on a wall in a nautical-themed bathroom.
Anchors
The anchor is an instantly recognisable shape used in nautical wall hangings. A wooden or metal sculpture of an anchor entwined with rope or chain is the definitive symbol of the sea. The anchor may also be incorporated in fabric wall hangings or in framed pictures. A large artwork of an anchor can fill a whole wall and create a focal point.
Mermaids
Mermaids are a favourite with young children and feature in decals, sculptures and murals. For a more traditional wall hanging, consider a metal sculpture, or even an enamel advertising sign featuring mermaids.
Nets and Driftwood
Nets and driftwood can be used to great effect when creating unique and individual wall hangings that are one of a kind. A net wall hanging can be interlaced with smaller sculptures, crabs, starfish, or shells. A glass ball buoy in a rope net makes a colourful and unusual accessory. Driftwood could be used to create a picture frame or shelf, and is commonly used to make sculptures of sea creatures for wall art. Shells or beads are commonly hung from driftwood wall art to add colour and contrast.
Other
Some other popular themes for nautical wall hangings are starfish, bells, ship's steering wheels, sand dollars, crabs and beach huts.
Using Nautical Wall Hangings in Different Rooms in the Home
Creating a room with a nautical theme depends on the style and personal preferences of the homeowner. A sea theme could be bright and bold, or subtle and neutral. The rooms of the home lend themselves to nautical wall hangings in different ways.
Living Room/Bedroom
Living areas usually have neutral or subtle tones. A living room or bedroom decorator may choose a New England theme and accessorise by using driftwood sculptures, tapestries or canvas wall art to complement the nautical style. The decor could feature different shades of white and include wicker furniture pieces and whitewashed wood panelling on walls to complete the seaside look. Another way to incorporate a New England theme is to use blue and white stripes in the decor and furnishings.
Child's Bedroom
Children's bedrooms have a lot more scope when it comes to nautical wall hangings. Colourful fish on the wall, in the form of decals or sculptures, create a fun-filled environment in which a child will love to play and sleep. Large wall murals featuring an undersea theme will create an immersive environment for the child and can be complemented by means of sea-themed toys and furniture. Many children love pirates, and this is another way to incorporate the nautical theme into a children's bedroom. The room can be transformed into a pirate ship, with bright wall hangings to complement the look.
Bathroom
The bathroom seems to be the area that best lends itself to a nautical theme. It is important that any wall hangings used in a bathroom are water resistant and able to tolerate a humid environment. Sea themed mirrors, nets, and shells are some of the wall hangings that can be used to great effect in a bathroom. Colour schemes may be neutral or may incorporate whites, blues, and reds for impact.
Kitchen
A kitchen may not be the obvious place to have a nautical theme, but a few accent touches, such as a driftwood shelf or picture frame or a colourful lighthouse sculpture on the wall can bring a little of the coast to the kitchen.
Buying Nautical Wall Hangings on eBay
From the categories on the main eBay menu, scroll down to Home Furniture & DIY and select Home Decor. When the page loads, scroll down the left hand side and click on Wall hangings. Under the first subheading Style, select Nautical. Alternatively, use the eBay search bar to type in a specific search term such as "Fish Wall Hangings&", "or Boat wall hangings". The buyer may choose to purchase an item straight away by using the Buy It Now facility or, alternatively, may choose to make a bid in one of the auctions for the item.
Conclusion
Nautical wall hangings offer a variety of ways to add a coastal theme to any room in the home. Wall hangings can be made from many different materials including wood, metal, fabric, canvas, netting, plastic, and shells. Sea-themed art can be bold and impactful. Examples of bold wall hangings include large tapestries, metal sculptures and murals. Such wall hangings are designed to create a focal point in a room and make a statement. Children love a sea-themed bedroom, which can combine cartoon styling and bright, colourful artworks on the walls. Alternatively, nautical wall hangings can add a more subtle touch. Pieces that feature neutral coastal tones, such as blue, white and gold can accessorize a room with a New England theme and complement existing features such as whitewashed floorboards, wicker chairs and tongue and groove panels. Nautical wall hangings are an easy way to incorporate seaside styling into the home decor and do not need to be limited to homes on the coast. By using nautical wall hangings, consumers can create a holiday atmosphere all year round.