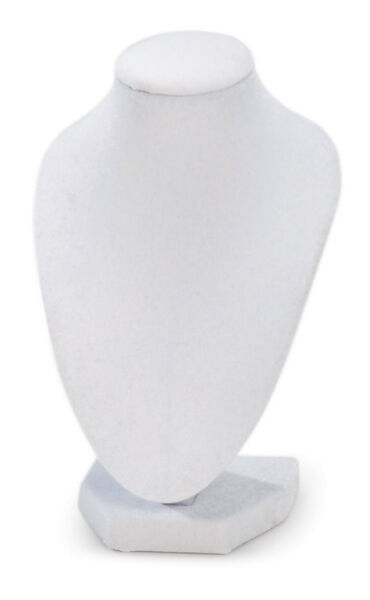 Many women love having a good selection of jewellery, but it is also important to store jewellery correctly. Necklace display stands are useful because they allow necklaces to be displayed while preventing them from getting tangled. These display stands are also often used by jewellery stores or vendors to display their wares. If someone is looking for a necklace display stand, he or she should be aware that there are actually a number of different types from which one can choose. Some popular options include a wall board and a necklace tree.
A buyer should also think about the size of the necklace holder, how many necklaces it can hold, and its design. Additionally, there are some things a buyer should consider to make the most of a necklace display. If one is selling necklaces, he or she should try to find displays that complement the jewellery and make that the focus. Regardless of the reason for the purchase, necklace display stands can usually be found in some jewellery stores, discount stores, and department stores or online. Large marketplaces like eBay are great places to look.
Types of Necklace Display Stands
A buyer may be surprised to learn that there are actually a number of different styles of necklace display stands. Some of the options include a wall board, a necklace tree, a velvet form, jewellery rolls, and other unique displays. With all the different types available, a buyer may be somewhat overwhelmed by the options. Thus, it is important that the buyer thinks through what he or she needs before deciding on a display.
Wall Board
A wall board is hung on the wall and can handle a few necklaces. Some of these models just look like a row of simple hooks, but there are other options that one can consider, as well. For example, some wall boards look like picture frames and are painted interesting colours. Some people may not like wall boards because they often do not hold very many necklaces, but they are useful if one does not want to take up space on the dresser.
Necklace Tree
A buyer can also consider a necklace tree,, which provides an artistic effect. A necklace tree usually has one main branch with a lot of smaller twigs coming off of it. Some of these stands actually look like trees, but others are more abstract looking. Many of these necklace trees are around a foot tall and are meant to sit on the dresser.
Velvet Form
The velvet form display is generally made of black velvet, although it is available in other colours, as well. It is shaped like a neckline in order to show what a necklace looks like draped around a neck. This kind of stand only holds one necklace at a time. It is often used in stores to display more expensive necklaces. These generally lie flat in a case or on a dresser, so they take up a lot more room than other types of display stands.
Jewellery Rolls
These are not actually display stands, but they are a great way to store and protect jewellery while travelling. A jewellery roll is made from a dark-coloured, sturdy fabric. Necklaces are laid inside, and it is then rolled up in a compact roll that is easy to carry when travelling. There may be straps to hold it shut and prevent any of the necklaces from falling out. Although this is a great way to travel with jewellery, a buyer may not want to keep jewellery in these rolls all the time because it is not easy to see what kind of necklaces are inside.
Unique Displays
For personal use, a buyer may also want to check out some of the more unique necklace display stands that are available. Some whimsical displays look like animals or people or other interesting items. These unique displays may be too much for some purposes because they could take the emphasis away from the necklaces.
Repurposed Items
A woman can also turn many different items into a necklace display stand. One idea is to take an old garden tool that has a lot of spokes or prongs and hang it on the wall. She can then use it to hang necklaces. Twigs can also be bound together and used to hang necklaces for those who want to create a nature themed display. These types of displays are essentially simple ways to showcase the personality of an individual while still being practical.
Considerations for a Necklace Display Stand
After thinking about the type of necklace display to purchase, a buyer has to take a few other factors into consideration. The buyer's final choice depends heavily on the purpose of the necklace display stand. If the buyer intends to use it to display necklaces for sale, then the requirements are different than if the buyer is looking for something to store her own necklaces.
Size
The buyer should not forget about the size of the necklace display stand. It is important to consider the intended location of the stand in order to make sure the stand fits in a particular space. If it will be placed in a shop, the buyer needs to think about the other displays that will be near it. If the necklace display is going in one's home, then the other accessories in the room need to be considered. Some necklace displays are around 5 feet tall and stand on the floor, while others are only about a foot tall and are made to sit on a dresser or desk.
Holding Capacity
It is important to consider how many necklaces a stand is actually able to hold. A buyer might find a stand that looks beautiful, but it can only hold a few necklaces. If the user has a lot of jewellery, then this is not very practical. Some stands hold a lot of necklaces, but then the question becomes whether or not to display all the necklaces at one time. A lot depends on how much space and how many necklaces a buyer has.
Design
A buyer should also consider the design of the necklace display stand. Some display stands are quite simple and allow the natural beauty of the jewellery to be highlighted. This may be a good choice if the buyer is a vendor or owns a shop with wares that he or she wants to display. Other displays have a lot of personality and could even be a focal point in the room.
Tips for Displaying Necklaces
Following certain tips helps ensure that necklaces stay in better condition and that the beauty of the necklaces is highlighted. Some tips focus on those who need necklace displays in order to sell their wares.
Necklaces should be very secure on the display
The length of the necklace is important when it comes to choosing a display
Durability of the necklace stand is critical for travellers
The number of necklaces a display holds is important
Displays should coordinate with the jewellery or the theme of the room
Very valuable necklaces should be stored in boxes by themselves for protection
For vendors, displays that allow potential buyers to see all the necklaces are the best option
Finding Necklace Display Stands on eBay
When searching for necklace display stands on eBay,, you should start out by doing a keyword search. For instance, just type 'necklace display stand' into the search box on the site. Depending on how many product listings come up, you may want to narrow your search. Additionally, you can browse through the different categories until you find the right necklace display. There are a number of different ways to find products on eBay, so a buyer should experiment with different methods to find which method works better.
When using eBay, you should also know about the feedback feature. This shows you what other buyers have had to say about a particular seller. Before making any purchase, it is a good idea to check on the seller's feedback. You should consider both the amount of feedback for a seller and the quality of that feedback. After you have purchased an item, you can leave feedback about the seller to help other buyers improve their shopping experience. It is simple to view or leave feedback for a seller.
Conclusion
Necklace display stands are useful for both personal use and in shops because they help prevent necklaces from getting tangled while showcasing them. There are many different types of displays available. Some of the popular ones to consider include wall boards, necklace trees, velvet forms, and even repurposed items. In deciding what kind of display stand to purchase, one should weigh various factors, including the size of the stand, how many necklaces need to be displayed, and the design of the necklace display.
A necklace display is practical, but one should also consider aesthetics when choosing one. Some helpful tips include considering the length of necklaces and the security of necklaces when purchasing a display stand. Also, if one has necklaces that are worth a lot of money, it is probably a good idea to keep them stored in cases away from other necklaces and other harmful elements so they do not get damaged. Necklace display stands are generally available online or in jewellery stores and other stores that sell jewellery and accessories.