Nerf products have delighted children for well over four decades and are as popular as ever.

The most notable Nerf products are weapons that shoot bright foam-based ammunition. Other items in the Nerf range include balls for baseball, basketball and football.
Nerf Sports - A range of foam balls and footballs, including the logos and colour schemes of the National Football League. The Vortex line of products allows balls to be thrown at greater distances.
The Nerf Blaster - A plastic gun that can shoot foam darts. The Nerf Blaster is popular with children aged over the age of six. Depending on the product, darts can stick to Nerf vests, glow in the dark, change colour, whistle when in flight, and stick to smooth surfaces.

Nerf has also produced a number of different video game accessories for the Nintendo DSi, DS Lite, 3DS, Nintendo Wii and PlayStation 2.
Top 3 Nerf N-Strike Elite Guns
Nerf's flagship products are the N-Strike Elite Guns, Nerf's closest imitation of real-life weaponry, which immediately gained huge popularity with kids.
3. Nerf N-Strike Elite Hail-Fire
In the distinctive blue and orange Nerf colours, the Elite Strongarm Blaster can fire darts up to 75 feet away. The rotating barrel is easy to load, and you can pump the slide continuously when pushing on the trigger for rapid firing at your target.

2. Nerf N-Strike Stampede ECS

One of the fastest-firing Nerf guns, the N-Strike Stampede ECS uses 18-dart magazines. The foam darts have been designed to fly further, allowing you to have a number of fun battles with your friends.

1. Nerf N-Strike Elite Retaliator Blaster
Firing darts over a distance of 75 feet, the Retaliator Blaster can be used in four different configurations. The Nerf gun has removable stock so you can steady your shot and comes with an assault grip to enhance mobility.

Top 3 Nerf Blasters
The Nerf Vortex was introduced by Hasbro in 2011 and can fire up to 60 feet. These foam discs are available in green and orange, as well as a white disc which glows in the dark. The range has expanded to include the Vortex Praxis Pump Action Blaster, intended for outdoor use, which hurls discs rather than foam pellets.

2. Nerf N-Strike Rampage Blaster

The Rampage Blaster can fire darts over a distance of 75 feet and comes with a 25-dart drum machine. To fire darts at your chosen target, use the slam fire handle which is easy to use and extremely durable. The darts provided work with most N-Strike blasters and all blasters in the N-Strike Elite product range.

1. Nerf N-Strike Longshot Blaster

The Longshot Blaster is considered the longest Nerf Blaster and comes with quick-reload clips for a total of 12 darts, launching them at a distance of over 35 feet.
Top 3 Nerf Super Soaker Guns
3. Nerf Super Soaker Water Gun
The
Nerf Super Soaker Water Gun
allows you to blast your friends with water by filling up the water drum and aiming at your target. The product does not require batteries.
2. Nerf Super Soaker Lightningstorm
This super-powered blaster comes with a super-size drum and a blast shield to block your opponent's shots. The product requires four AA batteries.

1. Nerf Super Soaker Electrostorm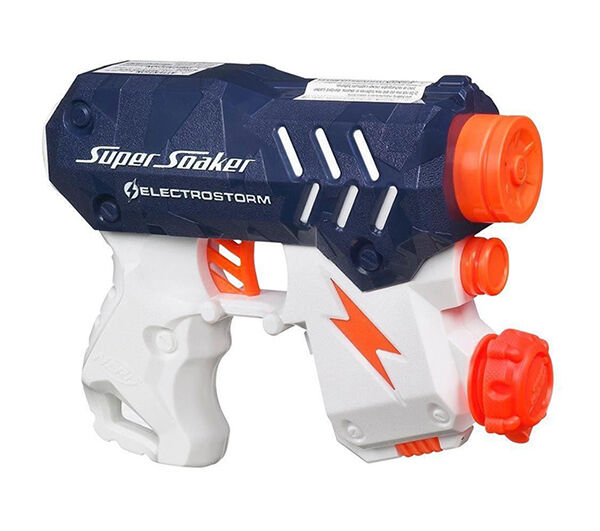 With this motorized water blaster, you can hit your target from up to 25 feet away, one of the furthest distances available with any Nerf Super Soaker product. You don't even need to pump the gun - just fill with water and soak. The Electrostorm is compatible with a wide range of different accessories and requires four AA batteries to operate.

How to Assemble and Play a Nerf Battle
To play a Nerf battle, lay out all weapons on the floor and let each player pick a weapon. Divide into a team of two, and assign different battlegrounds to each team. A toy room or garden is a great place to play, especially if there are plenty of items to hide behind. Allow both teams to come up with strategies and to load their guns before starting the battle.

Always stay safe when playing and remember to have fun at all times!