eBay has just recently launched a new site eBaymatchups.com
The site allows you to pit two things vs each other and watch as other's vote.
It's very fun, interesting and addictive.
There is no real purpose except to have fun, voice and test opinions. Maybe you have a friendly wager with a friend or if you are an eBay seller could research and test popularity.
Users have been getting more and more creative - some match ups are hilarious other ridiculous.
Users can vote on Match Ups, leave comments about particular Match Ups or members. As well there are top listings for users as well those who vote.
Includes search function for finding interesting or new Match Ups, view the most popular, plus can randomly browse the site.
There are some classic match up battles such as
Dogs vs Cats - sample shown below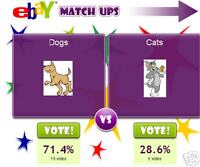 Coke vs Pepsi
Black vs White
Man vs Woman
Rock and Roll vs Rap Music
Pluto is a Planet vs Pluto is not a Planet
eBay Stores vs eBay Express
Wikipedia vs eBay
Elmer Fudd vs Bugs Bunny
George Bush sr vs jr
Emo vs Elmo
Homographs (a word that is spelled the same as another but has a different meaning) Grease vs Grease - It vs It etc
Plus lots of other subjects just a few include:
Sports and Athletes (Hockey, Baseball, Boxing, Racing, WWF Wrestling, Swimming etc)
Football (NFL and College teams head to head)
Celebraties - (Talk Show Hosts - David Letterman, Conan O'Brien, Jay Leno), , TV Stars (A-Team, David Hasstlehoff, the Fonz), Movie Stars (Mel Gibson, Tom Cruise, Pamela Anderson), Cartoons (Simpsons, Family Guy, Shrek, Disney) Movies (Titanic, Snakes on a Plane,Rocky Horror Picture Show, Jackass, Godzilla, King Kong) and Genres (Horror Comedy, Romance)
Music Albums, Musicians (Paul McCartney vs John Lennon), Guitars (Fender vs Gibson) Instuments - Lots of Beatles, Rolling Stones, Britney Spears, Elvis, Metallica etc)
Food - Good and Bad (McDonalds, Health Food, Snacks, Beer, Wine, Alcohol)
Cars (Ford vs Chevy, Mustang vs Camero etc)
Political (Tyrants, Presidents and everyone in between)
and tons of other fun subjects including eBay stuff, lifestyles, from the normal to the paranormal to the completely bizarre.
Fruit Helmet Kitty has helped this site to gain popularity and is matched up against all sorts of things.
ebaymatchups.com is the site
(sorry but you will have to copy and paste as not able to post a link from here)
The site is free and easy to use. The site is owned and operated by eBay Inc.
Same type of policies apply as regular eBay (i.e. copyrights, lude, profanity etc)
A couple suggestions for using the site
Try random matches when you 1st start to get an idea of what types of things have been done by other members.
Vote on the matches - comment if appropriate
When creating vs matches do a search to avoid duplication
Be creative with your pictures
Use the descriptions and make it unique
Keep it fun
Spread the word.
Check out eBaymatchups.com and have fun.
Another great guide from ReallyGreatStuff
If this was of interest or the first time you have heard of the site please vote yes and go check it out.