New to buying Clarice Cliff? Or perhaps you'd like to try your hand at collecting. This is a basic guide to some possible first steps in collecting Clarice Cliff.
STARTING COLLECTING
You'd like to collect Clarice Cliff. Perhaps you are wondering where to start. This guide will be unable to advise you where to start. As a collector you have an individual outlook. The route to learning about Clarice Cliff may well parallel the route to learning about your own tastes and interests. I can only try to outline the breadth of her output, give you a taster if you will. Your task is to have fun and discover your particular tastes and make your individual journey.
This guide is a brief account of a small part of the available range and some points on buying safely. I hope it will encourage you as a collector to find out more.
****************
THE RANGE OF DESIGNS
Clarice Cliff is a vast area for collectors encompassing different styles, tastes and eras. The prices vary from a few pounds to many thousands. Pieces are available not only in the UK but in Australia, New Zealand, South Africa, the USA, Europe and anywhere you have collectors.
This will not be a history lesson in Clarice Cliff. There are plenty of books available, each with their own viewpoints. I have listed a few at the end of this guide. However, you may be interested to learn that Clarice worked at the Wilkinson factory as an apprentice lithographer from the age of 17 in 1916. By 1922 she was offered an apprenticeship as a modeller. In 1927 she painted her first Bizarre Geometric patterns and by the end of that year Clarice Cliff had her own team of paintresses.
John Butler, Clarice Cliff's predecessor and art director until 1930, designed the Crocus pattern which was adapted extremely successfully by Clarice Cliff in 1928 and went on to be her most famous pattern selling well into the 1960's. The pattern Autumn Crocus is shown below left with a Bizarre backstamp. Clarice Cliff's earliest pattern book recordings of Geometric Designs were 1928/9, an example shown below right.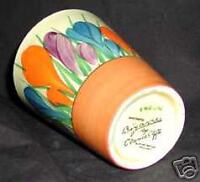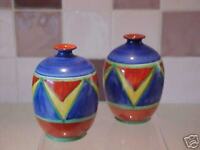 The so-called 'most collectable' patterns are the ones with the named backstamps - Bizarre and Fantasque. The patterns designed before 1935/6 are generally of a higher value. This lotus jug is designed in the Applique range and the pattern name is usually known as Lugano.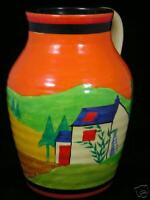 As more is known about Clarice Cliff designs, and with the advent of eBay bringing the lesser known Clarice Cliff patterns to a wider audience, other styles of designs are becoming collectable.
Pre-war hand painted patterns such as Palm designed in 1936 (below left) and Napoli designed in 1937 (below right) may appeal to a different kind of collector and are certainly more affordable at the moment.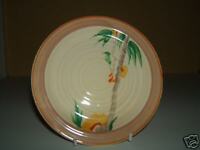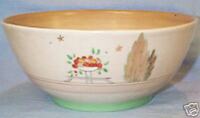 Moulded ware from ranges such as My Garden (below left) and Celtic Harvest (below right) were extremely popular and are still popular with collectors today.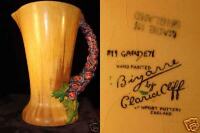 Lithograph or transfer designs were used on many of Clarice Cliff designs, some of them also hand painted, some purchased from lithograph manufacturers. Her most famous lithograph designs include Tonquin (1948) below and Rural Scenes (1948), patterns particularly popular with collectors in the USA. Those that are found on the older Clarice Cliff shapes are possibly more sought after.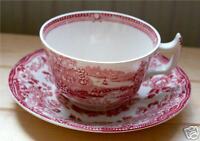 Also see The Confusing World of Clarice Cliff
(written by DECODANCE - please see this dealer's eBay store - DECODANCE)
****************
COLLECTING POSSIBILITIES
I know I said I would not advise on how to collect. Perhaps a few pointers will assist those who think they may be lost. Consider this, you may not be lost, you may have eclectic tastes!
Are you intrigued by a range of patterns or treatments, e.g., Applique, Latona, Goldstone?



Are you intrigued by a style of pattern, e.g., scenes, floral, abstract, intense highly decorated designs, elegant designs with space?



Are you intrigued by the moulded wares?



Are you intrigued by a particular shape, e.g. conical sifters, trios, lotus jugs, Biarritz plates?



Would you like to collect a dinner service or tea set in one pattern?



Would you like a representative of every available pattern from a particular range?



Do you like the hand painted transfer patterns?



Are you intrigued by the unusual or less recognised patterns?



Do you like to search out unmarked Clarice Cliff?



Do you like to find pattern examples that suggest an influence on Clarice Cliff?



Do you prefer the figurines, toby jugs, book ends, masks?



Are you collecting for investment? Don't. Buy because you like it. Values go up and down, tastes change over the years. Clarice Cliff is now a mature market.

You might also consider display and storage as well as safety and insurance. A large collection doesn't always have to be displayed. Make sure it is well photographed and labelled before storage and you will present yourself with endless possibilities for future displays.
****************
WHAT TO LOOK FOR WHEN BUYING CLARICE CLIFF
Does it have any DAMAGE OR RESTORATION? If it does, ensure the price you pay reflects this. Buy the best condition you can afford but don't pass up on an item that is important to your collection. You may well be able to replace it with a better example in time, but again, you may not. Is the paintwork faded, scratched or flaking?

The extent of ANY damage should be reflected in the price. Large areas of restored paintwork are not always true to the colour and may affect the display qualities.

Restoration can be very difficult to spot. Any description or assurances about your purchase must be written on your receipt incase restoration is discovered if you come to sell your item at a later date. Should you have to claim for your Clarice Cliff under your insurance policy, previously undiscovered restoration will still affect the value assigned by the claims assessor.

IF YOU DON'T ASK ABOUT DAMAGE OR RESTORATION YOU MAY NOT BE TOLD


Does the vendor offer a full GUARANTEE? The vendor should guarantee the item is genuine and the condition as described. They should offer a full refund including return postage if it is not.



Is the vendor RELIABLE? Look at their terms and conditions as well as their feedback and past and current sales and purchases. Familiarise yourself with the vendors on eBay over a period of time. Check with the eBay forum on the official registered CLARICE CLIFF COLLECTORS CLUB to ensure neither the item nor the vendor are highlighted for misdescription or selling counterfeit.



Can you pay by credit card or PayPal? These may offer additional protection but check with your credit card issuer for advice first.



How much are you prepared to pay? Check the prices of similar items in eBay's ended listings from the past month. You may have to pay more than market value if it's something to complete your collection. Try not to get too excited near the end of the auction as you may find you are bidding against someone equally enthusiastic and you end up bidding too much. Stick to your top limit and if it goes to another bidder, there is bound to be another coming along soon.
YOUR RECEIPT
Photo of item including declared damage if possible. A printed copy of the eBay auction page is useful if it is printed off immediately following your bid.

Name and address of vendor with the method of contact clearly written.

VAT number if vendor has charged you VAT.

Date of purchase.

Description of the item exactly as sold to you, to include a guarantee there is no damage or restoration other than that already declared.

Amount paid.
****************
ESTABLISHED DEALERS ON EBAY AND MAJOR ART DECO FAIRS
I quote from the Chairman of the registered Clarice Cliff Collectors Club:
"There is what I call an 'old school' of Clarice dealers most of whom pre-date the internet. They transgress the dealer status, many are enthusiastic collectors who posses knowledge and enjoy the pottery as much as any other collector. Their names are so familiar that they have become friends even if we have never meet them. They can be relied on and trusted and we deal with them with so much certainty that we never need to consider concerns over undeclared restoration or authenticity. They invest their time and capital in providing use with the wares that fuel our collections and provide a quality service for a premium collectable."

****************
FURTHER CLARICE CLIFF READING
Comprehensively Clarice Cliff by Greg Slater and Jonathan Brough, Thames & Hudson, 2005
This is the most up to date and best researched book on shapes and patterns by Clarice Cliff.
Clarice Cliff by Peter Wentworth-Sheilds & Kay Johnson, L'Odeon, London, 1976
More than just an interesting book, it has become a collector's item with the first edition being limited and numbered. This book and the exhibition in Brighton mark the start of the Clarice Cliff popular revival.
Clarice Cliff: The Bizarre Affair by Leonard Griffin and Louis K. and Susan Pear Meisel, Thames and Hudson, 1988
The first comprehensive study of Clarice Cliff, large format book, still looks good today despite some out of date information. Still considered the standard work on the life and work of Clarice Cliff.
Clarice Cliff by Lynn Knight, Bloomsbury Publishing Plc, London, 2005
Sometimes fanciful, highly detailed account of the life and times of Clarice Cliff. Extensive notes, bibliography and index.
Auction Catalogues - Christies and Bonhams
These are useful for realised prices and pattern availability.
Clarice Cliff: The Art of Bizarre by Leonard Griffin, Pavillion Books Limited, 1999
Frequently fanciful, usually readable. There is a range of books written by this author that may be of interest if you get 'the bug'.
****************
More Guides
Clarice Cliff Genuine or Counterfeit?
Listing your auction 'in the style of' Clarice Cliff
Authorised Clarice Cliff Reproductions
The Confusing World of Clarice Cliff
(written by DECODANCE - please see this dealer's shop - DECODANCE)
****************
Did you like the guide and find it helpful?
Please vote by pressing the button below.
Do you have any comments or suggestions to make my guide more helpful?
Please let me know.
Thank you for reading.