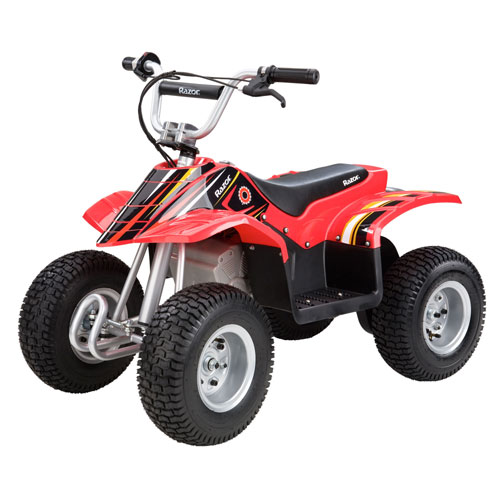 All-terrain vehicles, or ATVs, are motorised, durable vehicles designed specifically for off-road travel. First developed by Honda for the American marketplace, ATVs have found worldwide success as agricultural, industrial, and recreational vehicles. Because ATVs have compact, yet powerful engines, ATV users can pull trailers and specialised equipment made to plough, seed, and spray fields. The wheels of an ATV are developed to handle a variety of surfaces, which gives owners access to areas that cannot be reached with other types of vehicles. The capacities of ATVs have become popular with recreational users who engage in competitions based on speed and agility. Since ATV models can be expensive, buyers often debate whether they should purchase a new or used ATV, regardless of the purpose of the vehicle. Both types of ATVs have advantages and disadvantages, so buyers should considered their options carefully before shopping.
ATVs can be purchased through local off-road vehicle dealers and private sellers. For buyers who prefer to see a wide selection of models, online marketplaces, like eBay Motors, are a great resource. Since choosing new versus used ATVs can have a long-term impact on an owner's plans, buyers should compare costs, condition issues, regulations, insurance, and types of ATVs before picking a model for purchase.
New vs. Used ATV Costs
The first factor many ATV buyers think about when comparing new and used ATV models is cost. Generally, new models are more expensive than used models. Purchasing used ATV models allows buyers on a budget to enjoy ATV riding and gives them the option to purchase basic or well-equipped models that would be out of their price range if purchased new. Unfortunately, chronic repairs on used ATV models can inflate the expenses buyers must cover long-term, thus negating the benefit of the used ATV model's lower initial price. It is, therefore, critical that used ATV buyers check the condition of any potential purchases carefully.
New vs. Used ATV Condition Issues
When comparing new and used ATV condition issues, new models have a clear advantage over used models. It is possible, however, for used ATV buyers to find models that have few condition issues if the buyers take the time to assess any potential purchases for evidence of damage or poor maintenance. Both new and used ATV buyers should test drive any vehicles before committing to a sale, but used buyers should also perform a thorough inspection of an ATV as part of their evaluation process.
The first stage of checking a used ATV's condition is a visual inspection of the exterior of the vehicle for any obvious signs of damage. This includes cracks or corrosion on the ATV's body and frame. Buyers should look for loose or replaced parts, which can be a sign that the ATV had an accident. The motor of an ATV should be inspected for leaks and correct fluid levels. If engine fluids, like the engine's oil, are low or discoloured, it can be an indication that the vehicle was poorly maintained. Buyers should check the brake system of an ATV for new brake pads or damage to brake discs. Lastly, the tyres and suspension system of the ATV should be evaluated for any problems or wear.
New vs. Used ATV Regulations
Since ATVs are motorised vehicles, they are often subjected to many national and local laws that are applied to both new and used ATV models. These laws affect where an ATV can be driven and who can operate an ATV. In some local areas, ATVs can be driven on certain public roads, but buyers in urban areas frequently find ATVs are prohibited from public road access. Additionally, ATV regulations may mandate that users must be a particular age before they are allowed to legally operate an ATV.
ATVs can also be regulated for their environmental impact. Because many local laws require more frequent emissions testing for older motorised vehicles including ATVs, buyers purchasing used ATVs often find that they must have their ATVs inspected at a higher rate than buyers purchasing new ATVs. Before choosing a used ATV, buyers should check their federal and local regulations to see how much more frequent inspections may add to their vehicle's cost of ownership.
New vs. Used ATV Insurance
In many areas, owners of ATVs must purchase insurance before operating their vehicles. Since ATVs can be a considerable investment, owners may want to include purchasing replacement insurance on their vehicles in addition to coverage for liability. The higher value of a new ATV increases the cost of coverage, so buyers may want to compare insurance quotes when determining whether they should purchase a new or a used ATV.
Types of New and Used ATVs
Buyers searching for new or used ATVs can find a number of different types available. Each type of ATV is produced with a specific purpose in mind. Which type of ATV is preferable relies on the intentions of each individual buyer.
| ATV Type | Description |
| --- | --- |
| Six-wheeled ATV | An ATV that features six tyres to make driving in amphibious terrain easier |
| Three-wheelers | An ATV with one front and two back tyres |
| Four-wheelers | An ATV with two front and two back tyres |
Before choosing an ATV, buyers should assess how they generally plan to use their vehicles. Since added capacities normally increase the price of an ATV, buyers should weigh the benefits that any additional features provide compared to their increased costs.
Six-Wheeled ATVs
Unlike other ATV types that can typically carry only one rider, six-wheeled ATVs can often accommodate multiple passengers and cargo. The unique design of six-wheeled ATVs makes it possible to easily drive through streams and ponds, as well as snow-covered roads. Standard six-wheeled ATVs feature two seats and a cargo hold for carrying equipment. More equipped six-wheeled models can include additional passenger seats or a dump bed that can be raised and lowered to manage loads. Because the bodies of many six-wheeled ATVs are made of polyethylene, buyers purchasing used models should make sure to check the body panels carefully for any damage. The polyethylene utilised for six-wheeled ATVs is sturdy, but can sustain damage from rough handling or accidents.
Three-Wheelers
ATV enthusiasts often refer to three-wheelers as trikes. These ATV models are lighter than other types of ATVs and are prized for their ability to become airborne after reaching the top of a hill. Although three-wheelers are easier than four-wheelers to release when they become stuck in mud or snow, their single front tyre causes them to get stuck more often. Because of this, buyers purchasing used three-wheelers should carefully check the front of the ATV during a condition inspection for any dents or cracks in its body.
Four-Wheelers
Because four-wheelers have two front and back tyres, they are more stable than three-wheelers. This allows riders to drive their ATVs without the likelihood of tipping over while turning or flipping backwards when travelling up steep inclines. Four-wheelers are also more adaptable to industrial and agricultural uses than three-wheelers, so buyers purchasing a used four-wheeler should check the engine for any evidence of overuse. If a previous owner tried to haul loads over the capacity rating of the ATV, serious damage to the ATV's engine can occur.
Buying New and Used ATVs on eBay Motors
Buyers who prefer to view a wide selection of new and used ATV models while shopping should visit eBay Motors. On eBay Motors, buyers can access ATV models from a variety of manufacturers like Kawasaki, Yamaha, and Suzuki. To locate specific ATV models quickly, buyers can perform a search by typing appropriate keywords into eBay Motors' search field. For example, adding "2010 Honda ATV" to the search field results in a focused product list that includes every ATV on eBay Motors that matches that description. Because buyers may be concerned with taking a test drive of any potential ATV purchases, they can use eBay's location filter to find models close to home. eBay also provides buyers with an easy way to contact sellers to ask questions about an ATV model's condition or arrange a test drive. Buyers should review any ATV product listings carefully for information about a model's engine capacity, start type, or transmission to be certain that they are choosing the correct ATV to meet their needs.
Conclusion
Although ATVs were first developed simply as recreational vehicles, their ability to access tough terrain and perform a variety of work-related duties have made them popular with a number of different types of users. Purchasing an ATV can be a considerable investment, so buyers often debate whether a new or used ATV is their most beneficial choice.
Both options have pros and cons that buyers need to assess based on their individual circumstances. The most obvious factor is the price differential of new and used ATV models. Although buyers can easily achieve upfront savings when purchasing a used model, unexpected repair costs can add up quickly. Because of this, buyers interested in used ATV models should plan on spending some time to evaluate a model's condition before deciding whether to make a purchase. Both new and used ATVs are subject to a number of regulations, but the frequency of having a used ATV inspected is often higher than new models due to emissions testing. Added capacities generally increase costs, so buyers should review the numerous types of ATVs available to find a model that can perform as needed, but still match a buyer's budget. Once buyers determine whether it is best to purchase a new or used ATV, they can visit eBay Motors to view an array of models from well-known manufacturers.