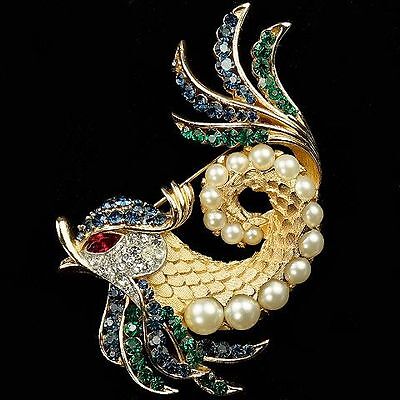 No such thing as an unsigned Trifari
Collecting vintage costume jewellery is a joy: fine paintings, treen or ceramic collectors must content themselves with feasting their eyes on their objects of desire, but we get to wear them! John Keats was very right when he stated that a thing of beauty is a joy forever: I know that my VERY substantial American costume jewellery collection has given me a great deal of pleasure (AND a sideline as a lecturer on the subject). As somebody whose first passion was archaeology, I channeled that methodology into a great deal of research in patent offices, archives etc and I can tell you without any doubt that there is no such thing as an "unsigned vintage Trifari" piece, be it a brooch, a necklace, a pendant, a bracelet or a pair of earrings. If it isn't clearly signed "Trifari", it ain't a Trifari....it is that simple. Now, Coro pieces, for instance, are a different story: often, let's say in a necklace/earrings set only the earrings would bear the signature or, in the case of Coro's famous "duette" double brooches, the signature would be just on the supporting frame or just on the clips.
There is absolutely nothing wrong with loving and collecting unsigned vintage beauties, but their description must be accurate! Know what you are buying!