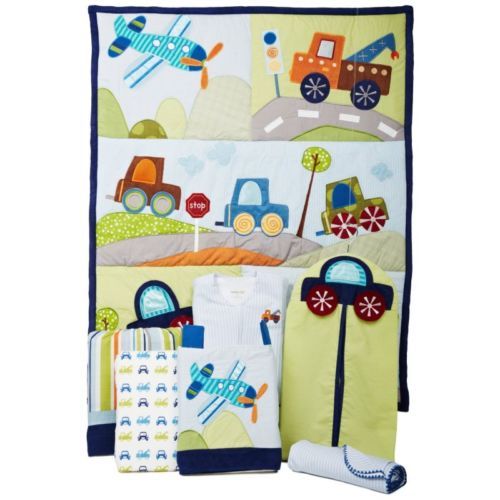 There is nothing as exciting as welcoming a new addition to the family. One of the biggest jobs that many parents face is putting together a nursery. Not only does the nursery need to be outfitted with all of the essentials, such as diapering and feeding areas, but the cot for the baby as well as the bedding are also sound choices to have prepared for ahead of time.
Since newborns spend much of their time asleep, having the proper bedding is important for the comfort of the baby. Nursery bedding comes in a variety of styles and types that are long-lasting as well, and nursery bedding sets can be purchased at infant and toddler clothing retailers and online at eBay as well. Finding the right bedding to fit the cot properly as well as be comfortable for the baby and include all the items desired at a great value are all part of being a savvy and informed consumer.
Choosing the Correct Size of Bedding
Choosing the proper bedding for the nursery should not only take into account the aesthetic desires of the parent, it should be chosen according to the style of the infant's bedding as well. One of the primary reasons that the style of the mattress and other bedding materials should be taken into account is for the safety of the child. Knowing what type of bedding is appropriate for the cotbed is essential in choosing the right bedding for the nursery.
Mattress Measurements
Mattresses for an infant's cot should fit the frame snugly and leave no more than one inch of extra room anywhere between the frame and the cot mattress. Making sure that a mattress fits properly helps alleviate the risk that any part of the infant's body may become trapped between the mattress and cot frame.
Similarly, mattress sheet sizes are just as important to choose carefully. Sheets that are too tight could slip off the mattress and endanger the child if the infant were to become entangled in it. Bedding that is too loose can also impose a similar hazard for the child. Before choosing a mattress for an infant cot, it is always a good idea to measure the inner area of the frame where the mattress is to be placed. Once the mattress has been obtained, it is also necessary to measure the height, depth, and width of it as well. This is essential to choosing the bedding accessories that are the proper size.
Sheet Sets
When choosing sheet sets for a mattress, it is important to make sure that the length, depth, and width are equal proportionally to the mattress size specifications. This helps to ensure a proper fit and allows the sheet to stay securely on the mattress at all times. It is also equally as important to make sure that the type of sheets purchased for the baby's sleeping area are ones with baby in mind. Since babies have soft, delicate skin, choosing bedding sheet sets that are soft and breathable is paramount in allowing the infant to sleep comfortably. In addition, purchasing higher quality sheet sets with larger thread counts not only means softer sheets, but higher thread count sheets are usually more durable as well.
Nursery Bedding Choices
There are many attractive nursery bedding sets available to suit almost any taste when it comes to outfitting a nursery with these items. Depending on the need of the parents and the baby, there are many different nursery bedding choices that conform to most nursery decor themes, include one or multiple items, and be within the price range of almost anyone's budget.
Nursery Bedding Themes for Boys
There is a variety of popular nursery bedding sets available for both male and female infants. Some parents may already know the sex of their child before he or she is born. It is common for parents to choose sports themed items for nursery bedding for male infants, such as rugby nursery bedding or basketball nursery bedding. Other popular choices for boy nursery bedding themes include blue and animal print nursery bedding as well.
Nursery Bedding Themes for Girls
There is no shortage of female nursery bedding choices either. Much like bedding choices for boys, animal prints and pink nursery bedding choices are great for the little ladies. Girl nursery bedding themes do not always include the colour pink, as the boy nursery bedding themes do not always include blue. Pastel yellows and greens, along with many other pastel colours, are popular choices for not only girls but babies in general because of the soft tones they provide. In fact, they are popular items for parents to choose when the sex of their child is unknown.
Nursery Bedding Items
Depending on what is needed for the nursery, there are many items that can be included in nursery bedding sets. It is helpful to review what a bedding set includes before buying it as not all bedding sets are the same. Some sets come with a duvet or quilt only, while others might include one of these items as well as a fitted sheet, bumper pads, dust ruffles, and additional lighter blankets. Since there is such a wide variety of bedding set items available, it is easy to find just the right one for the new arrival.
Buying Nursery Bedding at a Discount
It is not necessary to spend a fortune to find quality bedding for an infant's nursery. If it is just one item that is needed for a child's cot, check various brands and styles to make sure that it is a quality item that meets the requirements of the mattress and is well-suited for the child's comfort. If multiple items are necessary, buying items in a bundle package is helpful as long as the items are priced below what they are sold for individually.
Finding the Best Value
It is good to keep in mind that just because nursery bedding may be labelled as a value, it does not necessarily mean that it is the best value for the parents. It may be necessary for new parents to browse around and become familiar with the average individual price of various bedding set pieces in order to become familiar with the average price for such items. Unless it is a specialty item that is desired, there should not be a reason that nursery bedding at affordable prices is not available to everyone. Purchasing children's nursery bedding fabrics and creating unique pieces is another great option available to anyone who is handy with sewing.
Buying used nursery bedding sets is a great way of saving money as well. Look for items that have been gently used and make sure that the items are not stained or in need of major repairs, such as loose linings or unravelled edges. Shop around and find great quality used nursery bedding sets to save money and still afford the desired quality.
Bundling is Less Expensive
Bundling refers to buying more than one item at a time and receiving all items within one package at a price that is less than what one would pay individually for such items. Bundles typically save parents a lot of extra money that could be used for other necessary items. Watch out for sales and other special offers that allow buyers to bundle items together for additional savings. Many times special offers are available, and buyers can purchase a nursery bedding item at a regular price and allow other items to be bundled with it for additional savings or discounts.
How to Buy Nursery Bedding Sets on eBay
eBay has a wide variety of nursery bedding sets available that encompass a wide variety of themes and styles. Because there is a large number of vendors that make their goods available on this online marketplace, it is easy to find nursery bedding sets for almost any budget. To start the search, simply type in relevant keywords in the search query box that is located on the eBay home page and at the top of any subsequent eBay web page. For example, type in the keywords "nursery bedding sets" and click on the search button. Returned to you are a variety of items that have all been marked with those keywords.
It is important to review the photos of the merchandise along with the item description before buying it. The description gives information as to the condition of the merchandise along with payment, shipping, and return information as well. The contact information for the seller is located under the seller's name, so make sure to contact them with any questions you may have.
Conclusion
There are many great ways to find bedding sets that are perfect for any nursery. Making sure that the mattress is measured to fit the cot properly helps keep the infant safe from harm. It also helps take the guesswork out of which nursery sheet sets are the right ones that can stay firmly in place on the mattress and also be comfortable for the infant's skin as well. The safety and comfort of the infant are important considerations when choosing the right bedding sets.
Being able to locate all the nursery bedding items that are desired as well as finding them at a great price is a very rewarding experience in more than one way. By bundling bedding items or purchasing gently used nursery bedding sets, a great quality set can be obtained often at a fraction of the price of new bedding sets. Becoming familiar with the various aspects of nursery bedding sets helps parents make informed decisions and feel great about the decision they have made.