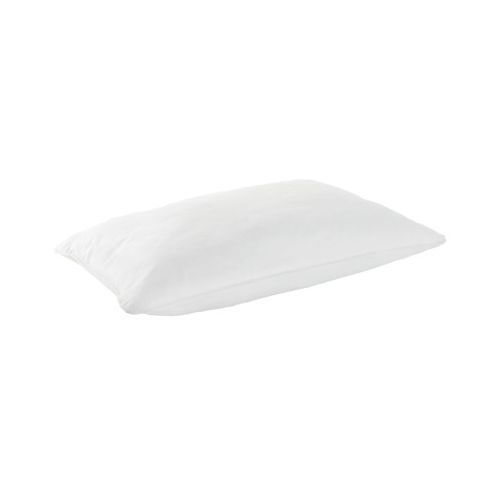 Parents want their newborn baby's room to have all the necessities and look good too. They spend countless hours painting, matching, and accessorising with some obsessing over every detail. While decorating to fit a theme may be new parents' first thoughts, buying nursery pillows involve much more than colour coordinating. There are many factors to consider as nursery pillows have a set of guidelines to abide by for safe use. Perhaps most important, a baby could accidently suffocate on a pillow while sleeping.
Therefore, nursery pillows should be restricted to the floor and beds but not in a crib. Newborns may not need pillows, but some mothers may use a nursing pillow for breastfeeding. Parents are responsible for assessing placement, function, and safety issues before buying any pillow for the nursery. After these matters are addressed, parents can then choose the colour and materials. Nursery pillows can be found at department stores, specialty shops, and online retailers and auctions.
Nursery Pillow Placement
Nursery pillows can pull together the look of a baby's room, and parents should make sure they are putting pillows in safe and functional places. Infants, especially those who have not developed motor control, should not have pillows in their cribs as they are choking and suffocation hazards. Experts recommend introducing pillows for sleeping when the baby is on a toddler bed. Parents can also put larger pillows on the floor for sitting. Big pillows are a great transition for sitting in a chair. The following sections are designed to give parents ideas for pillow placement in the nursery.
On a Bed
Whether on a toddler or adult sized beds, nursery pillows can be used for napping on or for decoration. Whether the pillows colours are an exact match or coordinated with the linens, the exterior should be machine washable, and pillows with removable covers are ideal for nurseries. Accent pillows in fun prints and patterns can liven up the room. Monogrammed pillows add a personalised touch to the nursery.
On the Floor
Once the baby has grown into a toddler, parents can put a few pillows on the nursery floor for the child to sit and crawl on. These pillows should be covered in a machine washable fabric since small children have a knack for making messes. Parents should choose darker, colour coordinating colours to mask stains. Moreover, these pillows should be firm but not too hard since they need to withstand babies regularly crawling, sitting, and playing on them.
Nursery Pillows and Infants
Nursery pillows can go just about anywhere except the crib. Some mothers use nursing pillows to make breastfeeding more comfortable for her and the baby. While it can be tempting to put a pillow into the crib, most experts recommend waiting until the child is in a bed. SIDS is a serious condition all parents should be aware of, and keeping the crib pillow-free can keep a baby from suffocating in his or her sleep. However, other experts assert putting a pillow in the crib only after the baby has accomplished certain motor skills. Below is important information regarding newborns and the use of pillows.
Nursing Pillows
Nursing pillows are designed for women who want a more comfortable breastfeeding experience for both her and her baby, especially if the baby is a premie or there are twins. While sitting down, a mother can place the pillow on her lap and rest the baby on the pillow; the mother has less strain on her back, shoulders, and arms. Additionally, the baby is in prime position for latching, alleviating many common breastfeeding problems. A nursing pillow is a practical buy for any nursery.
SIDS
Sudden Infant Death Syndrome, shortened to SIDS, is a real occurrence with newborns. There is no single reason, but several factors are responsible for causing SIDS, including an undiagnosed medical issue or accidental suffocation. Therefore, parents are encouraged to remove any potential suffocation or choking hazards from the baby's crib, including pillows.
Assessing Motor Skills
While parents are often encouraged to save pillows until the child is ready for a cot, if they insist on putting a pillow in the crib, they should evaluate certain motor skills to see if the baby can reposition itself in case of accidental asphyxiation. If the baby has the ability to raise its head and can roll over, then the parents may put a small, firm pillow in the crib. Babies with the ability to stand in the crib are ready for toddler beds, and a pillow . Soft pillows at this age are still considered hazardous.
Choosing the Right Nursery Pillows
After evaluating the safety and practical aspects of nursery pillows, parents can then move on to the fun elements of decorating. Some prefer to have an overall theme, such as sports, animals, and music, and they choose pillows with certain patterns, logos, and prints to accessorise the room. Parents undoubtedly want to colour coordinate, but it is also important to choose the right materials. Some stuffing and cases are simply better than others. Below are a few tips and ideas for choosing the right nursery pillows for the baby's room.
Theme
Many parents have the nursery decorated long before the baby arrives, and some have been planning it since early pregnancy. Parents often choose a theme to decorate the baby's room. A theme could be a simple as a colour scheme or as intricate as centring it on a specific sports team. For example, if creating a jungle or animal themed room, animal or leaf print pillows add a nice touch. Fun shaped pillows, like animals or race cars, are kid approved. Pillows are an easy and often inexpensive way to tie together a room.
Colour
Some parents opt for a colour scheme instead of a theme. The most important tip to remember is not all colours have to be exactly the same but should simply coordinate. Pink and blue are often associated with genders, while yellow, green, and purple are popular gender-neutral colours. When it comes to decorating a nursery, shoppers are encouraged to by the linens, pillows, and curtain treatments before painting the room. It is easier to repaint a room than to have to exchange and rebuy textiles. Parents can choose between solid-coloured and print nursery pillows.
Materials
A baby's skin is sensitive; therefore, when choosing nursery pillows, parents should know exactly what they are made of. Some materials offer more support, which others promote better air circulation. The following chart outlines the differences among common pillow stuffing materials.
| | |
| --- | --- |
| Materials | Description |
| | Firm, flat pillow that circulates air better than other materials, keeping it cooler; moderately priced |
| | Softest pillow but may not be nursery appropriate for two reasons: down is an allergen for many, and texture could be suffocation hazard for young babies |
| | Firm pillow, a good choice for a first pillow; some models boast "memory foam" for ultimate head and neck support |
| | Long fibres provides adequate support; has the ability to retain shape and last longer than other materials; least expensive option; often blended with cotton |
| | More firm than cotton due to density; retains shape and preserves warmth; pulls moisture away from the pillow's surface |
Although much of choosing the right pillow stuffing involves personal preference, the exterior of the pillow should always be cotton in a nursery. Cotton pillowcases are soft and machine washable; other fabrics may be comfortable, but they may be easy to stain and difficult to clean.
Buying Nursery Pillows on eBay
Once you have an idea of what type of nursery pillows you want to buy, enter a few keywords into eBay's search bar to receive your initial results. If you get only a few results in return, eliminate a keyword or two to produce more results. If you receive too many results, eBay is ready with three options to help you out. First, click on one of the "related searches" links below the search bar. Another tip is to add in more keywords to narrow results. The last option for limiting results involves refining your search. Choose specific categories, new or used condition, price range, and more. For more help optimising searches, check out the Tips for Better Searching page.
Top-Rated Sellers
eBay keeps tabs on which sellers are consistently making sellers happy and rewards them with top-rated seller status. These sellers have a long standing reputation of superior customer service and satisfaction. Look for the top rated seller icon next to the seller's username.
Conclusion
Nursery pillows are an inexpensive way to liven up the room. Some are purchased to match the decor; others are functional, such as those for breastfeeding or toddler seating. Parents must remember to exercise caution if putting a pillow in a baby's crib. Babies must have mastered motor skill, such as rolling over and lifting their head, before a pillow is introduced. The younger the child, the firmer the pillow should be. Parents should pay attention to any rashes along the baby's head and neck as it might be allergic to the materials.
Nursery pillows should never be bought on a whim and parents should identify the materials used before buying. No matter which stuffing parents choose in their pillows, machine washable, cotton coverings are essential. Once the pillow is deemed safe and made from the appropriate materials, parents can then buy pillows to match the nursery's decor. Whether the room is themed or colour coordinated, a few pillows can liven up any nursery.