"Diamonds are forever" and also "A girls best friend". The most precious of all the gemstones and found in Diamond Engagement Rings, Diamond Eternity Rings, Diamond Earrings, Diamond Bracelets and Bangles, Diamond Necklace, and much more!
Diamonds are the birthstone for April and the anniversary gems for 10th, 60th and 70th celebrations.
A Diamond Poem
The Diamond sparkles day and night
Careless to the cross it bears
Oblivious to all the previous fight
Just for the lady to enjoy its wears
*************
A diamond is a conflict-free diamond if its profit is not used to fund war, and it is mined and produced under ethical conditions.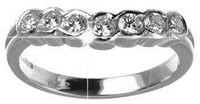 View all our Amazing Diamond Rings
Diamond Legend and Lore
The word Diamond comes from the Greek for unconquerable or invincible. The ancient Greeks and Romans thought them to be the tears of the gods and splinters from falling stars.
Diamonds are thought to give strength, invincibility and bravery during battle. They have been used to drive away nightmares, ward off devils and phantoms, and soothe savage beasts.
Diamonds are still commonly believed to bring luck and success to those who wear them.
Diamonds are often the epitomy of romance and are the gifts of choice for engagements or wedding anniversaries (especially for the 10th, 60th and 75th wedding anniversaries).
Diamond is the world's hardest natural substance and is widely considered to be the most precious stone on earth, although there are some gemstones that fetch prices higher than even the highest quality diamonds.
While diamonds are usually clear/white stones, there are fancy colour diamond varieties and black.
Diamonds are usually set in gold, platinum, paladium and sometimes silver.
Diamond prices vary widely because not all diamonds are created equal.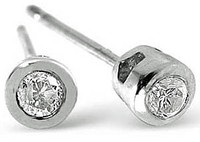 View all our Beautiful Diamond Earrings
Giving a piece of jewellery containing a Birthstone gem will offer the wearer good luck and protection. Monthly Birthstones symbolize the month of birth according to the Gregorian Calender.
With some of the lowest Diamond Jewellery prices anywhere online you can be sure that buying your Quality Diamond Jewellery purchased from us is simple, hassle free and an enjoyable shopping experience. Included in our range we also have: White Gold Diamond Rings, Diamond Engagement Rings, Diamond Eternity Rings, Diamond Pendants, Diamond Earrings, Diamond Bracelets and Bangles, and much, much more!
Visit us at: NuttallsOfChester.co.uk – Fine Quality Jewellers.