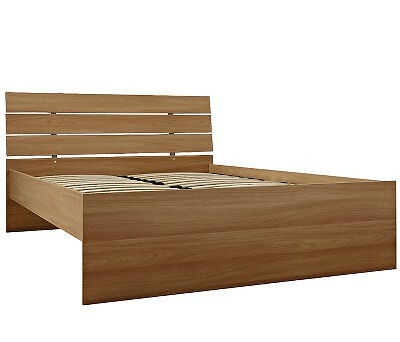 Bed frames provide support and structure, so it is important that they are solid and not fragile. When buying a wooden bed frame, oak is a good option because it is a dense hardwood that has lasting qualities and style. Oak's density makes it not only a beautiful piece of wood, but also a durable piece of wood. Oak wood is less likely to crack and to split than other woods, which contributes to its durability. Bed frames are a furniture item that are used frequently, and an oak bed frame will have the durability to stand the test of time. Oak bed frames have a lot of texture and tone, making them stylistically versatile. When shopping for an oak bed frame, buyers can choose between solid oak or oak veneers. Buyers should consider the difference between oak veneers and solid oak, stains for oak, and the different styles of bed frames that are available in wood. Other considerations include how to care for oak, and how to buy oak bed frames on eBay.
Variety of Oak Wood
There are two different varieties of oak wood: red oak and white oak. Although they are similar, white oak has longer rays. It is also lighter in colour and more durable than red oak. While some people prefer red oak, white oak is the more popular of the two. Further, oak can be stained to be nearly any colour of the rainbow or painted.
Solid Oak vs. Oak Veneers
An oak veneer covers the base of a frame that is not made out of oak wood, when oak is the desired look and feel. These tend to be more inexpensive than bed frames made of solid oak. Choosing an oak veneer over a solid oak piece is generally a financial decision. Veneers typically cover pine or particleboard, while this looks nice, they tend to not last as long as solid oak bed frames.
Stains for Oak Bed Frames
Oak can be coated in a variety of different ways to have different effects. There are a variety of different colours of stains and shades to choose from. Some oak bed frames will come stained already. If an oak bed frame is found that has the correct style, self-staining is a process that may also be considered. Oak stains well and is one of the more popular woods to stain.
Stains are typically made with water solvents or oil solvents. Oil stains provide a longer working time because they take longer to dry. They do not require sanding to be done when the staining is complete, and are applied with a natural fibre brush. Water stains use a synthetic fibre brush, and have a shorter working time. This is because they dry quicker, allowing the work to be completed in one day. They require very minimal clean-up and have a very low odour.
Oak Bed Frame Sizes and Styles
There are lots of different bed frames that come in oak. Deciding on the bed frame type is a big step in the buying process. Depending on the size and height of the room, different styles of bed frames are available. The structural part of the frame may have metal components, while the exterior, legs and posts of the frame will be made out of wood.
Four-Poster Bed Frames or Canopy Bed Frames
Four-poster bed frames and canopy bed frames are similar but do have slight differences. A four-poster bed has four posts at each corner of the bed. They vary in height, ranging from shorter posts to taller posts. A canopy bed frame also has four posts at each corner of the bed, but the posts are taller in order to allow a canopy to be laid on top. Canopy bed frames are suitable for tall ceilings and add a dominating style to the bedroom.
Bunk Bed Frames
Bunk bed frames are framed for two mattresses, and are ideal for a child's bedroom. They are most commonly seen with small or twin mattress, but do have options with larger mattresses as well. They are suitable for individuals sharing a room who do not want to share a mattress.
Trundle Style Bed Frames
Another option that has multiple mattress space is the trundle bed frame. Trundle bed frames are available for a variety of different mattress sizes, They have a standard bed frame, with another bed built directly underneath it that rolls out from under when it is to be used. This is a good option for a second bed that will not be used every night, but is used somewhat frequently. Trundle beds are most typically found in a child's bedroom, but are suitable to be used as a bed frame at any age. Additional storage under the space is lost with the addition of another bed stored underneath.
Storage Style Bed Frames
There are also bed frames that have built-in drawers underneath them, commonly known as a captain's bed. This is a popular option for individuals trying to optimise the space in their house. They are a useful option for people of all ages and come in a variety of styles and colours.
Loft Style Bed Frames
Loft bed frames are similar to bunk beds, but lack the second bed underneath. This allows enough height and room to store things underneath, or to put other furniture underneath. This is ideal for smaller rooms that do not have a lot of floor space. Loft beds are often found in college or university settings, when space is extremely minimal. Alternatively, children that share one room can loft their beds in order to optimise playing space
Most bed frames are made to fit a specific mattress size. Below is a table with approximate standard bed sizes. Be sure to know the mattress size in order to make sure that the bed frame fits correctly.
| Mattress type | Mattress Size (cm) |
| --- | --- |
| Small Single | 75 cm x 190 cm |
| Single | 90 cm x 190 cm |
| Small Double | 120 cm x 190 cm |
| Double | 135 cm x 190 cm |
| King-Size | 150 cm x 200 cm |
Keep in mind that the sizes above are approximate. It is a good idea to check the measurements of the manufacturer's mattress.
Care of Oak Bed Frames
Although dusting of oak does not need to happen frequently, it is an easy way to care for and maintain oak wood. When oak is untreated it is easy to take care of, wiping it down and dusting will suffice. Occasionally rubbing treated oak with beeswax keeps the wood looking restored. When dents and scratches happen, more detailed cleaning may be required.
How to Buy Oak Bed Frames on eBay
eBay has a large selection of oak bed frames to choose from. To begin your search, type in the basic type of structure of oak bed frame you are looking for. The eBay web site will return selections matching your specifications. To narrow down the search results, mark certain specifications on the results page. Be sure to check if the oak bed frame is solid oak or an oak veneer. If looking for an oak veneer as opposed to a solid oak frame, you may want to specify that in the search box. Keep in mind that descriptive words will narrow down results even further. Researching the product listing, and checking seller feedback is a good idea when making a purchase.
Look for sellers in your area by typing in your postcode under the 'Distance' tab. Finding a seller in your area may be recommendable as oak bed frames are large and heavy, which may increase the postage cost. If you find a seller in your area, and both you and the seller are agreeable, you may arrange to view the item before the purchase or to pick-up the item, which will save on postage costs.
Conclusion
A bed frame is a large purchase that can offer both support and decoration to a bedroom. Oak bed frames are long-lasting and appealing because of the hardwood and oak's cooperation with stains. After deciding on an oak bed frame, the style and structure of the bed frame is also to be considered. There are a lot of different structure types of bed frames to choose from. Some of the more often seen bed frames are bunk beds, four-poster bed frames, canopy bed frames, and lofted bed frames. Each type of bed is designed to suit different needs and room sizes. The room should be measured in order to ensure that the bed frame fits correctly. The purchase of a mattress may also be necessary. If the buyer already has the mattress, it is important to know the size of the mattress and the size of the bed frame to make sure that they will fit together. eBay has a large variety of styles of oak bed frames in many different mattress sizes. Buying an oak bed frame is synonymous to buying a product that can be passed down from generation to generation.