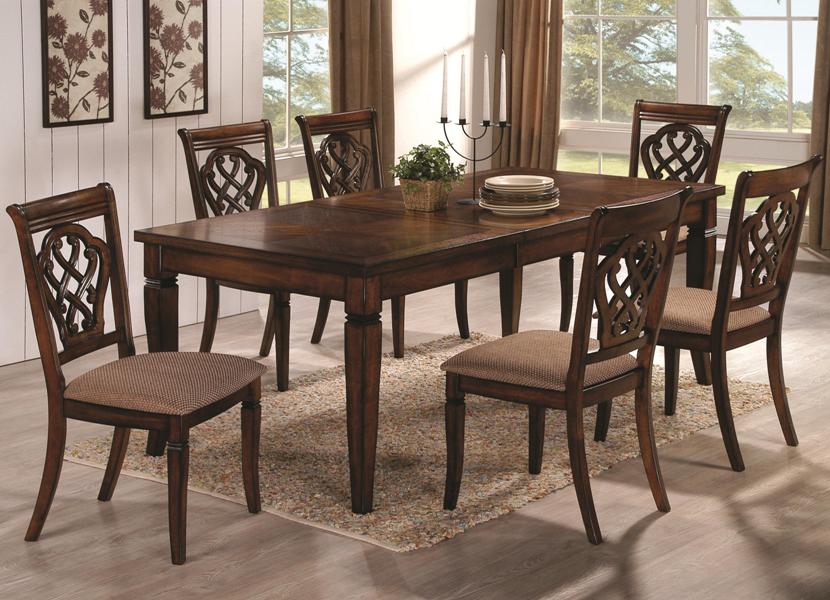 A dining room set usually consists of a set of tables and chairs, which can include benches, dining chairs, and tables of different shapes and sizes. Buying an oak dining room set is an investment that changes the look and feel of a kitchen or dining room. Oak is a strong, warm wood that can add colour, life, and vibrancy to any room, or can act as a cool or dark centrepiece depending on its varnish, which is one of the reasons it is favoured by many people.
Depending on the colour of the varnish, the oak can be dark, light, or somewhere in between. It can also be somewhat dull, or quite shiny, depending on one's preferences. To make an informed decision when choosing dining room furniture, a person should be familiar with the different oak dining room sets including types of tables and chairs, the benefits of oak, and varnishes and styles of oak. Moreover, it is useful to know how to select and purchase an oak dining room set from eBay.
Why Choose Oak Dining Room Sets?
Oak is one of the main varieties of hardwoods used to make furniture. The term hardwood means any of a variety of woods that are very hard and strong, usually meaning that they cannot be dented or scratched by normal activities. Oak is very durable and strong, and is in fact famous for being one of the strongest woods used for making furniture. When treated correctly, polished or varnished for preservation, oak is beautiful, long lasting, easy to clean, and easy to care for.
Oak is also a naturally beautiful, warm wood that can be varnished to be a light, dark, or grey colour. Usually oak is somewhat muted, making it an excellent choice for a variety of design styles including shabby chic, rustic, country, classic, and more. More expensive oak furniture is likely to be more solid, have a better quality varnish, and last much longer than cheap furniture. A good-quality oak dining room set, if taken care of properly, can last for literally hundreds of years before it has to be replaced. Because of this, an oak table purchase might turn into a family heirloom.
Different Styles of Oak Tables
Part of choosing an oak dining room set is choosing the style of table. Styles include round, square, or rectangular tables, leaf or drop leaf tables, folding tables, tables with drawers, and tables in a variety of geometric shapes. Moreover, the legs of the tables can be designed in various ways, and range from simple straight legs to intricate crossover designs that form a pattern. Most people choose a style of table based on the style of the house and their preferences.
For example, a round table fits in a country, shabby chic, or rustic style, depending on the style of the varnish and the thickness of the wood. Usually the more grey the table, the more rustic or country it can look. Round tables are excellent for conserving space, for families of all sizes, and can be paired with benches or tables.
Square dining room sets are often better for smaller families because they have a limited amount of chair space. Square tables usually complement a kitchen space well, but can also be used in dining rooms. Rectangular tables are traditionally the most popular and the easiest to find in drop-leaf styles. In either case, a rectangular table is versatile, classic, and can fit into a wide range of styles. A drop-leaf table can be expanded by pulling the table apart (and this is usually a built-in feature) and inserting a wooden 'leaf' into the top to make the table longer. Period styles include Victorian, Edwardian, modern, and many more.
Different leg styles include drop legs which are classic and straight, V-legs which are built together in a V-style box on the floor, and folding or crossed legs which overlap each other. Legs also come with a variety of designs including woodwork and moulding. The style and quality of the woodwork can greatly affect the price of the dining set, especially if the work was done by an artisan rather than by a factory. Styles can include braces, cross beams, ornate legs, and more.
Different Styles of Oak Chairs
Many oak dining room sets come with chairs as part of the set, but some people may want to choose a dining set based on the type of chairs they are looking for. Chairs can greatly affect the look of the home, especially when similar styles are used throughout the home. Chairs range in styles from modern, contemporary, to unique craftsman styles.
Generally, oak chairs in classic styles are the most pleasing, mainly because oak is a traditional wood. Variations include French chairs, which feature rounded backs, avant-garde, or unique such as with a very tall back or unique shape. Classic, artisan, and country-style chairs are usually expensive, and their price varies according to the wood and design. These chairs can range from light to dark vanish, but usually feature the grain and style of the wood quite prominently, and may or may not have a cushion. Because there are thousands of different styles of chairs, it can be difficult to choose an exact style that is appropriate for a home. Instead, it may be easier to choose among a few style based on availability and budget.
Choosing the Varnish of the Oak Dining Room Set
There are different shades of oak including red oak, white oak, hickory oak, and a great deal more. The varnish for the oak is usually selected based on the grain and the underlying colour in order to produce the most flattering results. Choosing a varnish colour for a dining room set can determine the overall look of the room. For example, a light-grey stained oak table has a more shabby-chic feel than a glowing red oak table. Both can add completely different elements to the room, as the first one is a cool shade and the second one warm.
Different finishes or stains include a variety of oils such as linseed oil, usually boiled down to form polymerised oil; tung oil, which is derived from the nuts of the tung tree; a variety of lacquers that can come in various tints from light to dark; shellac, which is a resin with a wax finish; and resin-based finishes. Most people choose a finish for the colour, meaning that they need to look no further than the colour and grain of the wood. Others choose specific finishes for their durability, usually in the hope that there will be many years before the table requires refinishing. Usually oil-based lacquers are the most durable because they won't normally dissolve if an ammonia or liquor (such as fingernail polish remover) is applied to the surface. However, all varieties of varnish hold up under normal use.
Purchasing Second-Hand Oak Dining Room Sets
Some people choose to purchase second hand or used oak dining room sets. Sometimes the decision is prompted by a cheaper table, but often it is in the search of vintage, rare, and beautiful pieces that might not be available as new items anymore. When purchasing a secondhand oak dining room set, one should consider if it has been refurbished, if it was reinforced for durability, and if it is as good as a new table. If the dining set has not been refurbished, it is probably a good idea to check the cost of refurbishing the table or having a local craftsman do it. Usually this cost is minimal next to purchasing a high-quality oak table, but can still be quite costly for anyone on a budget.
Qualities to look for include sturdy wood seams, such as dovetail seams that are generally the highest quality and can only be done using quality oak. These are arched seems that are cut and fitted together for the legs, but not popular with many modern artists because they are difficult to make. Anyone purchasing used oak dining room sets online should read descriptions carefully, consider how the table will be shipped or moved to their home, and arrange for an inspection of the table ahead of time if possible.
Buying Oak Dining Room Sets on eBay
Whether you are searching for a new or used dining room set, there are plenty of options you can choose from on eBay. It is important to consider the colour and style of the table you are looking for, if the exact style of the chairs is an issue, and the quality of the table. Considerations include choosing a varnish, any woodwork desired, the size of the table needed, and where the table will be placed. Dining room sets placed in the actual dining room rather than the kitchen have the most freedom of style because they work as the centrepiece to the room. A dining room set placed in the kitchen might have to go with decoration already in the kitchen, mainly because other things generally attract more attention than the table does.
If you are looking for oak dining room sets on eBay, it is a good idea to search for the specific style you would like to buy, such as "Victorian oak dining room set", "6 seater oak dining room set", or "red oak dining room set". You can modify your search to narrow down your selections, and then choose the oak dining room set that you prefer, after you have checked all its details, including its price, condition (new or used), and shipping fee.
Conclusion
Some oak dining room sets are usually acquired cheaply and easily, but are generally be constructed of a thin oak wood layered over a cheaper material. These are lighter, less durable, but generally less cost effective on the long run than their genuine oak counterparts. Genuine oak dining room sets, either new or used, are usually expensive because they are made of a high-quality wood. A good-quality oak dining room set can last for several generations, if cared for properly, so it is a good long-term investment, especially when bought in a classical style that is unlikely to go out of fashion.
Oak tables can be chosen in a variety of styles, periods, and colours. A different varnish can affect the durability and the colour of the table, so it is important to check into that as well. Oak dining room sets are heavy, high quality, and generally very beautiful. Purchase considerations include budget, decor, and the range of styles that can cover warm and rustic to cool and shabby chic, as well as the quality of the oak.