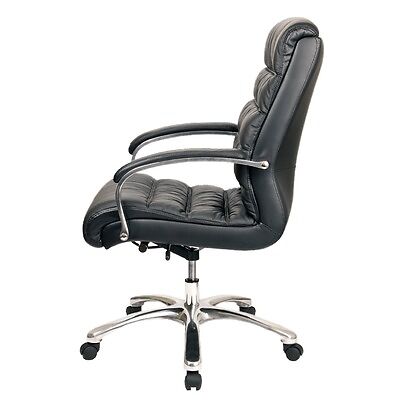 Office chairs, or desk chairs, contribute a lot to the overall impression for your customers, no matter what your business is. There are several considerations for creating the right impression. The ergonomics, the materials, the construction, and the style are all important characteristics. Preliminary knowledge of all these buying considerations is imperative to making a wise purchase for the right impression. Once you become acquainted with office chairs, in general, also keep in mind several buying tips for choosing the right chairs.
You can acquire office chairs from brick-and-mortar furniture stores and office supply stores, or you can shop at home from the comfort of your home. One of the luxuries of online shopping is that you can take as much time as you wish to decide which office chairs create the desired impression for your customers. eBay features a huge collection of office chairs available in a number of styles to suit virtually every preference and taste.
Ergonomic Office Chairs
Human factors and ergonomics (HF&E) is a multidisciplinary field that is the study and application of scientific information for designing equipment and devices, such as office chairs, in an effort to make them efficient to use and also comfortable for a human body. Ergonomics became an important design consideration after the 1970s. Ergonomics is important to consider when making a purchase if you intend to use a chair for long hours.
An ideal chair is the one that not only fits your body, but also suits the work environment so that it creates the right impression. Having said that, creating the right impression for your customers, although important, may not be the most critical buying consideration if you are going to spend long hours sitting in a chair. An ergonomically designed chair ensures that you are able to sit comfortably for long periods of time.
Back support, position, and height, along with seat support are the primary ergonomic considerations when buying an office chair. Make sure that circulation in the thighs is resistance-free, posture requires minimum muscular effort to maintain, the natural S-shape of the spine is maintained, and strain on the spine is minimised. A good chair provides stable body support in multiple chair positions. So the bottom line is that ergonomics are very important, but, fortunately, it is possible to find ergonomic styles that also create a good first impression.
Materials and Construction of Office Chairs
Different types of office chairs are made up of different materials. Every material has its own pros and cons. Common materials include mesh, moulded-foam, top-grain leather, and imitation leather.
Chair Material

Description

Air can easily pass through the office seats made of mesh seating

Suitable for hot, humid areas

Keeps body heat from getting out of control

Moulded Foam

Most common type

Contours to the shape of the body

Top-Grain Leather

High-quality Italian leathers

Common material for executive office chairs

Not suitable for offices without air conditioning

Imitation Leather or Vinyl

Looks like leather but is easy to clean and durable
The characteristics are general and do not necessarily hold true for all models and makes. A buyer should base the purchasing decision on the exact product specifications and consider the table as a general guide.
Types of Office Chairs
Office chairs have several different types. The choice of the right chair to create a great impression is based on your personal preferences. Each type has its own benefits and limitations. A great chair for one person might be an ordinary chair for another person and vice versa. Consider your own situation and particular needs and make a decision accordingly.
Traditional Office Chairs
Conventional or traditional office chairs, ergonomic or otherwise, consist simply of a seat and a back. More often than not, they are cushioned and covered with vinyl, leather, or some other fabric. Some models are made out of mesh. Armrests and headrests may or may not be present, depending on the model, make, and price. Casters, a swivel base, and four legs generally support traditional office chairs. Ergonomic office chairs reduce stress on the body and are comparatively more expensive than non-ergonomic office chairs.
Exercise Ball Office Chairs
Exercise fitness ball chairs are versatile office chairs in which a large ball supports the user in various long-term seating positions. These chairs promote movement and active sitting. A user has to continuously adjust the sitting position using different body muscles, and this reduces fatigue and body stress. In order to cater to different user heights, exercise ball chairs come in a wide range of sizes. Some models of these office chairs have a backrest, and others come with a base frame with wheels for increased mobility.
Saddle Office Chairs
Saddle chairs do not have a backrest like traditional chairs, and they have a 135 degree angle between the hips and the knees, unlike the 90 degree angle of traditional office chairs. The spine is in a natural S-shape when sitting on saddle chairs, which reduces the risk of back and shoulder pain. The seat can either be a single piece or divided into two separate pieces. High-quality saddle chairs allow the user to adjust the height of the seat as well as the amount of tilt. Arm and wrist supports are often a part of most saddle chairs. As the saddle chairs are higher than traditional office chairs (usually 20 cm to 30 cm higher), furniture designers have developed height-adjustable desks that can be adjusted electronically or mechanically to suit the user. Saddle chairs look great and suit a modern office environment.
Recliner Office Chairs
Some users feel comfortable sitting in a reclined position with their feet above the ground. For such people, recliner chairs are a great purchase. Small tables that can easily be attached to the recliner chairs are also available that can be swivelled over the lap to allow the person to work comfortably on a laptop, for example, or do any paperwork.
Features of Office Chairs
There are numerous features to consider for office chairs. A buyer should prioritise the features he or she wants most, as all features may not be available on a single chair. Some of the most prominent features include a backrest, adjustable chair height, seat depth, lumbar support, backrest tilt, armrests, and swivel.
Backrest
Some office chairs feature a backrest, while others do not. Make sure a backrest is adjustable and comfortable. The ergonomic office chairs usually have a backrest ranging between 30 cm to 48 cm in size. Some backrests are separate from the seat and require the angle and height to be adjusted accordingly. Proper lumbar support is an attribute of high-quality chairs. If the backrest is not detachable from the office chair, make sure it can be adjusted backward or forward and has a proper locking mechanism.
Chair Height
Chair height is a must-have feature for many people. Your feet should be flat without exerting any pressure on the thighs or lower back. In case the desk height is not adjustable, the chair height can be adjusted for the right posture. If that is not comfortable, you can get a footrest to compensate. A pneumatic adjustment lever can be used to adjust the chair height in most cases. Generally, the chair height ranges between 40 cm to 54 cm from the ground level for adults.
Seat Depth
Seat depth should be such that a user can easily sit right at the back of the chair without body muscles exerting any additional force. To use the backrest correctly in order to support your lumbar region, you need to sit right at the back of the chair to see if it is a suitable fit or not.
Armrests
If you spend a lot of time sitting in the chair, you need support for your arms. Fixed armrests are fine for short-term use, but for long hours, you need to have adjustable armrests in height as well as in width. Ergonomic office chairs offer both adjustments, while others offer only height adjustment.
Seat
The armrest, backrest, and seat should have firm padding to support the user while still being soft enough so that one does not feel the hardness of the chair frame below. Permeable seat covers are a great option as they allow breathing and minimise any heat build up.
Buying Office Chairs on eBay
Enter relevant queries, such as office chairs, high quality chairs, desk chairs, traditional office chairs, ergonomic office chairs, recliner chairs, et cetera into the search bar on the eBay home page to begin the hunt for the right office chair. Related searches suggested by eBay for some search queries may help with the search process in some cases. To save on shipping charges, try entering your postcode in the filter section to see if you can find local listings. If you are lucky enough to find the desired chair in your area, you can pick it up from the seller at a time of your convenience as soon as the order is successfully processed. If not, you can still browse through other results. You can also filter results based on other preferences you might have, such as a specific price range.
One key recommended practice is to go through client feedback that has been posted in the seller's history before placing an order. This helps you gain better insight into the seller's business practices.
Conclusion
Office chairs add to the overall impression of your business and are an important purchase. The end decision should be based on your own needs and preferences more than anything else, but you should preferably review several options to get an idea of the variety available to you. Ergonomics is an important buying consideration, no matter what type of office chair you decide to purchase.
The popular types of office chairs include saddle chairs, recliners, traditional office chairs, and exercise ball chairs. The most common materials used for the construction of office chairs include mesh, moulded foam, top-grain leather, and imitation leather. Features of office chairs also vary from model to model. The most important features to consider include chair height, backrest, seat depth, and armrests.
eBay typically offers a large collection of office chairs to help you create the right impression for your customers. You can also shop locally in furniture stores and office supply stores to find a variety of chairs to meet your needs.