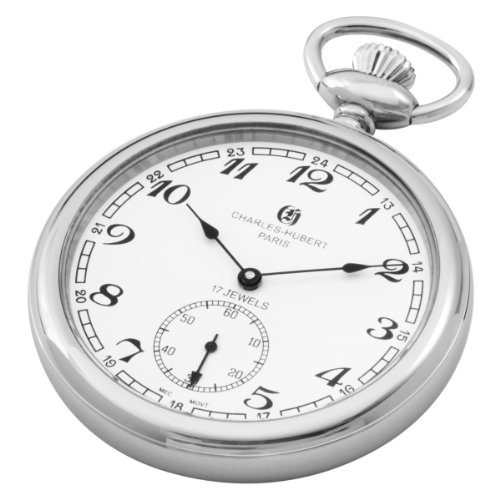 Pocket watches had their heyday in the Edwardian and Victorian eras, but they have made a comeback recently. A modern wearer of the pocket watch is more likely to slip it into a jeans pocket or the breast pocket of their shirt or blouse, than tethering the watch to a tweed waistcoat, as was the fashion when Arthur Conan Doyle was writing about the adventures of Sherlock Holmes and Dr. Watson.
There are several types of pocket watches, and probably the simplest one to use as a timepiece is the open faced variety, in which the watch face is always on display. These open faced pocket watches can be found in antiques stores. However, there are modern reproductions of this antique timepiece available that incorporate modern design accents and contemporary quartz movements.
One challenge the would-be pocket watch wearer faces is knowing where to buy a good specimen at a reasonable price. Antique versions can sometimes be dug up at antique shops or bring and buy sales, house clearances or car boot sales. But tracking down an antique open face pocket watch can take a lot of time and effort. Modern versions can be found in high street shops, like jewellers and shops that specialise in men's accessories, although few shops stock more than a couple of pocket watches. For this reason a better option is to go online, where eBay have a good selection of open faced pocket watches,, both antique and modern.
What Is a Pocket Watch?
Until wristwatches rose to popularity in the early 20th century, men of all classes carried pocket watches to keep track of the time. Having taken several centuries to be perfected, during which time the pocket watch grew smaller and smaller, the design of the pocket watch arrived at a point whereby it was both reliable and highly portable.
For a man carrying a pocket watch, it meant attaching it to a short chain, one end of which was inserted through a dedicated buttonhole in the front of his waistcoat. This was then secured either with a fob, or a small metal bar. The watch sat in his waistcoat pocket until it was withdrawn to be consulted. If the watch was inadvertently dropped, it pulled up on its short chain, and the fob prevented the chain from slipping out of its hole if the watch was dropped. Ladies, incidentally, did not carry pocket watches, but they did wear pendant watches on a long chains around their necks.
In an age where people increasingly are used to taking their time from their mobile phones, it is not surprising that slipping a pocket watch out of a pocket feels very natural, and is becoming increasingly popular among all sorts of people, both young and old. It is worth remembering too that unlike Victorian times, pocket watches are favoured by men and women, alike.
The Open Faced Pocket Watch
There are several types of pocket watch. However, the three most popular types are the hunter, half-hunter pocket, and the open faced pocket watch. Briefly, the hunter is a pocket watch with a metal cover that snaps shut over the watch face. This provides the watch face with protection against scratching, breaking, or just getting dirty. To tell the time, it is necessary to open the cover.
The half-hunter has a similar cover, but the cover has a circular aperture in the centre, to allow the wearer to see the hands of the watch face underneath the cover. This aperture is often glazed. There may also be numerals etched into the metal around the rim of the cover, to allow the time to be read more accurately when the cover is closed.
The open-faced pocket watch is perhaps the most elegant of the three, in that it has no cover obscuring the watch face. Hence the face, which is often very decorative, can always be seen, and the time can always be read.
The only disadvantage of the open faced pocket watch is that there is the risk of damage to the watch face in event that it knocked or comes into contact with an abrasive surface. For modern open face watches, which have tougher, more scratch resistant watch faces, this should not be a concern for the wearer. Most wrist watches are open faced, after all. If buying an antique pocket watch, care should obviously be taken to avoid exposing the watch to situations in which it may be damaged. This would be common sense, in any case, as antique pocket watches can be quite valuable. A measure worth considering when buying an open faced pocket watch, is to purchase a leather pouch for the watch. This pouch protects the watch face, while being small enough to slip easily into a pocket.
Open Faced Pocket Watch: Old or New?
Part of the attraction of pocket watches is their association with a period of elegance and refinement. Watches made in Edwardian and Victorian times were often beautifully crafted, and were built to last. As a testament to this, is the fact that so many have survived as antiques. Often these watches are engraved, and have been passed on as family heirlooms, before eventually being sold. Despite being a hundred years old, or more, they often still work perfectly well, though it is worth getting a jeweller to clean the watch's gears now and then.
Modern Reproductions
However, it is true to say that there are excellent modern reproductions of the old styles. Depending on the buyer's price point, these can also be beautifully crafted, with the advantage of brand new interior workings, and even quartz movements for those who prefer its dependability and battery-powered convenience. Which is better is ultimately a matter of personal choice.
Thoroughly Modern Pocket Watches
A third option is to eschew the old styles completely, and buy a brand new, unashamedly 21st-century open faced pocket watch. There are some stunning modern designs, with crisp lines and pleasing colours. Inside, is a precise quartz movement, and the exterior can be anything from polycarbonate to chrome to gold.
How to Buy an Open Faced Pocket Watch
For anyone considering buying an antique open face pocket watch, it is likely that a search of local antique dealers eventually turn up a specimen or two, although the watch's wind-up movement may no longer work. For those shoppers interested in buying a modern version of the open face pocket watch, it is possible to find them in high street jeweller's shops, along with other watches and clocks. That said, despite the upsurge in popularity of pocket watches, they are still much harder to find than ordinary watches, and the range offered is unlikely to extend beyond two or three pocket watches. A better alternative in either case is to look online, where internet retailers such as eBay offer a much wider range.
How to Find an Open Face Pocket Watch on eBay
Whether you are looking for an antique pocket watch, a reproduction model, or a thoroughly modern timepiece, you can find it on eBay. Start your search on the site by entering a search query that describes the open faced pocket watch you're looking for into the search bar on the eBay homepage. The local search engines pull out all the listings that match your query and display them on a results page.
Next, you can hone your search by selecting and deselecting various search filters. For example, you can specify the metal that you would like your watch to be made off, whether gold, sterling silver, stainless steel, or something else. If you are searching for a modern pocket watch and favour a particular brand, you can specify that brand. You can choose whether you want an automatic watch, or a hand-wound mechanical watch, or Arabic numerals rather than Roman.
Once you have narrowed down your list, look at the photos and read the descriptions carefully. If you see a watch you like and you have some questions for the seller, you may contact the seller through the details on their profile page. Perhaps you would like to see a photo of the back of the watch? Ask for it. Or a close up of the dial? Ask for that, too.
Conclusion
Open face pocket watches have been worn for many years. Like all pocket watches, their peak popularity was in the Victorian and Edwardian eras, followed by a relative decline in the 20th century as the wristwatch became more popular. But there has been an upsurge in interest in open face pocket watches in recent years, both among men and women.
The advantages that open face pocket watches have over other styles is their ease of use and greater elegance. However, the open face does make them more prone to damage, but this can be countered by slipping the pocket watch into a leather pouch.
Whether the buyer is looking for an antique, reproduction, or thoroughly modern piece, open face pocket watches can be found in the high street, but it is rare that the selection offered there is varied. For more choice, the buyer should go online, where Internet markets such eBay offer a much better selection of these stylish timepieces.