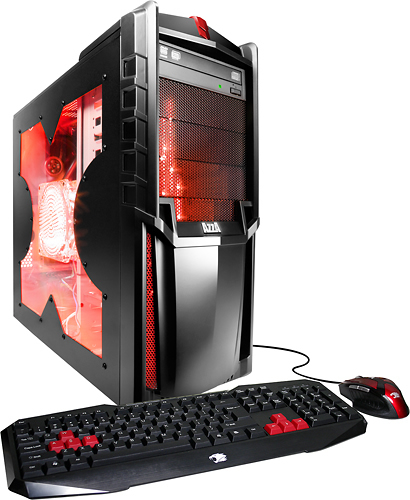 There are two distinct types of computers when it comes to the desktop model of PC computers: the standard desktop computer that consumers are familiar with, and the newer version of PC desktops, called an all-in-one. The essential difference between desktops and all-in-ones is simple. Desktops offer more equipment, because the processor is a separate component, and all-in-ones take up less desk space because the processor is actually inside the monitor, which offers users a computer that takes up less room.
Otherwise, there are not many differences between these types of computers as far as performance goes, but there are a few key things to look for which buyers may want to consider when purchasing either a PC desktop or an all-in-one computer. Users may find that their favourite brands offer versions of both types of computers, and choosing one comes down to price, what features each machine offers, and how much space the users have for the computer, along with the portability factor. Buyers can find a wide range of PC desktops and all-in-ones of various brands on eBay.
PC Desktops
A PC desktop computer is reliable, traditional, and generally cost effective. Desktop computers are durable and come in many familiar brands, and offer a wide range of features for the users. There are a few ways that buyers can narrow their options in order to zero in on the perfect PC desktop for their specific needs.
Popular Brands
Consumers may want to purchase a desktop computer from one of their favourite brands. The most popular brand of PC desktops has long been HP, but other well-loved brands of the classic desktop computer include Dell, Winbook, and Asus. Brands vary in price according to the monitor size, type of processor and speed, as well as what other features the computer offers.
Features and Options
Desktop computers offer users a wide range of features. Some of these include newer hard drives called solid-state hard drives, which are more capable than traditional hard drives; built-in Wi-Fi, so purchasing a separate router can be avoided for users who need wireless access; and the option to have a high-definition monitor to make viewing media even more crisp and clear.
Desktop computers are not made the way they used to be. They offer the ability to be easily upgraded with additional memory, and a built-in disk drive that often has the capacity to record and write disks is also a bonus in some cases for media savvy consumers.
What To Look For
When looking for a great PC desktop computer, buyers want to seek one out that offers the features and benefits that are important to them. Some things to consider include what the memory storage is in the hard drive, and how media-efficient the computer is. Some desktops play Blu-ray discs as well as standard DVDs, which is a selling point for consumers who enjoy streaming media on their computer.
Other things to look for include what the processor is like, and how fast it is. For users who frequently use their desktop computer for work or other things that require speed, a high-speed processor is an advantage. Some desktops offer a touch screen interface, which users may or may not consider a benefit.
Users may want a computer that is Energy Star rated, which means it is made to run in an efficient and planet-friendly way. Other things to consider when purchasing a PC desktop include how big the computer is, what size the monitor is, and for buyers who are into gaming, how impressive the graphics card is for gaming purposes. The operating system the computer is running is also something to look at when purchasing a desktop computer, though this can be upgraded if necessary.
All-in-Ones
There are some benefits to purchasing an all-in-one.. The most obvious one is size. All-in-ones are lighter, sleeker, and take up less space than the bulkier desktop version of the PCs. For consumers who do not have much desk space, or prefer a more lightweight computer, an all-in-one is a good option. An all-in-one can even replace the family television in some cases, where television can be streamed over the computer, as well as used to watch movies and other media-related content, if the right software is enabled.
Popular Brands
Though some of the same brands which make desktop computers also have their own lines of all-in-ones, all-in-ones are more expensive than their desktop counterparts. The price also varies by features. Some brands of all-in-ones that users are likely to come across during their search include Sony, HP, and Toshiba.
As with desktop PC computers, the brands vary in what features they offer, and this affects the price as well. For consumers who are not sure which brand they desire, it is best to figure out what features are needed and what the budget involves in order to make a good purchasing decision.
Features and Options
Some features of all-in-ones that desktop computers do not have are of course their versatility, since they are more lightweight and smaller. Buyers can also enjoy not having to deal with all of the peripherals connected to various USB cords and ports, because many all-in-ones have wireless externals, such as mice and keyboards.
An all-in-one is just as powerful as a desktop as far as the processors go, and the only downside to having an all-in-one is that the memory and other components are not as easily upgraded due to the nature of the internal parts of the computer not being inside a separate tower.
What To Look For
For consumers who are shopping for an all-in-one, there are a few things to keep in mind. First, the buyers should check what type of processor the computer has inside, and if it is compatible with their needs. Another factor to keep in mind is memory storage, and since all-in-ones cannot be easily upgraded, the buyers should purchase a computer that has adequate memory already installed.
If graphics are an issue for consumers who enjoy watching movies, videos, and playing video games on their computer, the consumers need to check out the capability of the graphics card of the all-in-one and make sure it offers a great graphics experience.
Consumers need to decide between either a touch screen or a standard keyboard experience, because there are many popular all-in-ones which offer touch screen capability. The screen size and operating system are factors to look at as well, and the external drive is also something buyers should consider if they enjoy burning CDs and watching media on a computer.
How to Buy PC Desktops and All-in-Ones on eBay
It is easy to find a great desktop computer or an all-in-one when you are shopping on eBay.. You have the option to navigate to "PC Desktops and All-in-Ones&", or you can key in specific search results, such as "HP All-in-One&" to bring up exactly the type of machine you would like to look at. Consider the features that are most important to you, and narrow your options based on hard drive capacity, the operating system, and the monitor's screen size.
When shopping for something like a computer, it is hard not to have questions about the item you are thinking about buying. If you want to speak to the seller directly about a listed computer, contact him or her by going to the seller's page and clicking "Ask a Question&" to speak with him or her about the all-in-one or desktop, and ask any questions you might have before purchasing. Skip shipping headaches and costs by shopping from a local seller who you can do an in-person pick up with, and get your new computer even sooner and for less total money. Once the transaction is complete, do not forget to leave your seller some positive feedback, because this is very helpful for the seller, as well as future computer or electronic buyers.
Conclusion
There are many options to consider when it comes to purchasing either a PC desktop computer or an all-in-one, and there are definitely benefits to both types of computers as well. Buyers need to know what questions to ask the seller and what things to look for before they spend money on a new computer, because a computer should last for several years if is is taken care of properly. The right computer enables the users to do all of the activities that they enjoy, whether it is uploading and printing photos, working from various types of software, or gaming for fun.
Though desktops and all-in-ones are a bit different, they are both solid choices for a home or work computer which offer versatility, style, and functionality when it comes to the wide range of options, features, and extras that are offered from both types of machines. Once buyers have decided what is most important to them in a computer, picking out the right desktop PC or all-in-one on eBay is a breeze.