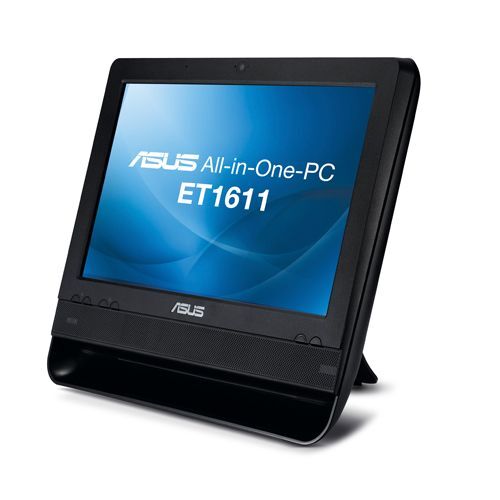 Both PC manufacturers and Apple seem to be moving away from desktops and towards all-in-ones. The trend began when Apple created the first iMac in 1998. In modern all-in-ones, all computer components are fitted inside the monitor, so that the monitor itself becomes the computer, only requiring an external keyboard and mouse to control it; something that can also become unnecessary in the case of the new touchscreen versions.
All-in-ones have many obvious advantages: they take up much less room than the old tower desktops and only need a power cord as opposed to numerous wires. As everything is becoming wireless, all-in-ones are perceived as more appealing by the modern computer user. While size used to go hand in hand with performance power and storage space in the past, today's hardware has become much smaller, as high performance devices can now fit into very slim casings.
Basically, anyone who needs more than the 15-inch display of a large laptop can benefit from all-in-ones, provided that mobility is not an issue. Naturally, all-in-ones are more expensive than desktops; therefore, many businesses are still buying the latter based on budget considerations. On the other hand, all-in-ones cannot yet offer the expandability of common desktops. However, they can make an office look much better, which can be an important decision point in many cases.
All-in-One vs. Desktop Features
Judging from the amount of advertising money that computer manufacturers are spending on marketing all-in-ones, it would seem that these modern devices are eventually going to replace desktops. However, many experts believe that all-in-ones can never beat desktops in terms of ultimate performance and customisation possibilities. So far, it would seem that common users want beauty, while businesses want performance, and it is easier to sell all-in-ones for the home office than for the small to large business.
HP's Touchsmart, Dell's Inspiron, and Lenovo's Thinkcentre are some of the most popular all-in-one models on the market today.
Desktops are still considered superior in terms of USB port and DVD drive accessibility. Another advantage is that they allow for separate part replacement and customisation. Thus, certain types of users are better off with a cheap tower paired with a superior quality LCD screen. Even when the cheap tower does not offer superior performance, the cost of any necessary upgrades added to that of the monitor can generally fall below that of a similar-performance and screen-size all-in-one. Moreover, when it is time to replace the tower, the LCD screen can always be re-purposed.
Computer Screens
Large screens with a high definition have many advantages. They make multitasking more comfortable, and they can offer full HD resolution for a true cinematic experience. Some low-end all-in-ones feature a 20-inch screen, but anything between 24 and 27 inches is far more popular.
One of the most recent innovations of all-in-ones, touchscreens go well together with the Windows 8 system, which was actually designed with this technology in mind. Touchscreens have been optimised for all-in-ones, offering multiple finger input possibilities, virtual keyboards, and pinch and zoom functions.
People planning to use a touchscreen for extended data entry should consider purchasing an all-in-one with a reclinable screen that can go down to the horizontal position. This allows users to work on the screen as they would on a large iPad. As a matter of fact, suspending one's arm in the air during vertical touchscreen operation can be very uncomfortable, and it can even cause carpal tunnel syndrome.
In the case of desktop computers, it is also possible to purchase a separate touchscreen monitor. Desktops retain the advantage of allowing users to pair the computer with any monitor they may choose, whereas one is basically stuck with whatever screen type an all-in-one may feature.
Components
Today's standard all-in ones and desktops tend to feature a dual-core processor, but any user working with images and audio can greatly appreciate a quad-core or six-core option. Likewise, a 2GB memory may be fine, but speed can greatly increase at 8GB.
In terms of hard drives, popular all-in-ones feature between 500MB and 2TB capacities. Desktop hard drives may be of many different sizes, but they are the easiest thing to upgrade on a computer. Users looking for speed over storage capacity should choose an all-in-one featuring an SSD as its boot drive. These drives can be as small as 128GB, which may require cloud or server storage for files. It is also possible to combine these two options by pairing a large drive for storage with an SSD for the system. This type of convenient customisation is not often possible in the case of all-in-ones.
Even in the case of touchscreen all-in-ones, it is recommended to add a keyboard and a mouse or trackpad. On the other hand, desktops can also profit from the addition of a modern Bluetooth keyboard. This type of keyboards do not always require the desktop to be Bluetooth-enabled, as some of them can be connected via a USB dongle.
All-in-One Pros and Cons
All-in-ones are lightweight and essentially wireless. Some of them feature touchscreens, expanding the possibilities of common desktops. They take up less room and have a sleek design.
On the other hand, they offer inferior upgradability; essentially limited to memory and hard drive. It is not possible to upgrade CPU or motherboard in an all-in-one. Moreover, as there is no airspace inside thin all-in-one casings, they can easily heat up when processing demanding tasks.
All in all, the pros and cons of all-in-ones are similar to those of laptops, minus the portability. When compared to desktops, the latter allow for much more extensive customisation and upgrading.
Popular All-in-One PCs Chart
The market for all-in-ones is becoming more competitive each day. While all-in-ones designed for business tend to focus on fast and efficient processing, those meant for the home usually feature excellent video and music playback capabilities.
| Model | Details |
| --- | --- |
| | 23-inch reclining touchscreen; average design, superior performance; good for business use and media handling |
| | 27-inch glass screen; average design, excellent Blu-ray and HD video playback; ideal when size matters |
| Lenovo IdeaCentre B320: HDTV | Combines HDTV and PC; affordable, average media capabilities, no Blu-ray drive; budget option |
| HP Omni 220 Quad | Fast, 21.5-inch screen, Blu-ray drive; unimpressive display; excellent general performance |
| Lenovo ThinkCentre Edge 91z | Designed for 64-bit Windows 7 Professional; stylish, 21.5-inch screen; excellent overall performance.; no Blu-ray drive; average graphics card; sleek and business-ready |
All-in-one PCs offer many interesting possibilities for both business and home users. Businesses that work with video editing generally prefer to spend their money on better displays and excellent graphics and video cards.
How to Buy Desktops and All-in-Ones on eBay
eBay offers thousands of new and used desktops and all-in-ones from the top computer manufacturers. When looking for one of these products, you should type in "PC desktop" or "PC all-in-one" into the search bar. If you are still not sure whether you want a desktop or an all-in-one, you can use both keywords simultaneously, in order to get comprehensive results. You can then refine these results by selecting some of your preferred specifications, such as CPU type, memory, and screen size.
Once you've found a computer that fits your needs, it is important to review the item's full description. Some sellers do not include all the information you want, so, it is sometimes advisable to check the manufacturer's website as well. It is also a good idea to ask the seller some questions, in order to get to know them a bit and make sure they can provide a good service. eBay offers an excellent feedback and ratings system that can greatly help in this respect. Finally, it is important to check return policies, expected delivery dates, and shipping costs.
Conclusion
All-in-ones have become very popular with both home and business computer buyers over the last few years. However, desktops are still ruling the market, perhaps because of their lower price and high customisation and expansion capabilities.
Thus, one of the main aspects to consider when buying an all-in-one or desktop is upgradability. A growing business may need a desktop that supports CPU replacement and video or graphics card additions, while a home user may be just as satisfied with an all-in-one that is stuck with the same CPU for life, no matter what future technological advances may bring.
On the other hand, all-in-ones have a more appealing design, which makes them very attractive for businesses that need to present professional-looking offices to their clients. All-in-ones can also save space, as they take up less room than tower desktop and monitor combinations. Whether an all-in-one or a desktop is the right choice for a certain business highly depends on each company's specific needs. As a rule, companies that cannot count on a budget for frequent computer replacement should prefer the flexibility of desktops, as current all-in-one models must necessarily be replaced often, to keep up with the fast evolution of modern technology.